HubSpot CMS for Nonprofits and Educational Institutions
In the ever-evolving world of digital marketing, organizations are constantly seeking innovative solutions to not only engage their audiences but also make a meaningful impact in their respective communities. Nonprofits and educational institutions, in particular, play a vital role in shaping the future and driving positive change.
Enter HubSpot CMS for Nonprofits, a game-changing platform that combines the power of cutting-edge technology with the heart of making a difference. Whether you're a charitable organization or an educational powerhouse, HubSpot CMS offers an all-in-one solution to captivate, nurture, and inspire your audience like never before.
Join us as we explore the incredible possibilities that await when technology meets purpose.
The Need for Digital Solutions in Nonprofits and Educational Institutions
As the digital landscape continues to expand, nonprofits and educational institutions are becoming increasingly aware of the need for digital solutions to drive their missions forward. Traditional methods of outreach and engagement are no longer as effective as they once were, and in order to stay relevant in a fast-paced world, organizations need to embrace the digital age.
The Rise of Digitalization
The world has undergone a major digital transformation over the past few decades, and it's not surprising that nonprofits and educational institutions have had to adapt to keep pace.
The demand for services and access to information has never been greater, and as such, these organizations must embrace digital solutions that are agile and effective. In the quest to provide the best user experience, these organizations are finding that a digital approach is the way to go.
By digitizing aspects of their work, from donations and fundraising to online learning and outreach, nonprofits and schools can reach more people in more meaningful ways. The rise of digitalization has presented many challenges, to be sure, but it's also opened up entirely new possibilities for those who are willing to take the plunge and embrace it fully.
Current Challenges Faced
Digital solutions are becoming increasingly important for both nonprofits and educational institutions, but implementing these solutions can be a difficult task. One of the biggest challenges faced in this process is creating a seamless user experience. With so many applications and platforms available to users, it can be overwhelming to navigate and use them all effectively.
Nonprofits and educational institutions must focus on creating a digital environment that is as intuitive as possible so that users can easily access the tools and resources they need to be successful. By prioritizing user experience, these organizations can help drive the adoption of digital solutions and maximize their potential benefits.
HubSpot CMS: An Overview
What is HubSpot CMS?
HubSpot CMS allows businesses to create and manage their websites easily. Built with marketers in mind, HubSpot CMS offers a wide range of features and integrations that help users attract, engage, and delight their audiences. HubSpot CMS is highly customizable, with options to create and choose from a variety of HubSpot themes that fit your brand and website needs.
With its intuitive drag-and-drop editor, HubSpot CMS makes it easy for businesses to create and publish engaging content that resonates with their audiences. Whether you're looking to create a simple landing page or a comprehensive website, HubSpot CMS has everything you need to showcase your brand and connect with your customers.
Key Features and Benefits
Here are some key features of HubSpot CMS:
Drag-and-Drop Editor
HubSpot CMS provides a user-friendly drag-and-drop editor that allows you to easily create and customize web pages without needing to code.
Responsive Design
This CMS supports responsive web design, ensuring that your website looks great and functions well on all devices and screen sizes.
SEO Optimization
It offers built-in SEO tools and features such as customizable meta tags, XML sitemaps, and canonical URLs to help improve your website's search engine visibility.
Content Management
With HubSpot CMS, you can easily manage and organize your website content. It offers a robust content management system that allows you to create, edit, and publish content with ease.
Personalization
It allows you to create personalized website experiences for your visitors based on their behavior, demographics, or other criteria. This helps to enhance user engagement and conversion rates.
A/B Testing
This CMS includes A/B testing functionality, enabling you to test different versions of your web pages to determine which performs better in terms of conversions and user engagement.
HubSpot CRM Integration
Its seamlessly integrates with HubSpot's CRM, allowing you to track and analyze user interactions with your website and leverage customer data to personalize marketing efforts.
Security and Hosting
It provides secure hosting and ensures the reliability and performance of your website. You don't have to worry about managing servers or dealing with security vulnerabilities.
Third-Party Integrations
HubSpot CMS provides a variety of integrations with popular third-party tools and platforms, allowing you to extend the functionality of your website and connect with other systems.
HubSpot CMS offers several benefits that can help businesses create and manage their websites effectively. Here are some of the key benefits of using HubSpot CMS:
Integrated Analytics: HubSpot CMS provides built-in analytics that offers insights into your content strategy, allowing you to identify areas for improvement and make data-driven decisions to enhance your website's performance.
Seamless Integration with HubSpot CRM and Marketing: This CMS fully integrates with HubSpot's CRM and marketing tools, providing a unified platform for managing your website, customer data, and marketing efforts.
Intuitive Drag-and-Drop Interface: With HubSpot CMS, you can leverage its intuitive drag-and-drop interface to easily create and edit web pages without the need for coding knowledge, making website management more accessible.
Flexible Themes and Page Editing: It offers flexible themes and easy-to-use page editing capabilities. This allows you to customize the look and feel of your website, ensuring it aligns with your brand and meets your design preferences.
Robust SEO Recommendations: It provides SEO recommendations to improve your website's search engine rankings. It offers features such as customizable meta tags, XML sitemaps, and SEO optimization tools to enhance your website's visibility.
Enhanced Security and Reliability: HubSpot CMS ensures the security and reliability of your website by providing secure hosting and regular updates. It eliminates the need for managing servers and dealing with security vulnerabilities.
HubSpot CMS for Nonprofits and Educational Institutions
Givest – Nonprofit HubSpot Theme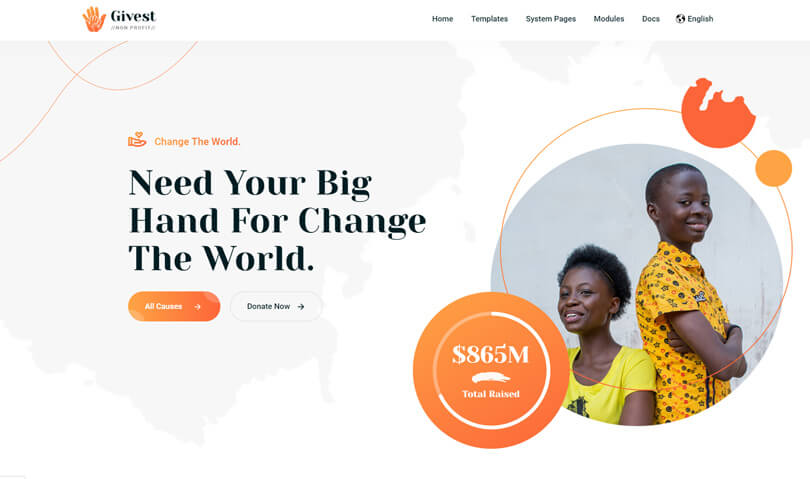 In today's digital age, having a strong online presence is crucial for any nonprofit organization. With Givest Nonprofit HubSpot Theme, you can easily create a modern and professional website that will catch the eye of potential donors and sponsors. This theme is designed specifically for nonprofit organizations and is optimized for HubSpot Nonprofit CMS, making it user-friendly and easy to set up.
It's a perfect solution for charities and nonprofits looking to improve their online presence while maintaining a professional image. With this HubSpot CMS for Nonprofits theme, you can create a website that showcases your mission and projects in an engaging and effective way, helping you connect with more supporters and ultimately achieve your goals.
Key Features
W3C Validated Code
Clean Code
Speed Optimized
Cross Browser Support
Well Documented
Pricing
Regular License- $99
Extended License- $1999
👉 Learn Why You Should Consider Using HubSpot CMS: Unlock the Benefits of HubSpot CMS
Academia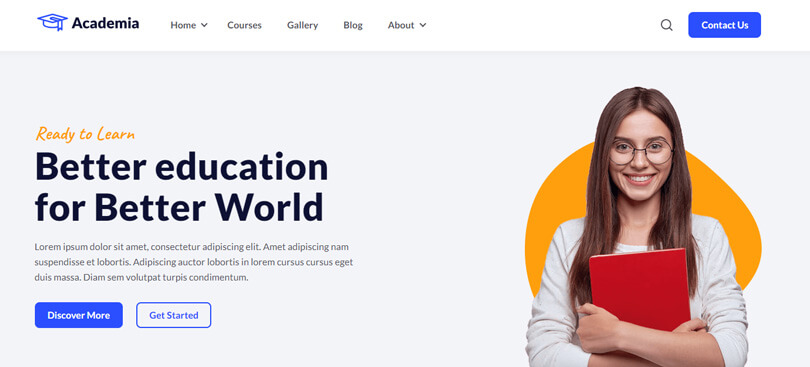 For those in the online education space who are utilizing the HubSpot CMS hub, it's crucial to have a modern and customizable HubSpot theme to promote your educational institution. That's where Academia comes in. Academia is a free HubSpot theme designed specifically for educational websites, LMS, and eLearning platforms.
With its advanced features, you can create an engaging online presence for your academic website, school, or e-learning courses. This HubSpot theme is perfect for universities, colleges, and other nonprofit educational organizations who want to take advantage of the HubSpot Nonprofit CMS. It's highly interactive and customizable, making it an essential tool for knowledge-sharing academic websites.
Don't be left behind in the digital education space – choose the best theme of HubSpot CMS for Nonprofits websites with Academia.
Key Features
Clean, Simple & Easy to Use
Mobile-First Approach
Powerful Theme With DIY Settings
Pagespeed
Pricing: Free
EduMind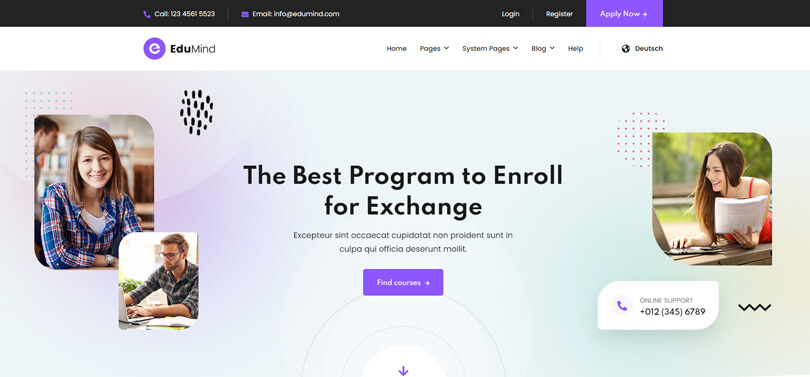 EduMind is a theme designed specifically for HubSpot Nonprofit CMS, perfect for those in the education industry searching to create a professional online education center. Whether you're managing e-learning, online courses, kindergarten, school, college, university, training center, or other institutes, this theme has it all. With eye-catching animations and modern design trends, EduMind ensures your website is engaging and user-friendly for your potential students.
All essential sections, such as hero-banner, category, course, event, instructor, FAQ, blog, and more, are perfectly designed and developed to meet your needs. This theme was specifically developed as a learning management system for course listing platforms like Udemy, Coursera, and Edx. By utilizing this free CMS theme, you can connect more with your target audience.
Key Features
Reusable Section
Powerful Theme Settings
Install once, ready to use
No coding knowledge is required
100% drag & drop functionality
Pricing: Free
👉 Learn Best HubSpot Marketplace Themes: Maximize Your Website Design With HubSpot CMS
E-learning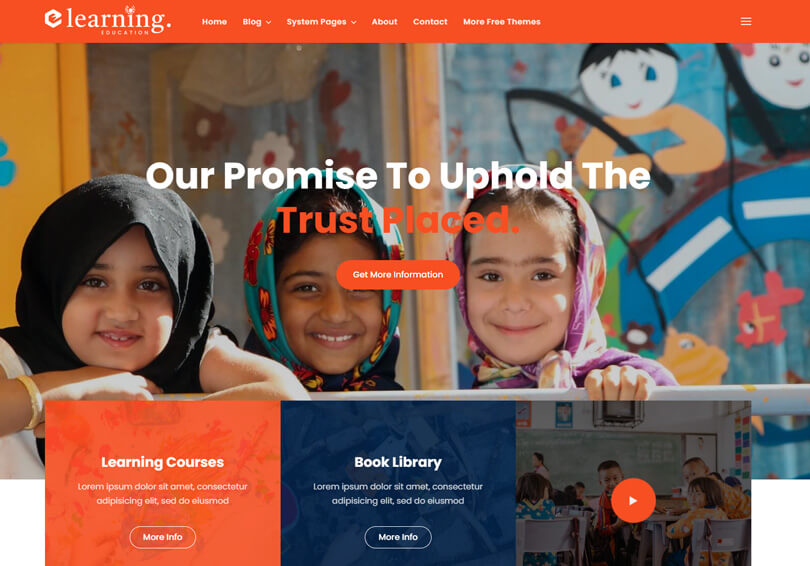 E-learning is a remarkable theme that has been carefully crafted specifically for education-related websites. Whether you're running a training center, courses hub, college, academy, university, school, or kindergarten, E-Learning is packed with a large set of modern predesigned pages that can be easily customized to fit your unique needs. With a user-friendly and robust admin panel, clients can effortlessly tailor the theme to create a professional business website that beautifully presents every aspect of their organization.
Additionally, E-Learning includes a plethora of features that make it easy to customize and achieve an attractive design. E-Learning can easily be integrated with HubSpot Nonprofit CMS for nonprofit organizations looking to build their website to deliver a powerful online presence.
Key Features
Light Mode/Dark Mode
Drag and Drop Header and Footer
17+ Block Layouts
Drag and Drop for Blog Listing Page
Pricing: Free
👉 Learn Top HubSpot Theme Trends for 2023: What's New and What's Next
Edu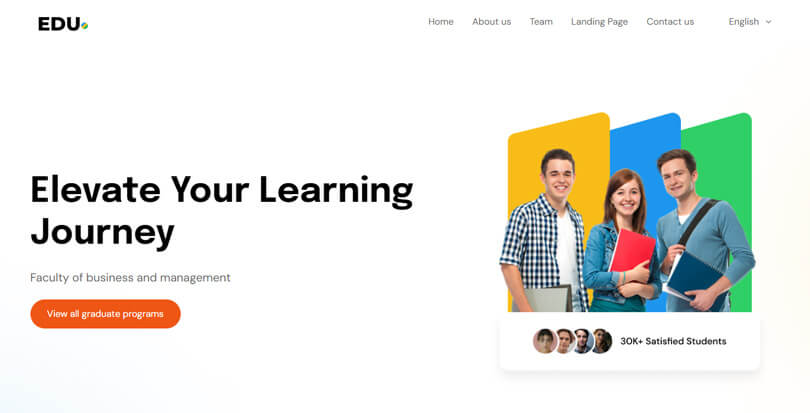 Edu is a cutting-edge and visually appealing theme designed to suit educational institutions such as universities, schools, and colleges, as well as online courses and events. Its ease of use and customization make it an ideal choice for those seeking an affordable, intuitive, and user-friendly solution.
Thanks to strict adherence to HubSpot standards and best practices, Edu is also highly compatible with HubSpot's Nonprofit CMS, offering a seamless integration between your organization and its online presence.
With most needed pages, blog layouts, system templates, and a configurable theme, Edu is well-equipped to meet the needs of a wide range of educational organizations. Its responsive design ensures that all visitors have a smooth and enjoyable browsing experience.
Overall, Edu offers a powerful and versatile platform for educational institutions seeking to establish a strong online presence.
Key Features
Easily customisable modules
Scalable
Responsive
Theme configurations
Pricing: Free
Hire Experts to Build Your HubSpot CMS Website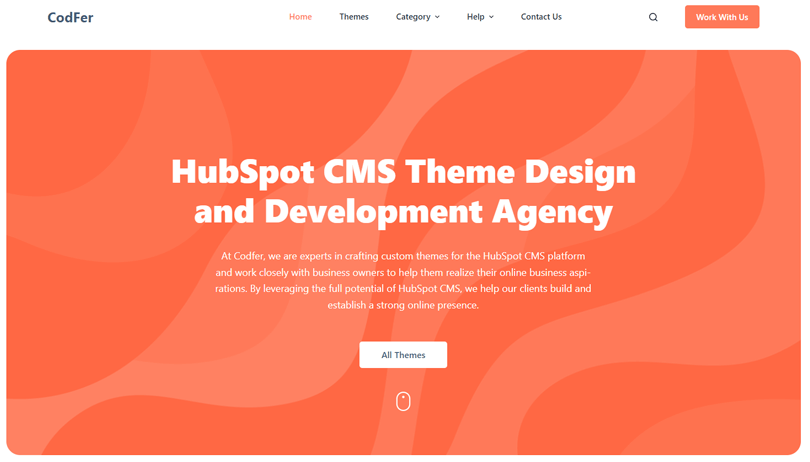 If you're a nonprofit organization looking to create a website on the HubSpot CMS platform, hiring experts like Codfer can save you valuable time and effort. As a theme designer and development agency specializing in HubSpot, Codfer has the deep expertise necessary to help you build an online presence that perfectly aligns with your nonprofit's mission and values. By working closely with you throughout the entire process, they can ensure that your website is crafted to meet your unique needs and requirements.
Don't settle for a generic website – let the experts at Codfer create a website that truly represents your organization and its mission. Contact us today to learn more about how we can help build your HubSpot CMS website.
Final Thoughts
In this digital era, online presence is crucial for businesses and organizations alike. For this reason, HubSpot has introduced a specialized CMS that caters to the needs of nonprofits and educational institutions. The HubSpot Nonprofit CMS has been designed to simplify the process of creating, managing, and optimizing websites and landing pages.
With this tool, users can effortlessly design and launch pages that are tailored to their audience's needs. Additionally, the Nonprofit CMS offers advanced features like donation forms, volunteer sign-ups, and event registration to streamline the user experience.
Overall, HubSpot Nonprofit CMS provides a comprehensive solution that enables organizations to establish a strong online presence and drive meaningful engagement with their audience.