WordPress vs HubSpot CMS: Which Content Management System is Right for You?
With so many content management systems available, it can be hard to decide which one is right for your needs. It's an important decision, as the CMS you choose will profoundly impact how you create and manage your content for years to come.
In this blog post, we'll take a closer look at two of the most popular content management systems: WordPress vs HubSpot CMS. We'll compare their features and capabilities to help you make a more informed decision about which CMS best suits your business.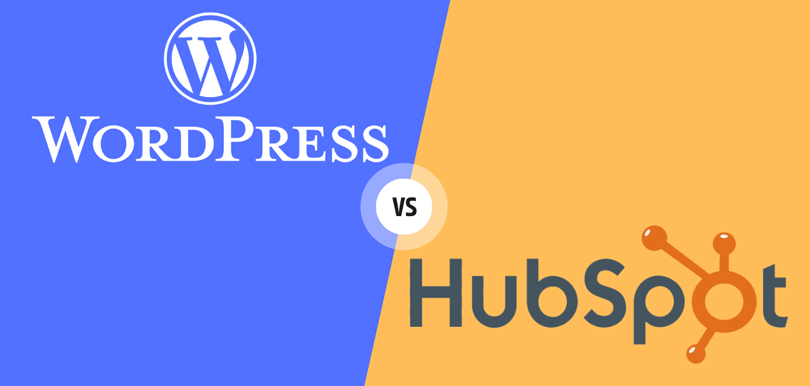 Overview of Content Management Systems
Content Management Systems, or CMS, have become an essential tool for website owners and businesses alike. These systems are designed to make managing website content easy and efficient, allowing you to focus on creating high-quality content rather than worrying about technical details.
CMS platforms provide a range of features and benefits, including easy content creation and publishing, customizable templates, and the ability to manage multiple websites from one place. Whether you are a small business owner looking to update your website or a large corporation with complex content needs, CMS software is a valuable tool to consider.
Features and Capabilities of HubSpot CMS
HubSpot CMS (Content Management System) offers a range of features and capabilities that help businesses create and manage their websites effectively. Here are some key features of HubSpot CMS: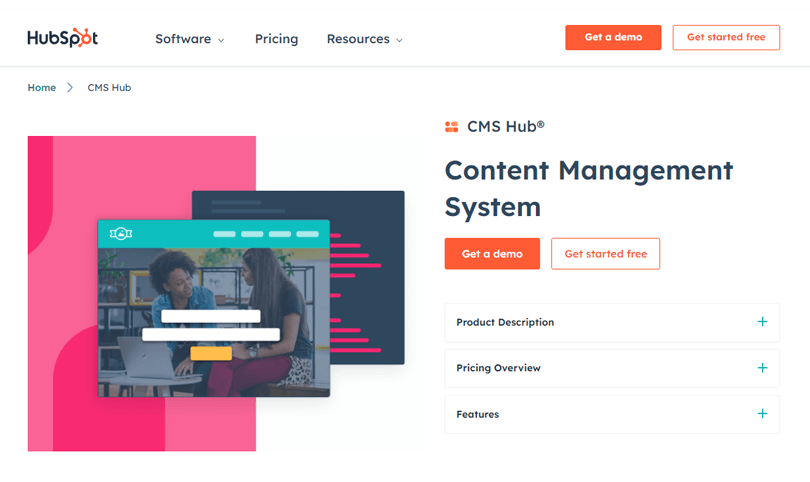 CRM Database
Customized Dashboard
Gmail and Outlook Integrations
Email Marketing
Built-in Analytics
Mobile Optimization
Features and Capabilities of WordPress
WordPress is a versatile and widely used content management system (CMS) that offers a broad range of features and capabilities. Here are some key features of WordPress CMS: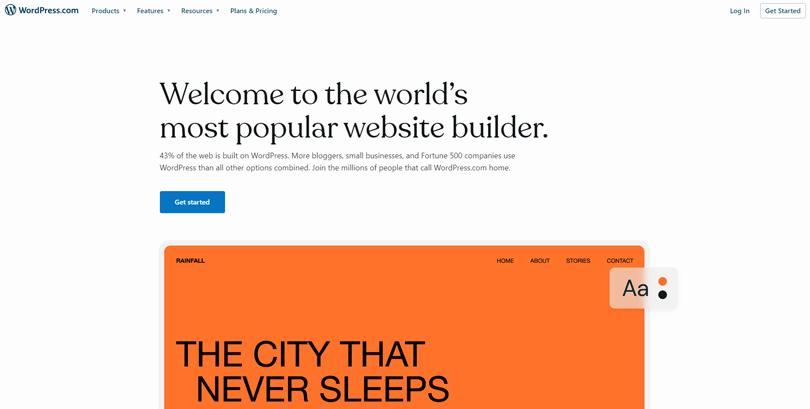 Easy to manage.
Safe and secure.
Reliable and flexible.
SEO friendly.
Multilingual.
Simple integrations.
Cost-effective.
Comparison Between HubSpot CMS vs WordPress
HubSpot CMS and WordPress are both popular content management systems (CMS) that allow users to create and manage websites. While they share some similarities, there are key differences between the two platforms. Here's a side-by-side comparison of WordPress vs HubSpot CMS:
Website Hosting
WordPress is primarily known as a content management system (CMS) and requires users to find third-party web hosting providers to host their websites. Some popular hosting options for WordPress users include WPEngine, Flywheel, Kinsta, GoDaddy, and DreamHost.
While WordPress offers a free, fully-hosted service, it has limitations and is more suitable for casual bloggers rather than businesses. This free service restricts users from creating custom domain names, imposes limits on customization, displays ads, and adversely affects search engine rankings.
In contrast, HubSpot provides a comprehensive package that includes premium hosting features, making it a complete solution for marketers. With HubSpot, users can host, build, and manage their websites all within one platform. HubSpot operates as a Software-as-a-Service (SaaS) package, offering enhanced security functionality like SSL certificates, firewalls, and threat detection.
These premium features are not all available in the standard WordPress package, and the convenience of having all tools within a single platform makes HubSpot a more desirable option for businesses looking for an all-in-one solution.
Ease of Use
WordPress is a widely used CMS with a range of themes and functionalities available. However, its ease of use can vary depending on factors such as the theme chosen, desired functionalities, and the user's technical abilities. WordPress has a long history, resulting in a wealth of tutorials and documentation available online, making it easier for beginners to learn and create informational websites. It can be a suitable option for those looking to publish content and establish an online presence quickly.
On the other hand, HubSpot CMS is designed with marketers, developers, and IT teams in mind. It provides features that cater specifically to marketers, offering a drag-and-drop editor that is user-friendly and suitable for non-developers. This makes it an excellent choice for those who want to create a website quickly and efficiently. However, similar to WordPress, more advanced coding knowledge is required to build more complex and advanced websites using HubSpot CMS.
Page Building
WordPress offers a vast array of options when it comes to building web pages. With its highly extensible system, you have access to numerous themes and plugins that allow you to create a website tailored to your specific needs. However, the default page builder within WordPress, Gutenberg, has received mixed reviews from the WordPress community.
HubSpot's page-building functionality stands out for its appeal to users of all skill levels. Even if you have limited experience in web design, you can still create visually appealing web pages using the simple page-building editor.
The interface utilizes a drag-and-drop approach, making it easy to create various design modules such as menus, buttons, sliders, blog posts, and headers. This simplicity is ideal for making straightforward additions and changes. However, for more complex requirements, you will need to utilize HubSpot's proprietary HubL language to develop custom solutions.
Themes
WordPress boasts an extensive selection of free and premium themes, making it a leader in theme variety. With a vast ecosystem of theme developers, users have access to tens of thousands of themes, ensuring they can find one that suits their preferences. Premium themes in particular offer a large number of modules and customization options, enabling users to completely transform the look and feel of their website.
HubSpot, on the other hand, provides users with a limited number of default themes as part of their popular content management systems offering. These themes are available for free when signing up for a HubSpot CMS account.
Users can either download a default theme to use directly on their website or utilize it as a foundation to create their own custom theme. Downloading themes for HubSpot can be done through the HubSpot marketplace. This option is well-suited for individuals or businesses seeking a website representation without requiring extensive coding expertise.
Extensibility
In the battle of WordPress vs HubSpot CMS, WordPress offers extensive extensibility options, with a vast library of over 58,000 plugins available for installation. These plugins allow marketers and developers to easily customize their websites by modifying design elements, page structures, and other attributes. In addition, if a specific feature is not available through existing plugins, WordPress provides the flexibility to hire WordPress developers who can create custom solutions.
On the other hand, HubSpot CMS operates differently due to its proprietary nature. It offers a limited selection of website styles, themes, and features that can be utilized. Since HubSpot owns both the CMS software and the hosted website, there are constraints on the extent of modifications and additions that can be made. Implementing unique features requires the expertise of a specialist HubSpot developer who is proficient in HubL, HubSpot's templating language.
Email Marketing
WordPress, while not offering built-in email marketing functionality, can integrate with various plugins to facilitate storing and communicating with targeted email lists. By using email automation plugins like Mailchimp, you can create personalized email campaigns for different audiences and track open and subscribe rates for analytics. However, this integration requires importing contact lists into the plugin or a third-party website, potentially raising concerns about data security and involving more time compared to an all-in-one platform.
In the realm of email marketing, HubSpot excels. The platform's integrated contact database makes it effortless to track subscribers and target each campaign to specific personas or groups. Additionally, this database keeps track of all user actions on your website, including button clicks, page views, and content downloads.
HubSpot's email marketing interface stands out as a clear winner, providing extensive insights into your lists while managing everything from a single platform. With its comprehensive capabilities, HubSpot offers a more streamlined and powerful solution for email marketing compared to WordPress.
Security
When it comes to security, WordPress relies on the user's choice of third-party web hosting providers. While there are many reputable options available, the responsibility of selecting a reliable and trustworthy host lies with the user. Additionally, since WordPress supports a vast number of themes and plugins, not all of them receive regular updates, potentially leaving vulnerabilities that could compromise security.
HubSpot Content Management System prioritizes security and regularly introduces upgrades to enhance user experience and protect customer data. With built-in SSL certification and other security measures, HubSpot provides a robust security framework.
Unlike WordPress, HubSpot CMS is a closed system, limiting external access and reducing the risk of unauthorized breaches. Furthermore, HubSpot actively monitors for any unexpected issues, promptly addressing and resolving potential security weaknesses to maintain a secure environment.
Support
WordPress, being a widely used content management CMS, has a large community and numerous online resources available. Users can find help through forums, documentation, guides, and tutorials. There are also countless resources on platforms like YouTube and Google to address common issues and provide solutions for different themes and plugins. WordPress has a dedicated support team that can be reached through email, telephone, or help desk systems. However, the support primarily focuses on technical issues rather than extensive training or implementation assistance.
On the other hand, HubSpot CMS provides dedicated 24/7 support and goes beyond technical assistance. They offer comprehensive training and support resources to their customers. This includes in-person training modules, webinars, training manuals, instructional videos, and tutorials. These resources guide users through the entire process, from initial setup to implementation and beyond. HubSpot's emphasis on ongoing training and support sets them apart in terms of providing extensive assistance to their users.
Pricing
WordPress
WordPress website builders offer two different sorts of plans.
Pay monthly plans
Pay annually plans
The Pay monthly plans are as follows:
FREE
Personal – $9/mo
Premium – $18/mo
Business- $40/mo
WooCommerce- $70/mo
The Pay annually plans are as follows:
FREE
Personal – $4/mo (billed monthly), and $48 (billed yearly)
Premium – $8/mo (billed monthly), and $96 (billed yearly)
Business- $25/mo (billed monthly), and $300 (billed yearly)
WooCommerce- $45/mo (billed monthly), and $540 (billed yearly)
Enterprise- Starts at US$25,000 yearly.
HubSpot
The HubSpot CMS plans are as follows:
Starter- $25/mo
Professional – $400/mo
Enterprise – $1200/mo
Frequently Asked Questions
What are the main differences between WordPress and HubSpot CMS?
While comparing WordPress vs HubSpot CMS, HubSpot CMS offers a full suite of marketing, sales, and service tools, while WordPress has a larger community of developers and offers more flexibility in terms of customizing your website.
Which CMS is better for SEO?
Both WordPress and HubSpot CMS have strong SEO capabilities, but WordPress offers more flexibility in terms of optimizing your website for search engines.
Is HubSpot CMS more expensive than WordPress?
Yes, HubSpot CMS is generally more expensive than WordPress, but it offers more features and tools for marketing, sales, and service.
Is WordPress free?
Yes, WordPress is an open-source CMS that is available for free. However, you may need to pay for hosting and additional features or premium themes and plugins.
Can I use WordPress for eCommerce?
Yes, WordPress offers e-commerce functionality through plugins like WooCommerce. It allows you to create online stores, manage products, handle payments, and more.
Bonus: Recommended HubSpot CMS Themes
Beautian – Health & Beauty Theme for HubSpot
Are you a health and beauty professional looking for a way to enhance your online presence? Look no further than Beautian. This comprehensive theme, created specifically for HubSpot CMS, offers a range of sites tailored to your needs, from straightforward homepages to detailed service pages and beautician blogs.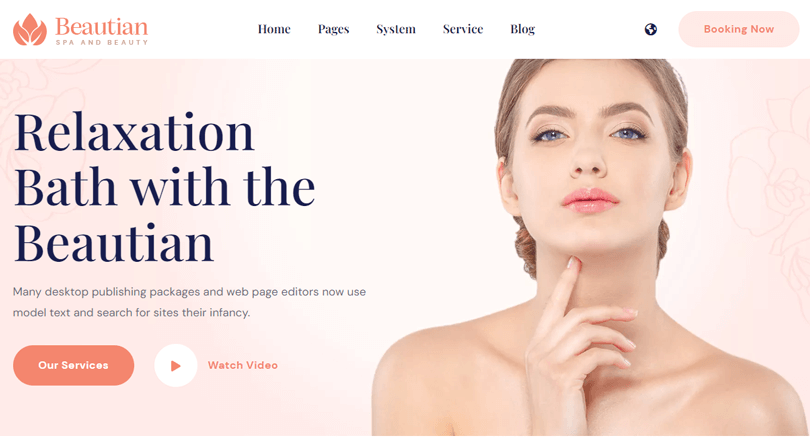 But what sets Beautian apart is its drag-and-drop editor, making it easy to use and set up. Want to take it up a notch? Check out the pro version, which offers a variety of website design templates perfect for hair salons, spas, and nail care services. With Beautian, building a strong web presence has never been easier.
Feature list:
Pre-built Templates & custom modules
Fully Responsive
SEO Friendly:
Easy to use and customize
Built with Bootstrap 5
Pricing: Free of Cost
Buznex – Corporate HubSpot Theme
Buznex is the corporate HubSpot Theme that can take your website to the next level. With sleek, modern design and customizable features, Buznex helps you showcase your brand in style.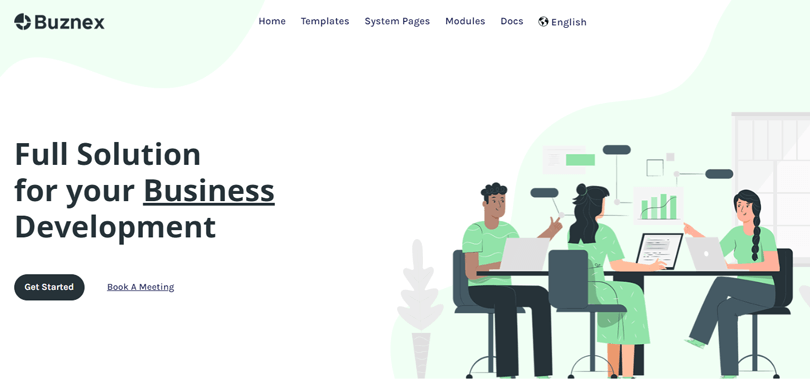 You don't need to be a tech guru to use it – just a click, choose from 10 pre-designed page templates and 22 modules and create a website that represents your business perfectly. With Buznex, you'll have your website up and running in no time, hassle-free. Give it a try and see how easy it is to transform your online presence.
Feature list:
Clean Code
Fully Responsive to fit of all the major devices
W3C Validated Code
Speed Optimized
Cross Browser Support
Pricing: $99/ Year
Morace – Real Estate Theme for HubSpot
If you're in the market for a top-notch real estate website, look no further than the Morace Real Estate HubSpot Theme. This sleek and practical theme offers a stunning appearance and a wide range of customization options to make your site truly your own.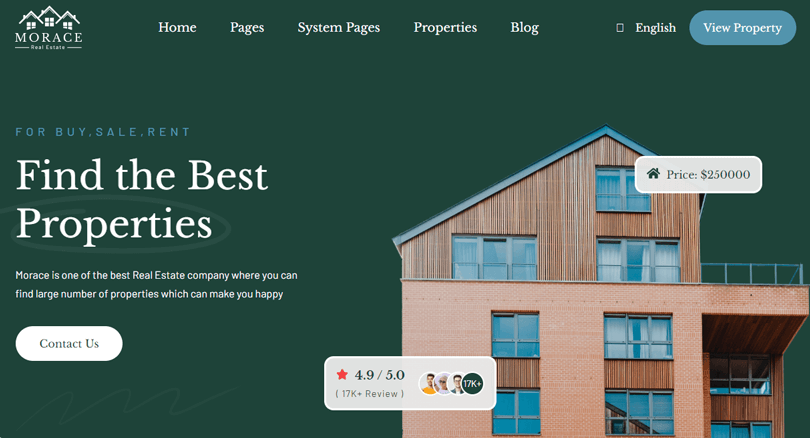 You can tailor the theme to your specific brand identity with the help of endless color and font choices, and the use of retina-ready graphics means your site will look great on any device. And with the integration of HubSpot – one of the most widely-used marketing automation programs available – your website's user experience will be both seamless and effective.
Feature list:
Fully Responsive
10 template page
SEO Friendly
Easy to use and customize
Eye-catchy Properties
Pricing: Free of Cost
Boseo – SEO & Digital Marketing HTML Template
Boseo is a game-changing template for businesses looking to take their digital marketing to the next level. With its user-friendly Bootstrap-powered design, getting started on creating the perfect website is a breeze. The 6 unique homepage layouts offer a great starting point, with customizable sections that cater to all your business needs.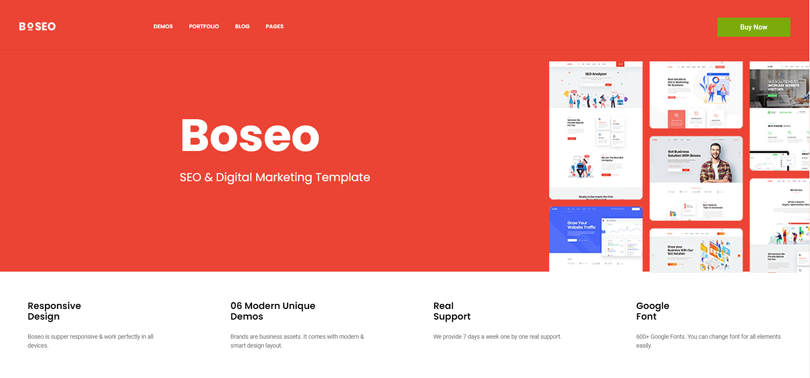 From highlighting your team to showcasing glowing client testimonials, this HTML template has got you covered. Best of all, its responsive structure means your website will run smoothly on all modern devices and browsers. All you have to do is choose the layout that suits you best, and let Boseo do the rest!
Feature list:
Total 32+ Html Pages
6 Pre-Made Homepage
Blazing Fast Loading Speed
Valid HTML5 and CSS3
SASS File Included
Pricing: Regular License for $17/ Year
Businex – Corporate HubSpot Theme
Looking for a HubSpot theme that's easy to use and customizable? Check out Businex! This sleek and professional theme is perfect for businesses of all types, whether you're a freelancer just starting out or a large corporate entity looking to improve your online presence.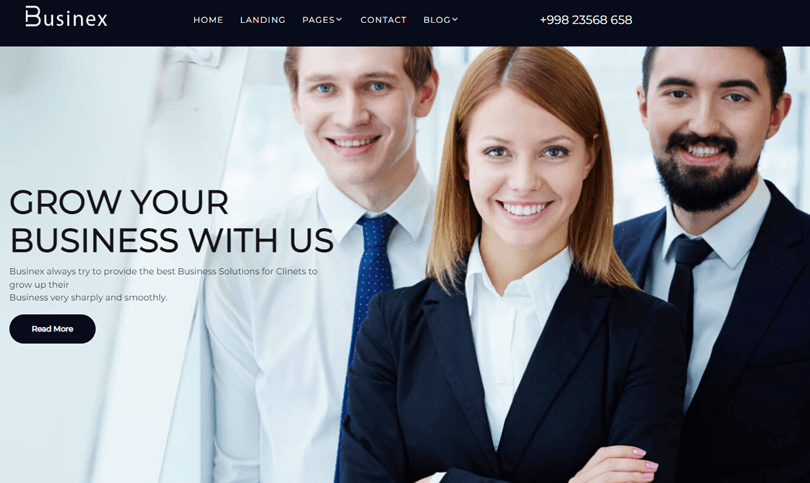 With its endless customization options, you can create a website that truly reflects your unique style and personality. Whether you're looking for something sleek and sophisticated or fun and creative, Businex has got you covered.
Feature list:
Fully Responsive to fit all the major devices
Clean Code
W3C Validated Code
Speed Optimized
Cross Browser Support
Pricing: Regular License for $47/ Year
Hire HubSpot CMS Developers from Codfer
If you're looking for a hassle-free way to create a stunning website or online store, look no further than Codfer. The team of experts specializes in HubSpot CMS theme design and development, and they're passionate about helping business owners achieve their online goals. Whether you're a small startup or a large established company, they have the perfect theme to suit your needs.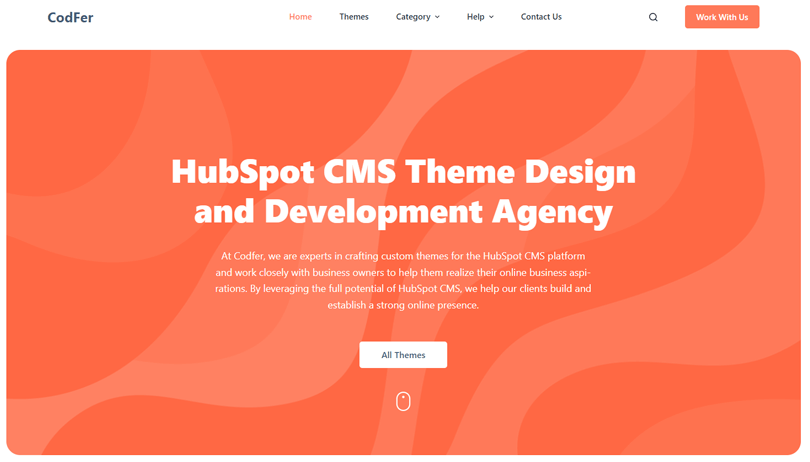 And if you're looking for something truly unique, don't worry – they also offer fully customized themes to make your business stand out online. Plus, with a team of skilled and experienced developers, you can rest assured that your website will look exactly the way you want it to.
Final Thoughts
Deciding on the right content management system (CMS) can be a tough task, but when it comes down to WordPress vs HubSpot CMS, there are certainly pros and cons to both. WordPress has been a popular choice for years, thanks to its ease of use, powerful plugins, and vast community of users.
On the other hand, HubSpot CMS offers a complete marketing platform with lead generation tools, optimization features, and more. Both systems have their own unique features and benefits. Ultimately, deciding which one to use will depend on your specific needs and goals.