Why You Should Consider Using HubSpot CMS: Unlock the Benefits of HubSpot CMS
Are you looking for a powerful content management system (CMS) to help manage and optimize your website? Then consider HubSpot CMS. It is an all-in-one platform designed with the user in mind, empowering businesses of any size to create impactful digital experiences. With HubSpot CMS, you can unlock the benefits of an intuitive drag-and-drop builder, integrated marketing tools, and comprehensive analytics that enable you to measure success.
You also get access to world-class support from the HubSpot team so you can focus on growing your business instead of worrying about technical issues. Let's take a closer look at why you should consider using HubSpot CMS could be the right choice for your business.
Overview of HubSpot CMS
HubSpot CMS is a robust, user-friendly content management platform that can provide businesses of all sizes with a competitive edge in today's digital marketplace. With its intuitive interface and powerful features, it allows users to easily create, manage, and publish their content across multiple channels, including websites, blogs, social media, and more. What sets HubSpot CMS apart from other platforms is its commitment to user experience and suitability for businesses looking for a professional and reliable CMS.
Whether you are a small business owner, marketer, or developer, HubSpot CMS can help you streamline your content management and create engaging, high-performing content that resonates with your audience. As an industry leader in CMS solutions, HubSpot is the perfect choice for businesses looking to take their digital presence to the next level.
Benefits of Using HubSpot CMS
Using HubSpot CMS enables businesses to optimize their customer service processes, providing a streamlined and efficient experience for both customers and staff. With powerful automation tools, integrated channels, contact management capabilities, and customizable content across multiple platforms, HubSpot CMS is an excellent choice for businesses looking to take their customer service to the next level.
Easy website building and management
Having an impressive online presence is essential for any business, and it all starts with a well-designed website. With HubSpot CMS hub, website building, and management can be a breeze for businesses of all sizes. Its user-friendly interface enables any user to create attractive and functional websites without the need for technical expertise.
HubSpot CMS also provides an array of robust features, such as mobile responsiveness, SEO optimization, and customization options, making it a preferred choice for businesses that want complete control over their website's performance. In addition, HubSpot CMS allows for seamless integration with other HubSpot tools, including marketing automation, sales, and customer support, giving businesses a comprehensive solution for their online operations.
Excellent integration Possibilities
The seamless integration with HubSpot's marketing, sales, and service hubs allows businesses to improve lead generation, lead nurturing, and customer engagement without having to switch between different platforms. Moreover, HubSpot CMS's integration with third-party tools simplifies the process of developing custom features and functionalities tailored to businesses' unique needs. This integration effectively reduces the time and resources needed to manage marketing initiatives, enabling businesses to focus on what matters and achieve their marketing goals effectively and efficiently.
Security
Security is a top priority for any business operating in today's digital age. With sensitive data and information at risk, it is essential to have secure content management systems in place. HubSpot CMS offers numerous security features, including automatic SSL certificates, two-factor authentication, and granular permissions for user roles.
Additionally, HubSpot CMS hub conducts frequent security audits and updates to ensure that its CMS remains secure against potential threats. By utilizing this, businesses can have peace of mind knowing that their data is protected and secure.
Personalization Options
The personalization options that HubSpot offers take website customization to a whole new level. Tailoring your website's message and user experience for different visitors or customer personas is critical in today's market. With the website content management systems, you can do just that by leveraging their smart content feature to dynamically change what your visitors see based on their location, interests, device, and other relevant data.
This level of customization is essential in optimizing the user experience and deriving better business results. The personalization options of HubSpot CMS ultimately help businesses achieve higher conversion rates, better lead nurturing, and stronger customer engagement.
Multilanguage Option
HubSpot CMS offers many benefits for businesses, and one of the most valuable is its multilanguage capability. By utilizing this option, businesses can cater to their global audience with ease. HubSpot CMS offers a streamlined approach to managing translations, allowing businesses to reduce their translation costs and increase their efficiency.
Moreover, a multilanguage website can help to broaden a business's reach, attract new audiences, and build trust with potential customers by speaking to them in their native language. With this, businesses can easily create and manage multilanguage sites and deliver a personalized experience to their customers around the world.
First-class Support
One major advantage of using this platform is the first-class support that comes with it. With its dedicated customer service team, HubSpot CMS boasts a higher satisfaction rate than its competitors.
This level of support not only saves time but also reduces frustration, allowing businesses to focus on other critical operations. By choosing this, you can mitigate potential risks and feel secure knowing that reliable support is readily available.
Whether you encounter an issue with your website, experience a system malfunction, or need assistance with integration, their experts are readily available to provide prompt solutions.
Built-in Web Analytics
With HubSpot CMS content management software, you don't have to worry about investing in additional web analytics tools or software. That's because it comes with built-in web analytics, providing you with all the essential data and insights you need to improve your website's traffic, visitor behavior, and conversions.
This feature allows you to analyze the performance of your website pages, forms, and CTAs, making data-driven decisions to optimize your website for better results. With this valuable information at your fingertips, you can enhance your online presence and stay ahead of your competitors.
Google AMP Support
One of the significant advantages of HubSpot CMS is its ability to support Google AMP. Thanks to its lightning-fast loading speeds, websites developed using Google AMP make it easier for businesses to attract and retain website visitors. HubSpot CMS supports this feature, which is a massive win for businesses that seek to create better mobile experiences for their visitors.
With HubSpot CMS, businesses can create the kind of fast, responsive, and mobile-friendly websites that not only drive traffic but also convert that traffic into customers. By choosing HubSpot CMS, businesses can rest assured that they have access to the right tools and functionalities to create high-converting websites that rank higher on search results pages.
Why You Should Consider Using HubSpot CMS for Your Business
When it comes to customer service and content management, HubSpot CMS stands out as an industry leader. With an intuitive, modern, and easy-to-use interface, if offers a variety of features that make it ideal for businesses of all sizes. From scalability to powerful automation tools, here are just a few reasons why you should consider using HubSpot CMS for your business:
Seamless user experience with an intuitive, modern, and easy-to-use interface.
Scalable solution that can grow quickly as your business grows.
Powerful marketing automation tools allow you to create personalized customer experiences based on their behavior.
Ability to store contacts, track customer interactions, and measure success all in one place.
Allows you to customize content across multiple channels with the same code base, so creating content for different platforms is easier and more efficient.
With HubSpot CMS, you can easily integrate third-party systems and applications, ensuring seamless connectivity.
Top Recommeded Blog for You:
👉 A Beginner's Guide to Choosing the Right HubSpot Theme for Your Business
👉 Best Practices for Customizing HubSpot Themes: Tips and Tricks
👉 HubSpot Themes: What They Are and Why You Need Them
Bonus: Recommended HubSpot CMS Themes
Beautian – Health & Beauty Theme for HubSpot
Beautian is the perfect theme for health and beauty professionals who want to take their online presence to the next level. With its comprehensive and sophisticated design, you can easily create a variety of sites that cater to all your business needs. From simple homepages and landing pages to in-depth service details pages and contact forms, you can showcase your beauty services in the most appealing way possible.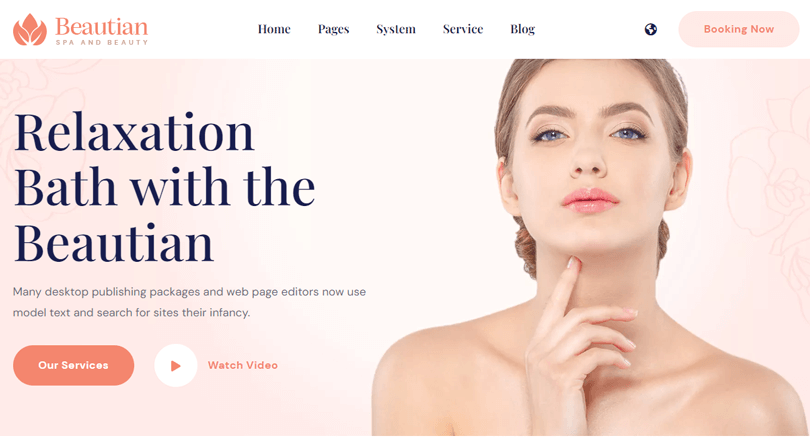 This theme for Hubspot CMS also comes equipped with listings for beautician blogs, enabling you to stay connected with your clients and update them on the latest trends and products.
But that's not all – Beautian also offers a pro version with a range of HubSpot website design templates. These templates include dedicated pages for core beauty services such as hair salons, spa treatments, and nail care. With a variety of options and user-friendly features, Beautian Theme is the website builder of choice for beauty professionals looking to make their mark online.
Feature list:
Pre-built Templates & custom modules
Fully Responsive
SEO Friendly:
Easy to use and customize
Built with Bootstrap 5
Pricing: Free of Cost
Maxs- Gaming Theme for HubSpot
The Maxs Game Theme is a game-changer for companies and individuals looking to create an exceptional gaming website. This HubSpot theme is a valuable asset that can enhance your online presence with its advanced design, intuitive drag-and-drop interface, and fully responsive layout. Besides its aesthetic appeal, the theme is optimized for SEO and page speed, ensuring your website ranks well on search engines and delivers an excellent user experience.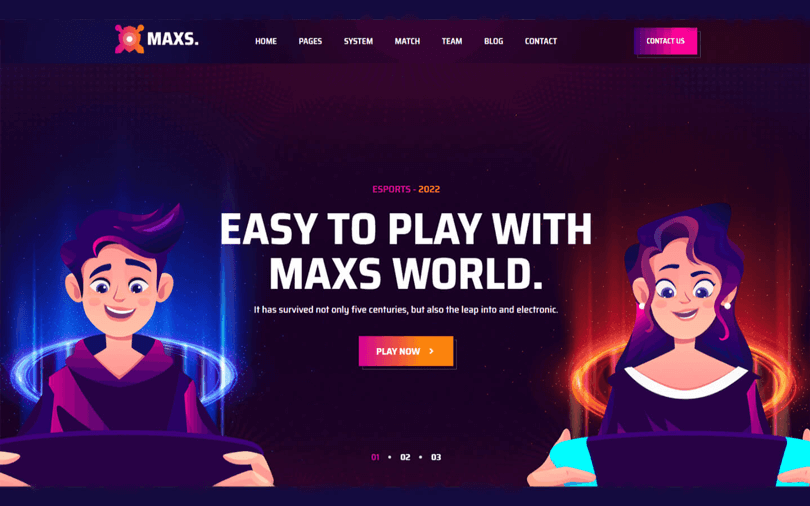 Whether you are an established gaming company or a budding entrepreneur, the Maxs Game Theme provides you with the tools to create an impeccable website and engage your target audience seamlessly.
With its numerous pages, including About, Contact, Home, Landing Page, Match Details, Service Details, Team Details, and Team Member, it provides everything you could possibly need to satisfy the needs of gamers and ensure a pleasurable web experience for your clients. Furthermore, the professional and sleek design of this theme is sure to impress and captivate your audience, leaving a lasting impression on anyone who visits your website.
Feature list:
Intuitive Drag-and-drop
Fully Responsive
Pixel-perfect, retina-ready & completely responsive
SEO optimized
Pricing: Free of Cost
Nafil – NFT Theme for HubSpot
When it comes to creating websites that showcase exciting NFT artwork and experiences, the Nafil HubSpot CMS theme is a game-changer. With its sleek and modern design, this theme can be personalized to meet your unique needs and truly make your NFT-related content shine. The ultra-user-friendly interface makes it easy to create stunning pages and make updates on the fly, while the seamless connection to your preferred payment processors ensures a smooth and secure purchase process for visitors.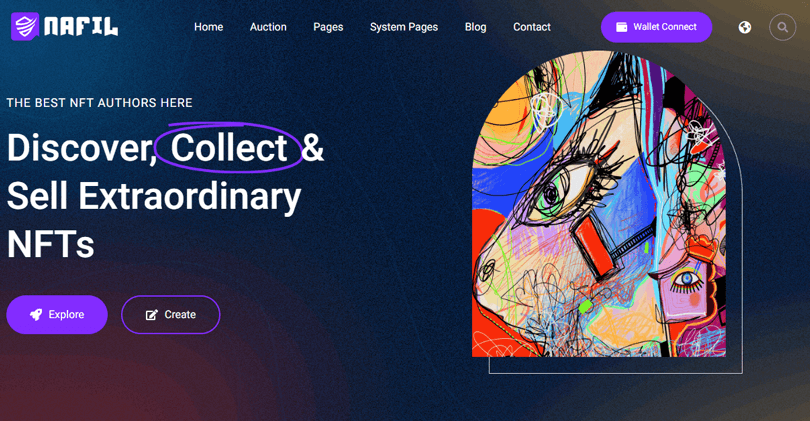 With its fully responsive design, your website will look stunning on both desktop and mobile devices. In addition, Nafil's strong features and capabilities will enable you to stand out from the competition by creating a visually appealing website that not only grabs attention but also delivers genuine value to your visitors.
Whether you're looking to increase traffic, generate leads, or boost conversion rates, Nafil has everything you need to accomplish your goals and succeed in today's highly competitive business environment.
Feature list:
Fully Responsive
9 template page
SEO Friendly:
Easy to use and customize
Stunning Product Details Page
Pricing: Free of Cost
Morace – Real Estate Theme for HubSpot
The Morace Real Estate HubSpot Theme is the perfect solution for anyone who wants a professional-looking website that offers practical and functional features. This sophisticated theme was designed with customization in mind, allowing customers to tailor their website to fit their specific needs. Moreover, the Morace Real Estate HubSpot Theme is perfectly built and looks great on any device, making it an excellent choice for anyone who values both form and function.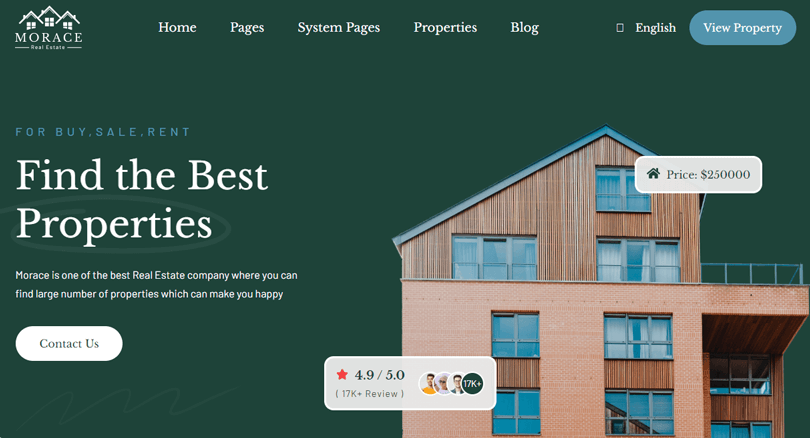 With endless color possibilities, custom fonts, and retina-ready graphics, modifying the theme to precisely reflect your identity has never been easier. But it's not just about looks. The interface also provides a seamless and effective user experience with HubSpot, one of the most widely used marketing automation programs on the market. This means that your brand not only looks great but also functions at optimal levels to achieve your business goals.
Feature list:
Fully Responsive
10 template page
SEO Friendly:
Easy to use and customize
Eye-catchy Properties
Pricing: Free of Cost
Mesbiz – Multipurpose Business Theme for HubSpot
For businesses looking to establish a solid online presence, Mesbiz is the ideal multipurpose business theme for the HubSpot CMS. With its extensive range of features, Mesbiz makes it easy to create a professional and expert website that truly showcases your company.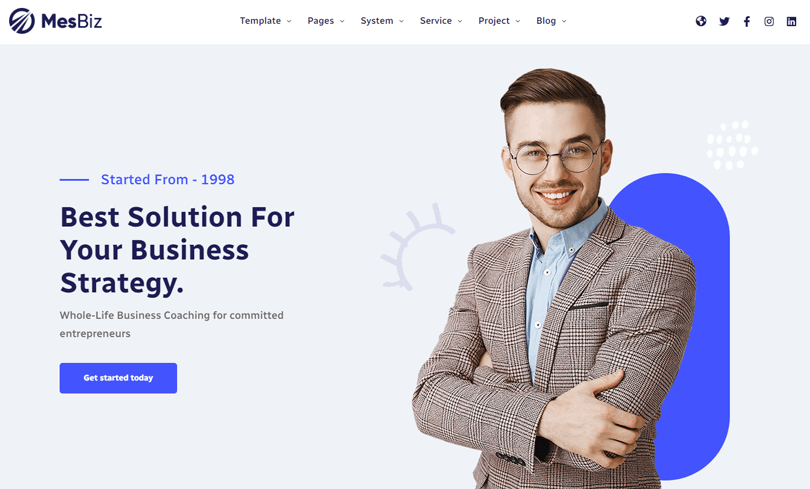 You can create landing pages, dynamic contact forms, blog sections, portfolio parts, module pages, services, and much more. No matter what type of content you need to create, you can do it all with Mesbiz. With its professional yet user-friendly interface, Mesbiz is the perfect choice for any business looking to splash online.
Feature list:
Intuitive Drag-and-drop
Fully Responsive
Pixel-perfect, retina-ready & completely responsive
SEO friendly
Pricing: $999
Frequently Asked Questions
How does HubSpot CMS help businesses grow?
As your business grows, so does your need for customer service and content management solutions that can keep up with demand. HubSpot CMS provides scalability options, making it easier for businesses to measure success, manage contacts, and track customer interactions from one platform. It also allows customers to customize content quickly across multiple channels with the same code base.
How can I customize my experience with HubSpot CMS?
HubSpot CMS allows you to customize your content across multiple channels with the same code base, allowing you to build more efficient campaigns that reach wider audiences. Additionally, this platform offers integration options so you can connect third-party systems and applications seamlessly.
Is there any support available if I have troubleshooting questions regarding HubSpot CMS?
Yes! The team at HubSpot includes round-the-clock support so you can get help whenever you need it. On top of this, they also offer onboarding services to make sure you get the most out of their product.
Conclusion: Unlock the Benefits of HubSpot CMS
In today's digital age, having a well-designed website is crucial for any business. However, designing a website is not enough. You need a platform to manage, optimize and track your content performance. That's why you should consider using HubSpot CMS.
With its integrated marketing tools, HubSpot provides an all-in-one solution to optimize your website for lead generation, conversion, and analytics. In addition, HubSpot CMS allows you to create responsive, personalizable websites with ease, and this means your website can be viewed on any device without losing its aesthetic.
In conclusion, if you're considering a website revamp or looking for an intuitive platform to optimize your content, don't hesitate to consider HubSpot CMS. With its unrivaled tools and comprehensive suite of features, you're bound to unlock the benefits of a robust content management system.