The Best HubSpot Marketplace Themes: Maximize Your Website Design With HubSpot CMS
If you're looking for HubSpot Marketplace themes, look no further! In this blog post, we'll discuss some of the best HubSpot themes available and how they can help you maximize your website design. HubSpot is a leading content management system (CMS) that allows businesses to create beautiful websites without any coding experience.
With HubSpot's Marketplace themes, you can choose from a variety of templates that are designed to help you achieve your desired look and feel. Let's take a closer look at some of the best HubSpot Marketplace themes available.
Benefits of Using HubSpot's Marketplace Themes
Businesses can gain a lot from utilizing HubSpot's Marketplace Themes. Some of its benefits are —
Customizability:
HubSpot Themes are very adaptable, enabling businesses to customize the look and functionality of their websites to meet their unique requirements. Businesses may design a distinctive and expert-looking website that appropriately represents their brand with the option to include custom CSS, HTML, and JavaScript.
Editable themes:
Even individuals with little to no coding knowledge may easily edit HubSpot's Marketplace Themes. Companies can update their website's layout, content, and design components using the drag-and-drop editor. This makes updating your website quick and simple without needing a developer with the help of HubSpot asset marketplace.
Responsiveness:
HubSpot Themes are responsive, which means they can adjust to various screen sizes and devices. Responsive theme layouts. This guarantees that your website looks fantastic and performs correctly on computers, tablets, and mobile devices, giving your visitors a smooth user experience.
Easily streamlined:
HubSpot's Marketplace Themes are made to make it simple to produce and publish blog posts, landing pages, and other types of content. Businesses may swiftly produce professional-looking content without the help of a designer or developer by using pre-built modules and themes.
Seo-optimized:
When optimizing your website for search engines, things can get complicated pretty fast. However, HubSpot asset marketplace offer a relatively easy solution to this problem.
With SEO built directly into the platform, users can enjoy simple recommendations for improving their website's ranking through the right keywords. This could make a significant difference in terms of driving more traffic to your website and generating more leads.
Exploring the Best HubSpot Marketplace Themes
Here are 7 exceptional themes for Hubspot CMS suggested for you-
Beautian – Health & Beauty Theme for HubSpot
Beautian is a comprehensive and sophisticated Health & Beauty Theme for HubSpot CMS, created specifically for health and beauty professionals who want to elevate their online presence. It includes a wide range of sites, from straightforward homepages and landing pages to in-depth service details pages, contact forms, and listings for beautician blogs.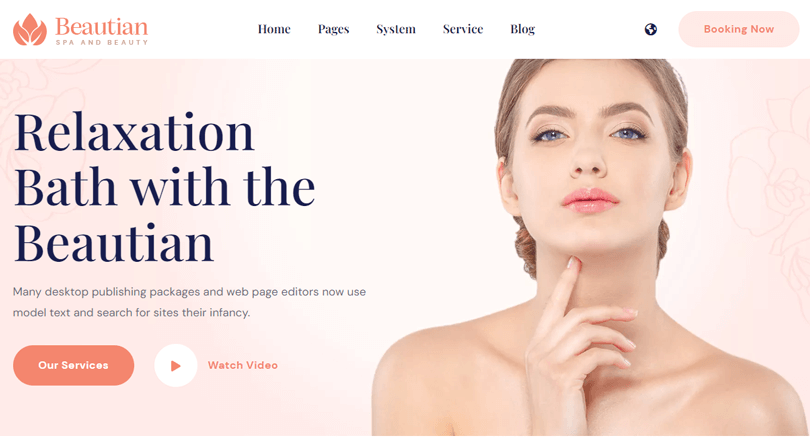 Beautian's drag-and-drop editor, which makes it highly user-friendly and simple to set up, is one of its main advantages.
Beautician has also a pro version to build a strong web presence. It comes with a variety of HubSpot website design templates, including an extensive range of pages dedicated to core beauty services like hair salons, spa treatments, nail care, and more.
Feature list:
Pre-built Templates & custom modules
Fully Responsive
SEO Friendly:
Easy to use and customize
Built with Bootstrap 5
Pricing: Free of Cost
Maxs- Gaming Theme for HubSpot
The Maxs Game Theme is one of the best HubSpot themes for companies and individuals wishing to quickly and easily build a spectacular gaming website. This game hubspot theme is a potent instrument to improve your online presence because of its cutting-edge design, simple drag-and-drop interface, and fully responsive layout. Also, it is SEO- and page-speed optimized, making sure that your website runs quickly and performs well on search engines.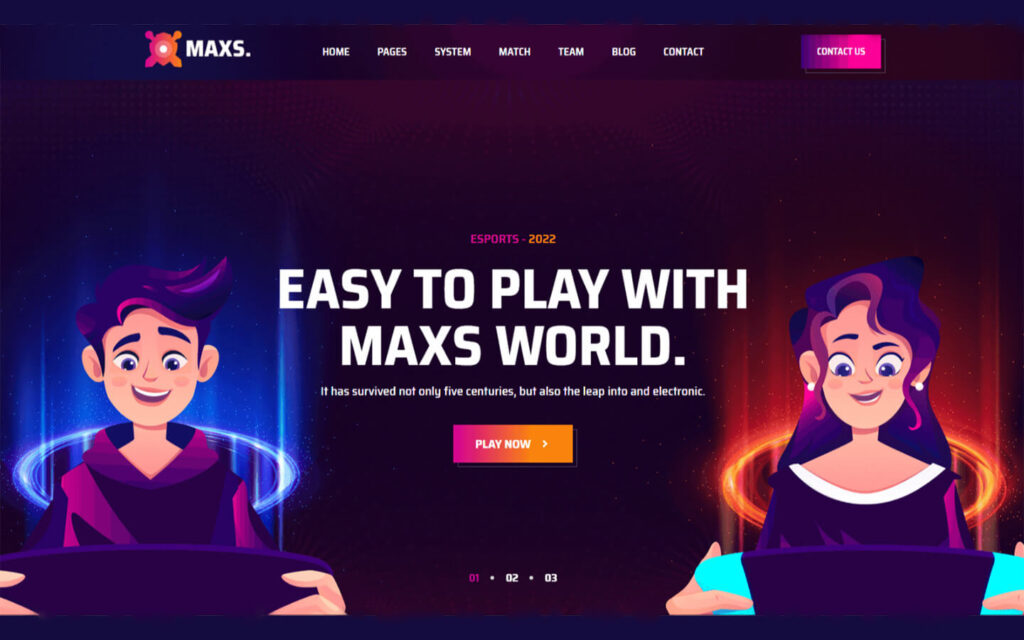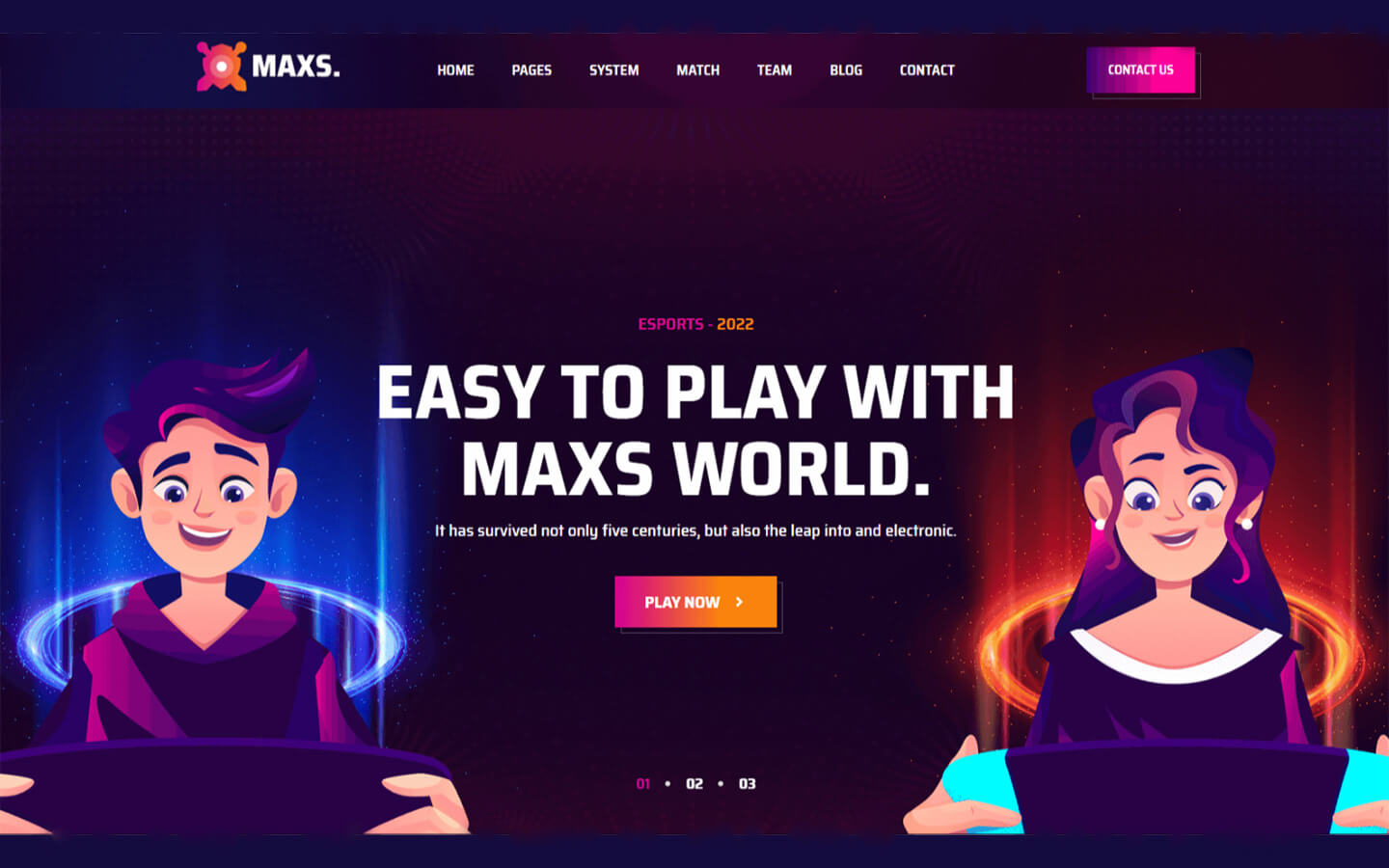 This theme has a variety of pages, including About, Contact, Home, Landing Page, Match Details, Service Details, Team Details, and Team Member, to satisfy the needs of gamers and give your clients a pleasurable web experience. The Maxs Gaming Theme offers everything you could possibly need for a blog listing page or to display information about your team.
Feature list:
Intuitive Drag-and-drop
Fully Responsive
Pixel-perfect, retina-ready & completely responsive
SEO optimized
Pricing: Free of Cost
Nafil – NFT Theme for HubSpot
Nafil is a HubSpot CMS theme designed specifically for creating engaging and visually appealing websites related to the NFT world. It has a sleek, contemporary look that can be altered to suit your particular requirements. It also has an easy-to-use interface and seamless connection with your favorite payment processors.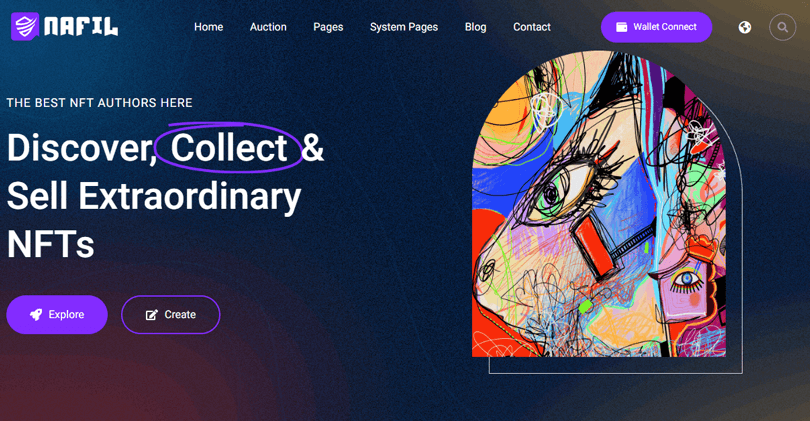 Nafil ensures that your website appears fantastic on desktop and mobile devices because it is totally responsive. Nafil's strong features and capabilities can help you stand out from the competition by creating a visually appealing website that not only grabs attention but also provides genuine value to your visitors. Nafil features all you want to accomplish your goals and prevail in the cutthroat online business environment, whether you're looking to enhance traffic, lead generation, or conversion rates.
Feature list:
Fully Responsive
9 template page
SEO Friendly:
Easy to use and customize
Stunning Product Details Page
Pricing: Free of Cost
Morace – Real Estate Theme for HubSpot
The Morace Real Estate HubSpot Theme is ideal for anyone seeking both practicality and excellent appearance. This sophisticated theme offers customers a wide range of customization possibilities and is nicely built to look good on any device.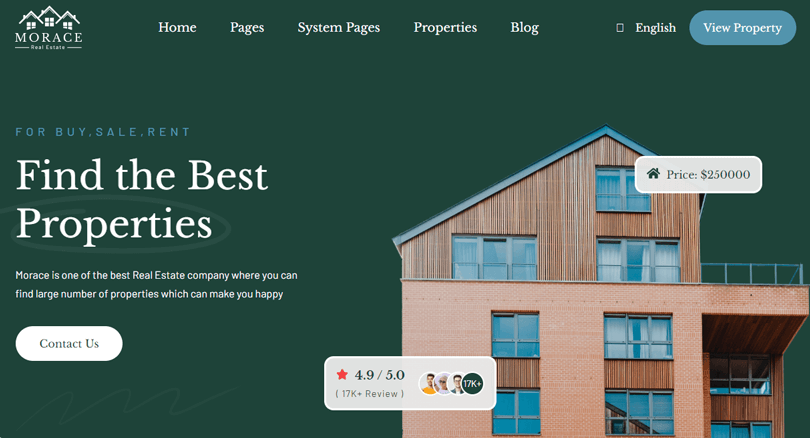 You may modify the theme to precisely reflect your identity thanks to endless color possibilities, custom fonts, and retina-ready graphics. The interface also provides a seamless and effective user experience with HubSpot, one of the most widely used marketing automation programs on the market.
Feature list:
Fully Responsive
10 template page
SEO Friendly:
Easy to use and customize
Eye-catchy Properties
Pricing: Free of Cost
Mesbiz – Multipurpose Business Theme for HubSpot
Mesbiz is a multipurpose business theme for the HubSpot CMS that is perfect for building an extensive and expert website for companies. Businesses may simply construct a variety of content with Mesbiz, including landing pages, dynamic contact forms, blog sections, portfolio parts, module pages, services, and more.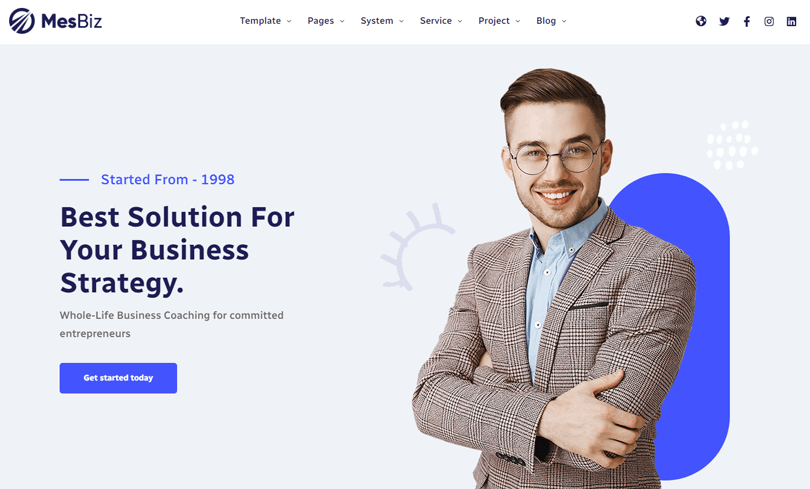 The theme also has a variety of sections, such as About and Contact as well as Service Details and Customer Reviews, so users may customize their website to their tastes. The most crucial aspect of Mesbiz is that it is user-friendly, making it simple for companies to design their websites with the least amount of effort.
Feature list:
Intuitive Drag-and-drop
Fully Responsive
Pixel-perfect, retina-ready & completely responsive
SEO friendly
Pricing: $999
MaxCoach – Education HubSpot Theme
MaxCoach is an ideal HubSpot education theme for anyone looking to create an educational website. It's never been simpler to develop a website that matches your style and preferences thanks to the responsive and user-friendly HubSpot CMS platform.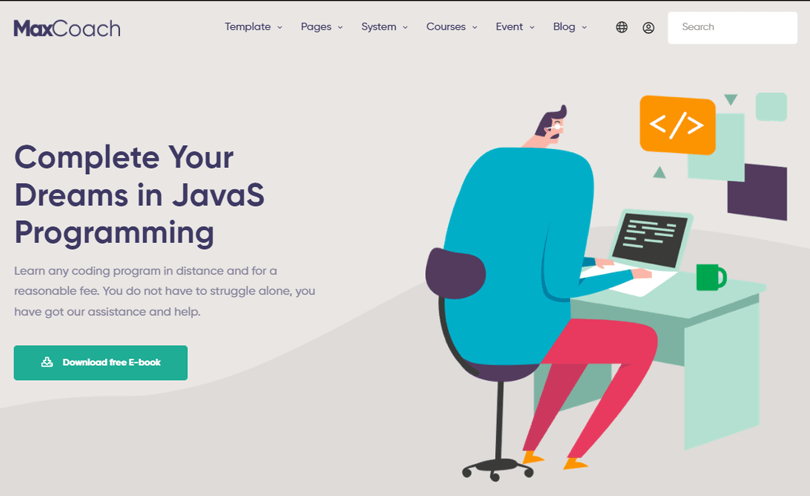 In addition to a range of page designs, MaxCoach features five different homepage versions, including About, Contact, Privacy Policy, System, Courses, Event, and Blog Pages. You have all the resources you need with MaxCoach to quickly and easily create an outstanding educational website!
Feature list:
5 Homepage
Clean Code
Creative and Modern Design
Fully Responsive
Smooth animations
Pricing: $79/ Year
Buznex – Corporate HubSpot Theme
If you're a creative business looking to make a big impression online, Buznex is the perfect corporate HubSpot Theme for you. With its modern, clean design and customizable features, Buznex is the ultimate choice for those who want to showcase their brand with style and sophistication.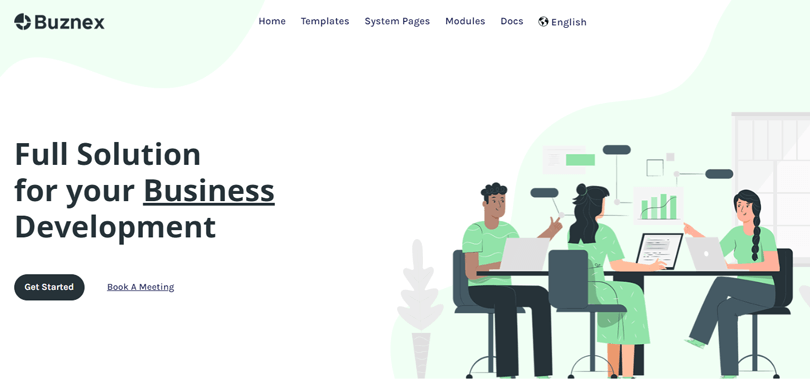 With just one click, you can choose from 10 pre-designed page templates and 22 modules to create a website that truly represents your business. And, the best part is that it's easy – you can get your website up and running in no time, without any hassle. Give Buznex a try and see how it can transform your online presence!
Feature list:
Fully Responsive to fit of all the major devices
W3C Validated Code
Clean Code
Speed Optimized
Cross Browser Support
Pricing: $99/ Year
Get Exclusive HubSpot CMS Services from Codfer
Elevate your online presence with the exclusive HubSpot CMS services provided by Codfer. No matter your business type, Codfer has a wide range of HubSpot themes curated especially for you. These effortless-to-use themes allow you to set up your website or e-commerce store in no time.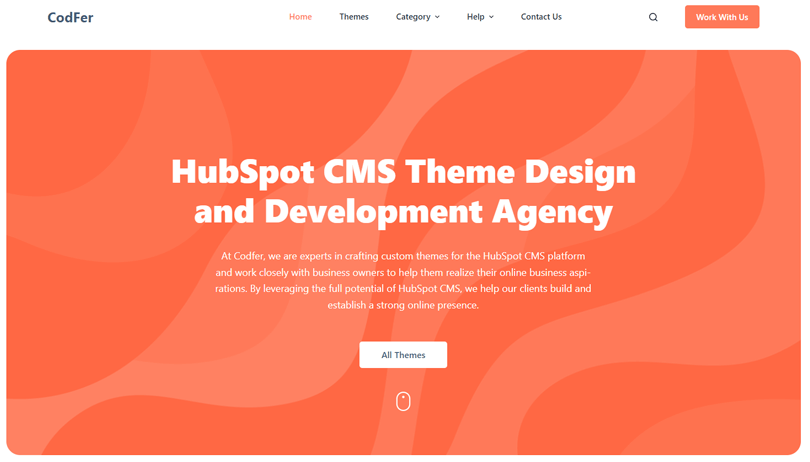 But, if you're looking for a tailor-made look, Codfer's custom theme service can transform your vision into a beautiful reality. With a team of proficient and seasoned developers, we'll fine-tune every detail to ensure your website looks exactly the way you want it to. Get your hands on the exclusive HubSpot CMS services from Codfer today!
Frequently Asked Questions
Can I customize HubSpot Marketplace Themes?
Yes, all HubSpot Marketplace Themes are fully customizable, so you can easily make changes to the layout, colors, fonts, and content to suit your brand.
Are HubSpot Marketplace Themes optimized for mobile devices?
HubSpot Marketplace Themes are fully responsive, which means they are optimized for mobile devices, tablets, and desktops.
Can I create custom pages with HubSpot Marketplace Themes?
Yes, you can create custom pages using any of the templates provided with your chosen theme, or you can create your own pages from scratch. HubSpot Marketplace Themes also come with pre-designed page templates including a homepage, blog page, about page, etc., which you can use as a starting point for your custom pages.
Wrapping Up
After considering their features and benefits, it's easy to see why these themes are a great option for businesses. They offer a visually appealing layout, easy customization options, and responsiveness across all devices.
Plus, they integrate seamlessly with other HubSpot tools, making it even easier to manage your online presence. With all these advantages, it's safe to say that choosing a HubSpot cms hub Theme for your website's design is a decision that won't disappoint.