5 Top HubSpot Themes for eCommerce Websites
Are you looking for a HubSpot theme to enhance your eCommerce website? With so many options out there, it can be overwhelming to choose the perfect one for your business. In this article, we'll be discussing the top 5 HubSpot themes for eCommerce websites. These themes offer an array of features and customization options to help you create a visually stunning and high-performing online store.
Importance of selecting the right theme for an eCommerce website
Selecting the right theme for eCommerce sites is crucial. With so many options available, it can be challenging to find a theme that aligns with your brand's values and goals. Investing in a low-quality theme can result in a poor user experience, negatively impacting your conversions and revenue.
That's why it's crucial to choose a theme that provides a seamless shopping experience for your customers. One of the great options is HubSpot Themes for eCommerce Websites. The Hubspot CMS themes are designed with the latest technology, ensuring optimal functionality, and are customizable to fit your brand's unique look.
By selecting the right theme for your eCommerce solution, you can elevate your customer's shopping experience and, ultimately, increase your sales and revenue.
Overview of HubSpot as a website builder platform
As businesses continue to shift towards a more online presence, the demand for user-friendly and customizable beautiful website building platforms has increased significantly. HubSpot CMS hub is one such platform that has made its name in the industry. Its easy-to-use content management system and vast library of themes make it a reliable option for many eCommerce website builders.
Whether you're a novice or an expert, HubSpot's themes for eCommerce websites are an excellent starting point if you're looking to build your e-store without too much hassle. Moreover, HubSpot offers a range of marketing and sales tools integrated within the platform, allowing you to maximize your online presence, promote your brand, and increase sales.
Overall, HubSpot is a reliable platform that eCommerce businesses can leverage to craft, customize, and grow their website without too much fuss.
Top 5 HubSpot themes for eCommerce websites
Garado
In the world of eCommerce, having a reliable website theme is crucial to ensure that your business is presented in the best light possible. That's where HubSpot Themes for eCommerce Websites come in, and Garado has taken it one step further. Garado is a fully-featured HubSpot Website Theme that is specifically designed for Interior and Furniture Stores.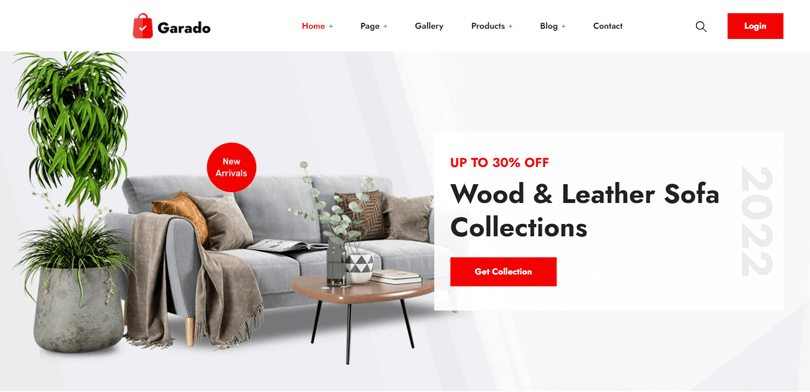 With its search engine-optimized code, customization flexibility, and comprehensible source code, you'll have a beautiful website that not only looks great but also performs exceptionally well. More importantly, this HubSpot clean theme provides all the necessary documentation to ensure that you have a seamless experience throughout the entire process.
It's a modern theme that includes every layout, element, and feature that you need to make your online store stand out. With its HTML, Sass, and JS coding, Garado is not only reliable but also highly functional. If you're looking for a theme to help take your online store to the next level, Garado is the perfect solution.
Key Features
Drag and Drop – Clean, Simple & Easy to Customize
Advance Theme Options
100% Responsive Design
Pricing: Free of cost.
👉 Learn How to Choose the Right HubSpot CMS Theme for Your Business
Outlet
Looking for a dynamic and user-friendly website theme to enhance your retail business? Look no further than the outlet, one of HubSpot's Themes for eCommerce Websites. With its clean and colorful design, this HubSpot CMS theme is perfect for showcasing your products and building your online store.
With customizable modular sections and reusable modules, you can design a website that perfectly aligns with your brand and epitomizes your unique style. What's more, this theme is created with global theme settings to guarantee that you can tailor your color scheme with just a few clicks and achieve a cohesive, branded look.
The drag-and-drop editor and preconfigured structure make it easy to customize your website, from adding new product categories to posting compelling blog content. And the best part? It's completely free to use! Try the outlet today and take your retail business to the next level.
Key Features
Simple & Colorful CMS Theme
CMS Structure
Global Theme Settings
100% Customizable
Pricing: Free of cost
👉 Check Custom Website Design vs HubSpot Theme: What's the Right for You?
Austin
Austin is another ideal place for businesses looking to build attractive websites and web pages. With its user-friendly interface and expert team, this city offers a variety of system templates, including a 404 Error Template, 500 Error Template, Backup Unsubscribe, Membership Login, and Membership Register. By utilizing HubSpot Themes for eCommerce Websites, businesses can increase their conversion rates and scale up their business.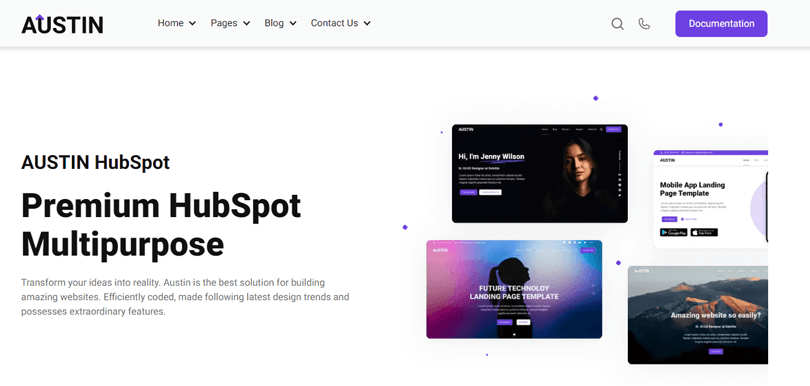 Implementing an effective header layout can make all the difference in providing users with a seamless browsing experience when it comes to eCommerce websites in Austin. While many options are available, Header Layout One and Header Layout Two stand out as the preferred choices among designers.
Austin's professional tone of voice ensures that your website is not only visually appealing but also helps to keep your visitors engaged. So, if you're looking for a platform to create stunning websites, look no further than Austin.
Key Features
Multiple Header Layout
Multiple Blog Layout
Multi-Language Support
DIY
Pricing: Free of cost.
👉 View Why You Should Consider Using HubSpot CMS: Unlock the Benefits of HubSpot CMS
Traverse
One of the biggest challenges in the world of eCommerce and retail is creating a website that looks professional and polished while also remaining flexible and easy to use. That's where HubSpot Themes for eCommerce Websites come in, specifically Traverse.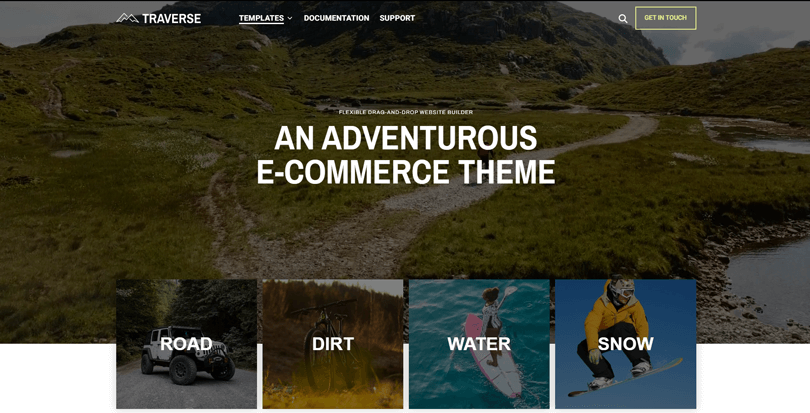 This powerful new theme is designed to make showcasing your products, services, or resources as effortless as possible, with the first-ever Product Listing and Detail page templates.
With its sleek and modern design, Traverse is the perfect choice for anyone who wants to build a strong online presence and make a lasting impression on customers. So why not give it a try today and see just how easy it can be to take your eCommerce game to the next level?
Key Features
Product Focused
Accessible and Responsive
Design Flexibility
Marketer Friendly
Pricing: $49
👉 Explore Top 11 HubSpot Themes for Business Websites
Nexus E-Commerce
HubSpot Themes for eCommerce Websites are becoming more and more popular among marketers who want to optimize their online sales. The Nexus E-Commerce theme perfectly combines HubSpot's marketing automation capabilities with the eCommerce functionality of Shopify. One of its standout features is its responsive design, it ensures that your website looks great on any device.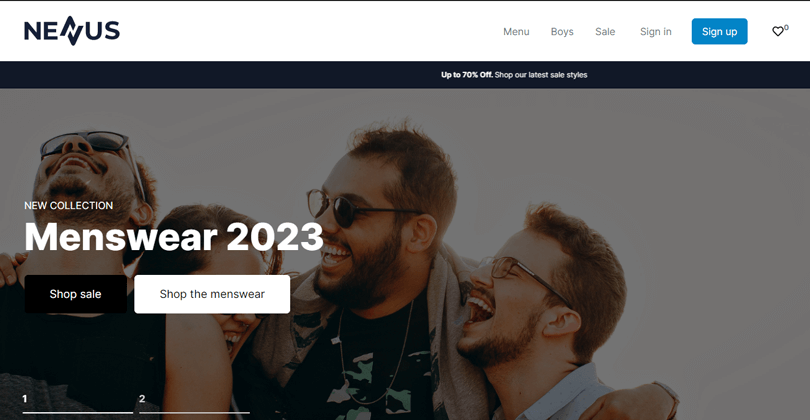 With this Hubspot theme, you don't need any technical skills or coding experience to create a stunning, fully-customized online store. Using a simple drag-and-drop interface, you can easily tweak everything from the layout to the color scheme to perfectly match your brand and products.
With many more customers shopping on their mobiles, having a website that adjusts seamlessly to different devices is crucial in improving your online sales. The Nexus eCommerce theme simplifies your eCommerce operations and improves your user experience, ultimately leading to expanded revenue and customer satisfaction.
Key Features
Responsive
Drag-and-Drop
Theme Settings
Pricing: $997
👉 Read Quick Fixes for Common HubSpot Content Issues
Bonus: Check Out These Modern HubSpot Themes
Mesbiz – Multipurpose Business Theme for HubSpot
In the world of eCommerce websites, HubSpot Themes hold significant importance. And when it comes to crafting a multipurpose business website, Mesbiz stands out in the crowd. This expert HubSpot theme allows businesses to build an extensive website with ease.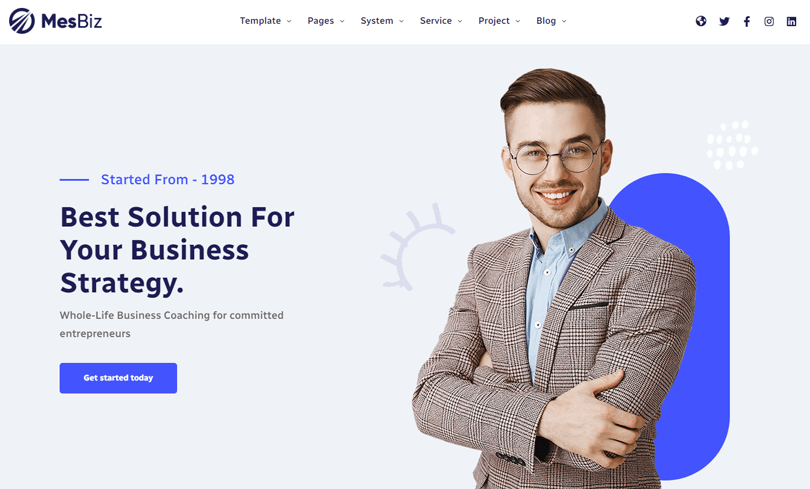 With Mesbiz, companies can create dynamic contact forms, landing pages, portfolio sections, blog posts, and more. It also includes module pages and service sections, making it a comprehensive tool for all kinds of businesses. With various sections such as About and Contact as well as Service Details and Customer Reviews, Mesbiz provides ample opportunity for customization, ensuring that your website suits your unique needs and preferences.
What's more, Mesbiz is incredibly user-friendly, making designing your website quick, easy, and hassle-free. With HubSpot Themes for eCommerce Websites like Mesbiz, businesses can elevate your online presence and take digital marketing strategy to the next level.
Key Features:
Intuitive Drag-and-drop
Fully Responsive
Pixel-perfect, retina-ready & completely responsive
SEO friendly
Pricing: $999
Beautian – Health & Beauty Theme for HubSpot
The Beautian HubSpot Theme is the perfect solution for health and beauty professionals who want to enhance their online presence. Designed specifically for the industry, Beautian is a comprehensive and sophisticated Health & Beauty Theme that offers a wide range of sites, from straightforward homepages and landing pages to detailed service descriptions, contact forms, and even listings for beautician blogs.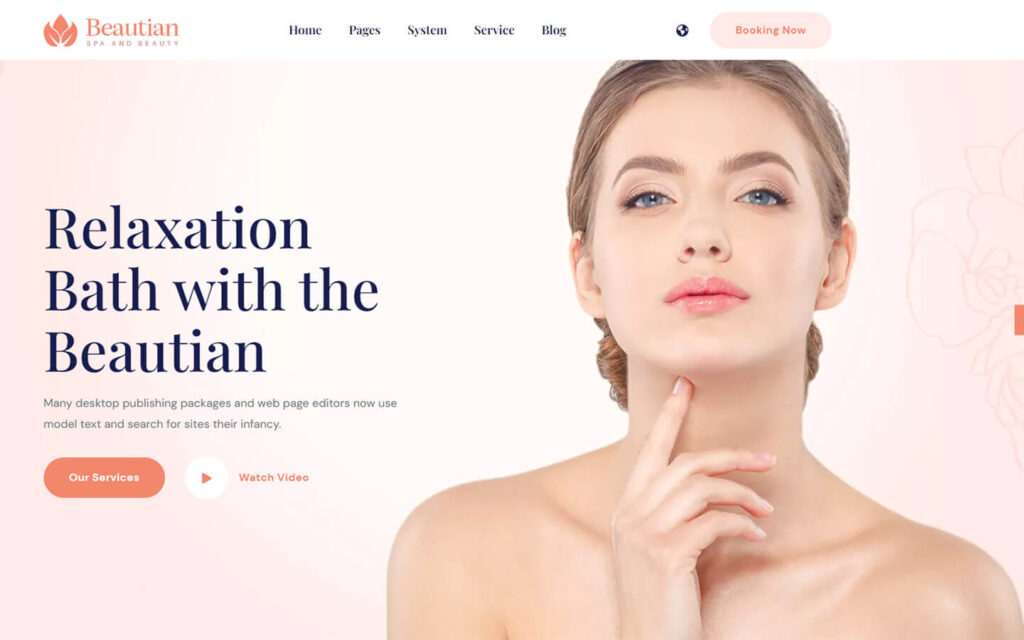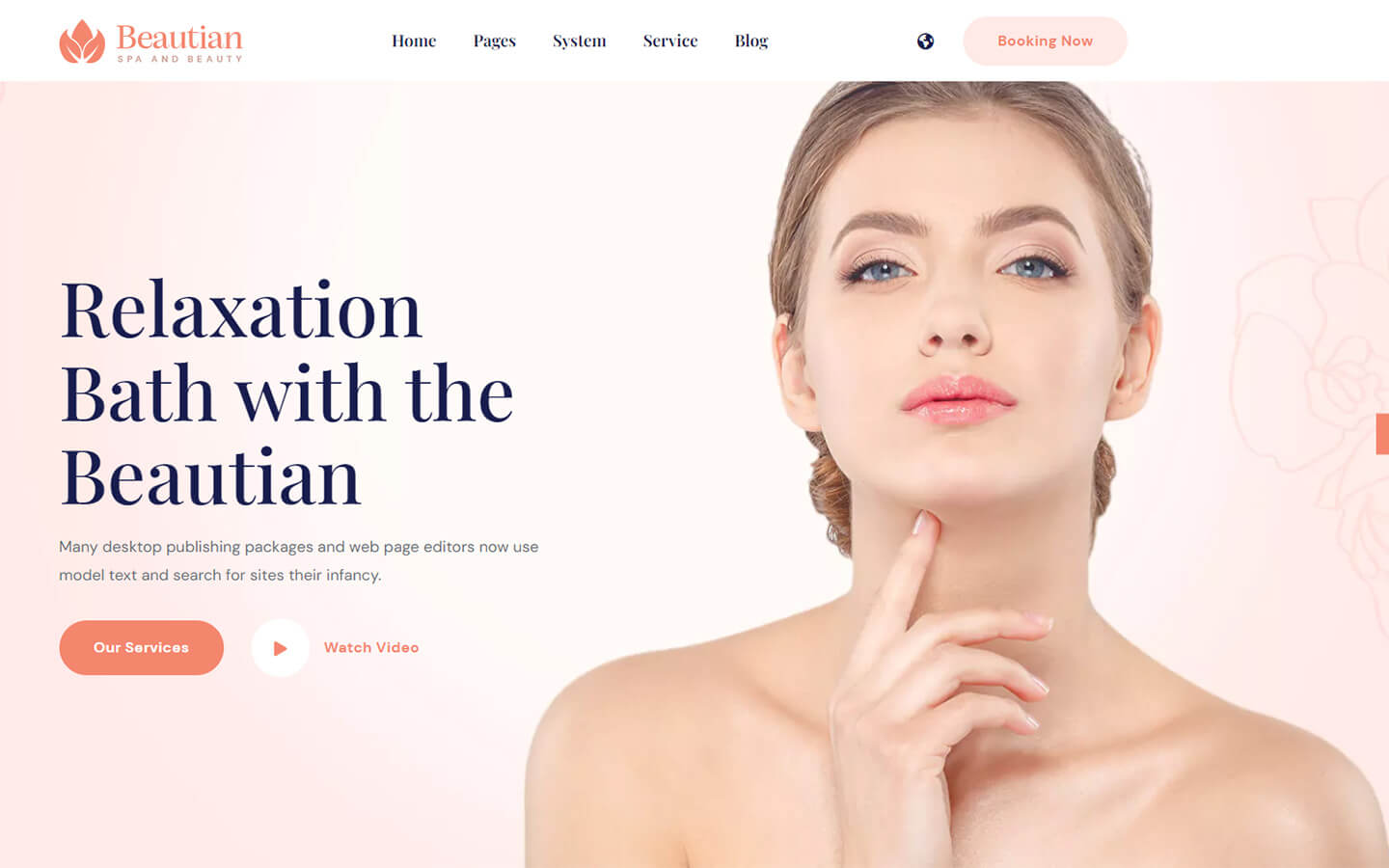 With its clean and modern design, Beautian is sure to attract new customers and increase brand awareness. As one of the best HubSpot Themes for eCommerce Websites, Beautian is a smart investment for businesses looking to boost online sales and marketing efforts.
Beautian's drag-and-drop editor is one of its main advantages, making it highly user-friendly and simple to set up. However, for those looking to take their website to the next level, Beautian also offers a pro version with a variety of HubSpot Themes for eCommerce Websites. These templates are specifically designed for businesses in the beauty industry, with a wide range of pages dedicated to core beauty services like hair salons, spa treatments, nail care, and more.
Key Feature:
Pre-built Templates & custom modules
Fully Responsive
SEO Friendly:
Easy to use and customize
Built with Bootstrap 5
Pricing: Free of Cost
Beautian Pro – Health & beauty Theme for HubSpot
For businesses in the beauty industry, creating an online presence is crucial to reaching a wider audience and establishing a strong brand image. This is where HubSpot Themes for eCommerce websites come in, specifically designed for businesses in the beauty industry.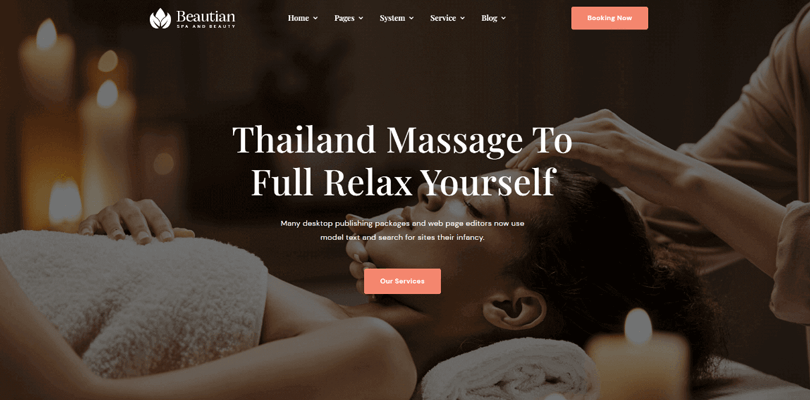 The Beautian Pro theme is a standout option that offers all the essential features and functionality needed to create a sleek and sophisticated website that not only looks great but also informs and engages potential customers.
With an easy-to-use interface and customizable options, Beautian Pro makes it effortless for businesses to showcase their products and services online and stand out from the competition. If you're in the beauty industry, Beautian Pro is the perfect choice to kickstart your online presence and create a website that truly represents your brand.
Key Features
A nice and elegant hero section
Visually Stunning Service Cards
Simple Lead or Service Registration Form
News/Blog Page
3 Homepage
W3C Validated Code
Fully Responsive
Pricing: $299
Frequently Asked Questions
Do I need coding skills to use a HubSpot theme for my eCommerce website?
While some coding knowledge may be helpful, using a HubSpot theme for an eCommerce website does not require extensive coding skills. The themes come with drag-and-drop editors and other user-friendly tools that make customization and website building easier.
What features should I look for when selecting a HubSpot theme for my eCommerce website?
When selecting a HubSpot theme for your eCommerce website, consider features such as customization options, integration with third-party eCommerce platforms, responsive design, SEO optimization, and support and documentation. Also, ensure that the theme aligns with the branding and messaging of your eCommerce store.
Can these themes be integrated with third-party eCommerce platforms?
Yes, many of these themes can be integrated with third-party eCommerce platforms like Shopify and Magento, allowing businesses to offer a seamless shopping experience for their customers.
Conclusion and final thoughts
As an eCommerce business owner, choosing the perfect website theme can be a daunting task. Fortunately, the HubSpot platform offers a variety of themes tailored specifically for eCommerce websites that can bring your online store to life. After careful consideration and thorough testing, we have identified the top five HubSpot Themes that will help your eCommerce business stand out.
Each of these Hubspot themes has unique features that will appeal to specific brands, depending on their niche and target audience. With the right choice of theme, your online store can provide a seamless and intuitive shopping experience for customers, leading to increased sales and customer loyalty.