How to Choose the Right HubSpot CMS Theme for Your Business
When it comes to designing your website, how to choose the right HubSpot CMS theme can be a daunting task. With so many options out there, making sure you pick the one that fits your business's needs and style can seem overwhelming. But don't stress!
If you know what to look for when selecting a HubSpot CMS theme, you'll be able to choose the right one for your business quickly and easily. In this blog post, we'll cover all the details you need to consider when choosing a HubSpot CMS theme that's perfect for your organization.
Things to Consider to Choose the Right HubSpot CMS Theme
When it comes to building a website on HubSpot CMS, selecting the right theme can be crucial to the success of your project. With a wide variety of options available, it can be overwhelming how to choose the right HubSpot CMS theme for your specific needs. However, choosing the right HubSpot theme can mean the difference between a functional, visually appealing website designed to convert visitors into customers and a website that doesn't meet your needs.
Design and Customization Options
When it comes to choosing the right HubSpot CMS hub theme, there are several things to consider. One of the most important factors is the design and customization options available. You want to choose a theme that not only fits the look and feel of your brand but also allows you to easily customize it to make it your own.
From colors and fonts to adding your company logo, make sure the theme offers the flexibility you need. Additionally, take into account the support and resources available for customization and design to ensure that you have the help necessary to create the website you envision.
Mobile Responsiveness
A mobile responsive theme is designed to adjust to different screen sizes, ensuring that the website looks and functions correctly on any device. So, before you commit to a theme, take a look at how it stacks up on a mobile device.
One effective way to do that is through the HubSpot theme marketplace, where templates are labeled on their features, including mobile responsiveness. Finally, it's important to make sure your HubSpot CMS theme is mobile-friendly so your target audience can go where they are.
SEO Capabilities
Your website's visibility on search engines is a determining factor in attracting a significant audience, and an SEO-optimized theme can take you a long way in achieving that. Be sure to choose a theme with fast loading speeds, mobile-friendly, customizable meta descriptions, and clean code that search engines can easily crawl. By improving your SEO, you can increase your website's chances of appearing on the first page of search engine results pages – where most internet users are likely to click.
Page Speed
In today's fast-paced world, users expect lightning-fast loading times and won't hesitate to abandon a site that fails to meet these expectations. Therefore, opting for a theme with elements proven to increase page speed, such as caching and minification, is smart.
Not only will a faster-loading site increase user satisfaction, but it can also improve your search engine rankings, leading to greater visibility and more traffic. Make sure to test out any theme you're considering to ensure it meets your speed requirements before making a final decision.
Support and Documentation
When considering which HubSpot CMS theme to choose for your website, it's essential to take into account the support and documentation provided. Also, make sure to test out any theme you are considering to ensure it meets your speed requirements before making a final decision.
Additionally, thorough documentation is crucial for understanding the capabilities and limitations of the theme, as well as any customization options that may be available. By selecting a theme with robust support and detailed documentation, you can feel confident in your ability to create a successful and functional website that meets your business needs.
Pricing
When it comes to choosing the right HubSpot CMS theme, pricing is a crucial factor that needs careful consideration. While free themes may seem like an attractive option, they may not offer the features or customization options needed for your website. On the other hand, premium themes may come with a higher price tag, but they provide advanced functionalities, responsive design, and expert support.
It's essential to evaluate your budget and requirements before selecting a theme. Keep in mind that investing in the right theme may result in long-term benefits and help you achieve your website goals. Ultimately, making an informed decision on pricing can lead to a successful online presence and a positive user experience.
Integration with HubSpot Tools
When it comes to choosing a HubSpot CMS theme, integration with HubSpot tools is crucial. Make sure that the theme you select is compatible with the HubSpot tools you plan to use, whether that's the blog, landing pages, or email marketing. A well-integrated theme will save you time and hassle when it comes to applying your branding consistently and managing your content.
Additionally, a theme that works with your HubSpot tools can make it easier to track the performance of your website and get valuable insights into what's working and what's not. Keep in mind these important considerations when selecting your CMS theme, and you'll be on your way to creating a website that represents your brand and engages with your audience.
Theme Updates and Maintenance
When it comes to how to choose the right HubSpot CMS theme, it is important to ensure that it is regularly updated to provide the latest features and security measures. Additionally, it is important to consider the level of maintenance required to keep the theme functioning optimally over time. By considering these factors, you can select a theme that is not only visually appealing but also reliable and easy to maintain, ensuring that your website remains up-to-date and functioning smoothly.
Best free and paid Hubspot CMS themes for your business
Beautian – Health & Beauty Theme for HubSpot
Beautian is a sophisticated HubSpot CMS theme designed specifically for health and beauty professionals. With its drag-and-drop editor and wide range of pre-built page templates, Beautian makes it simple to create an elevated online presence. Service pages allow for an in-depth showcase of offerings, while a blog listing enables the sharing of expertise and advice. For those looking for an easy-to-use yet powerful theme to gain visibility and grow their business, Beautian is an excellent choice."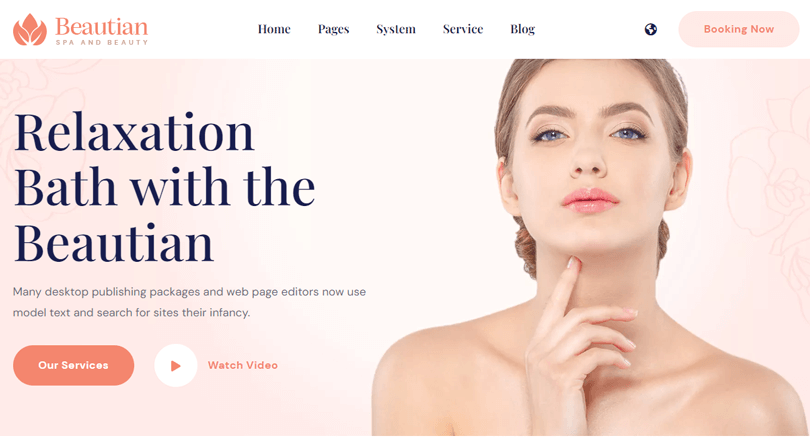 The pro version of Beautician allows beauty professionals to build an impactful web presence. Using HubSpot's CMS templates designed specifically for the beauty industry, beauticians can create fully-featured websites to showcase their services and attract new clients.
The templates include a range of dedicated pages for core beauty services, from hair salons and spa treatments to nail care, allowing beauticians to highlight their specialty and the treatments they offer. With professional design and optimized UX, a pro version is a powerful tool for beauticians looking to strengthen their online presence and business.
Feature list:
Pre-built Templates & custom modules
Fully Responsive
SEO Friendly:
Easy to use and customize
Built with Bootstrap 5
Pricing: Free of Cost
Maxs- Gaming Theme for HubSpot
The Maxs Game Theme is an excellent choice for gaming companies and individuals looking to quickly launch a sleek website. This HubSpot CMS theme features a modern design with bold graphics and colors that appeal to gamers. Its drag-and-drop interface makes it simple to create and customize pages.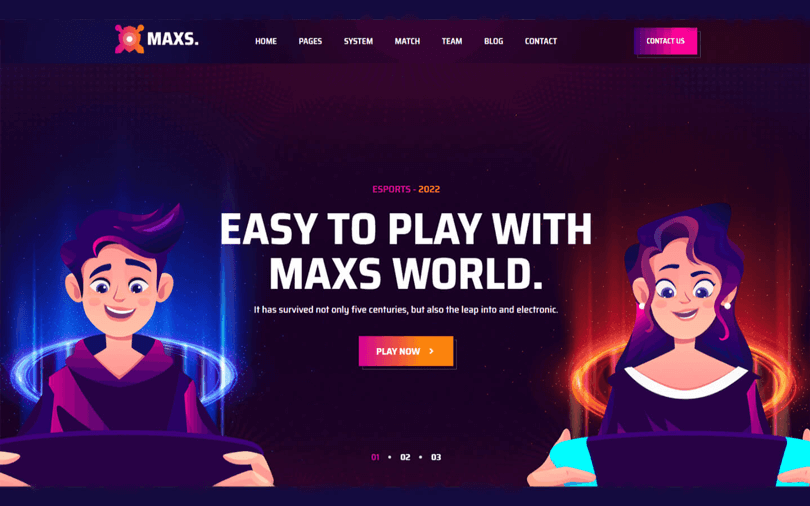 The fully responsive layout ensures that the website displays beautifully on all devices. Additionally, the theme is optimized for search engines and fast page speeds, which can improve a website's performance and rankings. With these key features and benefits, the Maxs Game Theme is a powerful tool for establishing an impactful online presence in the gaming industry.
Feature list:
Intuitive Drag-and-drop
Fully Responsive
Pixel-perfect, retina-ready & completely responsive
SEO optimized
Pricing: Free of Cost
Nafil – NFT Theme for HubSpot
For companies looking to create an online presence in the burgeoning non-fungible token (NFT) space, the Nafil HubSpot CMS theme is an ideal choice. With a sleek, modern design and intuitive customization options, Nafil allows you to craft an engaging website that reflects your brand identity. Its seamless integration with payment processors streamlines the process of selling digital collectibles, while its modular layout means you can highlight your offerings however you see fit.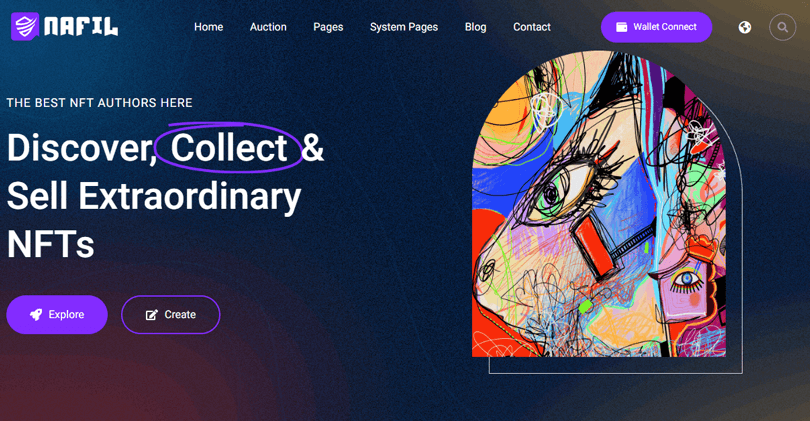 Nafil's collection of contemporary and professional HubSpot CMS themes offers a range of features and capabilities to help your business stand out. From enhanced lead generation and conversion rates to improved traffic and engagement, Nafil's responsive HubSpot CMS themes are a powerful solution to accomplish your goals and thrive in today's competitive digital landscape.
Feature list:
Fully Responsive
9 template page
SEO Friendly
Easy to use and customize
Stunning Product Details Page
Pricing: Free of Cost
Morace – Real Estate Theme for HubSpot
The Morace Real Estate HubSpot Theme is an ideal choice for real estate agents and brokers seeking a professional yet eye-catching website. This sophisticated theme offers a wide range of customization options and is mobile-friendly, ensuring your website will look polished on any device.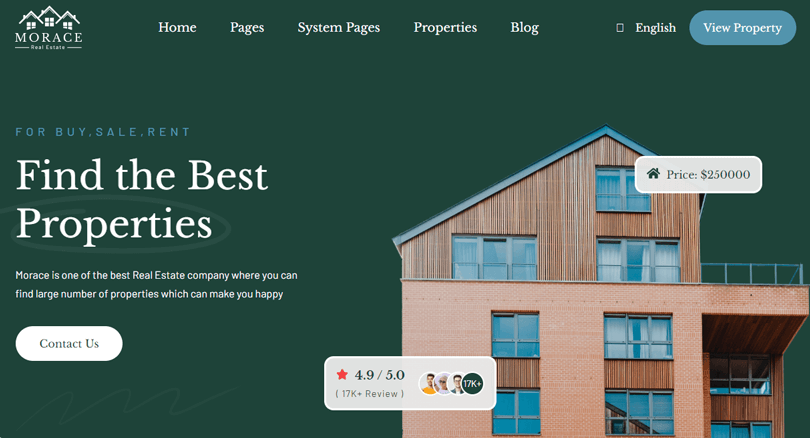 With built-in features for listings, agents, locations, and more, the Morace theme makes it easy to create an informative and engaging online presence. When choosing a HubSpot CMS theme, consider your industry, branding, and key pages to determine the right theme to meet your needs.
With endless color combinations, custom fonts, and retina-ready graphics, you can create a sleek online presence. The theme is also nicely optimized to work beautifully on any device and integrates seamlessly with HubSpot, a leading marketing automation platform. Whether you need to highlight your latest listings, share company news, or increase lead generation, the Morace Real Estate HubSpot Theme has you covered.
Feature list:
Fully Responsive
10 template page
SEO Friendly
Easy to use and customize
Eye-catchy Properties
Pricing: Free of Cost
Mesbiz – Multipurpose Business Theme for HubSpot
For businesses seeking an all-in-one HubSpot CMS theme to establish a professional online presence, Mesbiz is an excellent choice. Mesbiz is a multipurpose theme that enables companies to easily create a variety of content, including landing pages, contact forms, blog posts, portfolio pages, service pages, and more. With its modern and clean design, Mesbiz is ideal for showcasing the breadth of a business's offerings and building credibility and trust with visitors.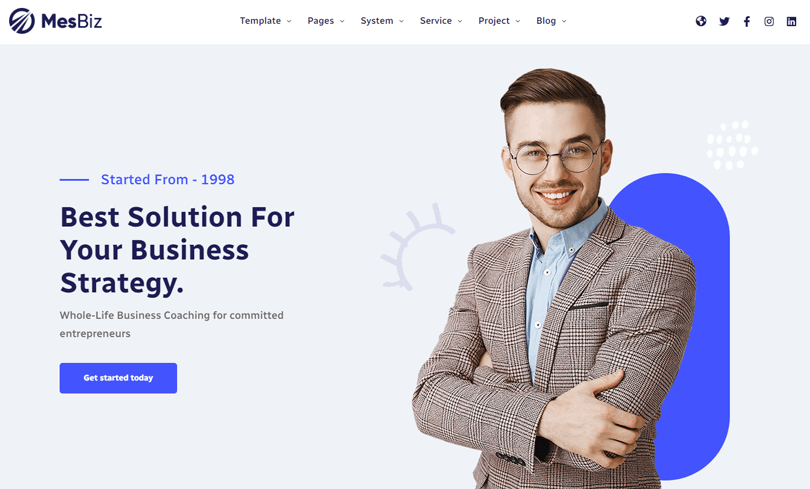 Mesbiz offers sections such as About, Contact, Service Details, and Customer Reviews so that you can customize your website to suit your needs. The most crucial aspect of Mesbiz is that it is user-friendly, making it simple to design an attractive website with minimal effort.
With a range of sections and an easy-to-use interface, the Mesbiz theme is an excellent choice for companies looking to build an informative and professional website using HubSpot CMS.
Feature list:
Intuitive Drag-and-drop
Fully Responsive
Pixel-perfect, retina-ready & completely responsive
SEO friendly
Pricing: $999
MaxCoach – Education HubSpot Theme
For those seeking to build an educational website on the HubSpot CMS platform, MaxCoach is an ideal theme to choose. With a sleek and modern design, this Hubspot theme allows course creators and educators to craft a professional web presence easily. In addition, its responsive layout adapts beautifully to any screen size, ensuring your content is displayed attractively regardless of how visitors access your site.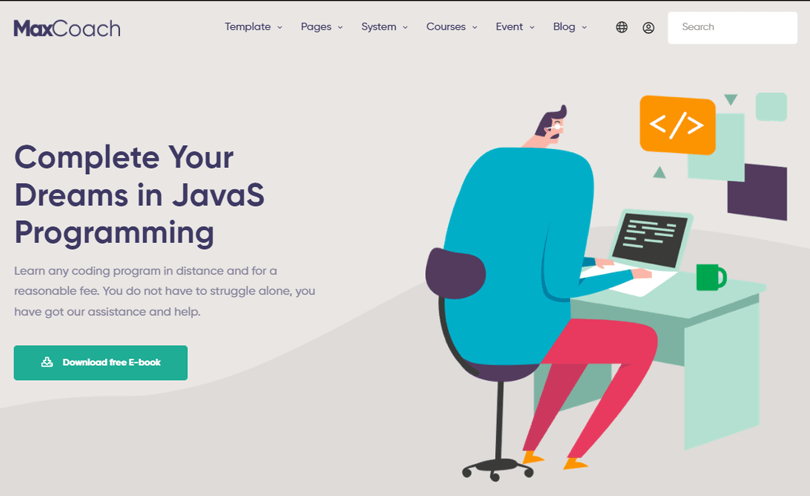 Built-in features like testimonials, team profiles, and pricing tables enable you to highlight your business's strengths. Overall, MaxCoach's intuitive interface and customization options make it simple to choose the right HubSpot CMS theme for your unique educational project.
Feature list:
5 Homepage
Clean Code
Creative and Modern Design
Fully Responsive
Smooth animations
Pricing: $79/ Year
Buznex – Corporate HubSpot Theme
If professionalism and sophistication are key attributes of your brand, the Buznex HubSpot theme is an excellent choice. Its modern, clean design allows your business's personality and services to shine through. With just one click, you have access to 10 sleek page templates and 22 versatile modules to craft a stellar web presence.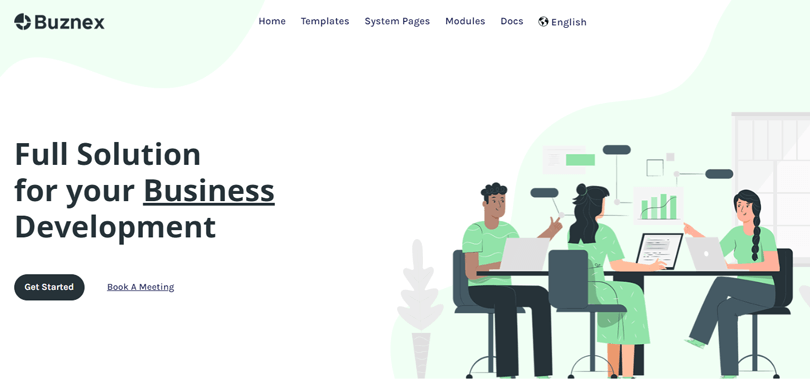 Whether you want to highlight your team, showcase your work, or feature your products, Buznex provides an ideal canvas to make a powerful first impression online. For creative companies seeking a bold way to reach their audience, Buznex is the ultimate HubSpot CMS theme.
Feature list:
Fully Responsive to fit of all the major devices
W3C Validated Code
Clean Code
Speed Optimized
Cross Browser Support
Pricing: $99/ Year
Frequently Asked Questions
What Should You Look for in a HubSpot CMS Theme?
When selecting a HubSpot CMS theme, there are several factors to consider, such as a clean and responsive design, customization options, integration capabilities, SEO optimization, mobile responsiveness, compatibility with various browsers, and page speed.
It's also important to consider the specific needs of your business, such as eCommerce functionality, lead generation forms, and content formatting options. Overall, choosing the right HubSpot CMS theme can make a significant impact on the performance of your website and ultimately drive the success of your business.
Why Should You Use HubSpot Themes?
Using HubSpot themes offers several benefits, such as providing a pre-designed and customizable option for building a website, saving time and money, increasing functionality and user experience, and the ability to integrate with HubSpot's suite of marketing and sales tools.
Additionally, the themes are continually updated and optimized, which ensures that your website stays current with industry trends and best practices. By using a HubSpot theme, businesses can build a professional and effective website that drives traffic, generates leads, and ultimately convert visitors into loyal customers.
How Are HubSpot CMS Marketplace Themes Better Than the Default HubSpot Themes?
HubSpot CMS Marketplace themes are better than default HubSpot themes as they offer more diverse and unique design options that can be more tailored to your specific needs. These themes are created by third-party designers and developers, who often have expertise in areas such as niche industries or eCommerce sites, providing additional options for businesses.
Additionally, marketplace themes often come with advanced features and functionalities that may not be available in default themes, like custom modules, style editors, and custom fonts. This added flexibility and functionality can help businesses stand out in a competitive market, attracting and retaining customers.
How much do HubSpot themes cost?
The cost of HubSpot themes varies depending on whether you choose a pre-designed or custom-built theme. Pre-designed themes are available for free in HubSpot's marketplace, while custom themes typically require engagement with a HubSpot partner or a freelance designer/developer.
The cost of a custom theme can vary significantly depending on the complexity of your website and the level of customization you require. Many factors need to be taken into consideration, like the scope, design, and complexity of the final product.
How To Change an Active HubSpot Theme?
To change an active HubSpot theme, navigate to the design manager by clicking the 'Marketing' dropdown menu and selecting 'Website' from the left panel, then click on 'Design Manager.' From there, select the current theme and click on the 'Actions' dropdown to choose 'Change theme.' Select your new theme and click 'Change Theme' to activate it. Remember to preview your new theme before making it live to ensure that all content displays correctly.
How to pick the best theme?
When picking a theme for your website, there are several factors to consider. First, think about the main purpose of your website and the type of content you will be sharing. Look for themes that align with your branding and aesthetic. Consider the level of customization available and if the theme offers the functionality you require, such as eCommerce or lead capture forms.
Check if the theme is mobile responsive and offers optimized layouts for various screen sizes. It's also essential to look for themes that are continuously updated and supported by reputable developers. Take the time to research and preview various options to determine the one that suits your specific needs.
How To Work With HubSpot Themes?
When your primary concern is how to choose the right HubSpot CMS theme, it's important to consider the overall look and feel you want to achieve for your website. Think about your brand colors, imagery, and tone. Then, choose a theme that aligns with your brand identity. It's also helpful to consider the purpose and goals of your website. If you're running an eCommerce store, choose a theme with strong product pages and shopping cart functionality.
If you're a service-based business, choose a theme that highlights your services and team. You may also want to consider mobile-friendliness and how the theme displays on different screen sizes. Testing out a few free themes is a great way to get a feel for different options before making a final choice.
Final Thoughts on How to Choose the Right Hubspot CMS Theme
When it comes to how to choose the right HubSpot CMS theme for your website, consider both your brand and business requirements. The theme's visual style should align with your brand identity and tone of voice, whether sleek and minimalist or bold and eye-catching. Functionally, ensure the theme supports your key pages and content types, has the necessary integrations and features for your needs, and is optimized for your target devices and browsers.
Testing free trials of your top theme candidates is recommended to evaluate how they handle in practice and whether any issues or limitations become apparent. With a range of pricing, features, and styles available, you can find a HubSpot CMS theme to suit your needs if you assess your must-have requirements and conduct proper evaluations.