6 Best HubSpot Real Estate Themes for Your Website
Are you a real estate professional? looking for a HubSpot theme to elevate your property marketing efforts? In this article, we will explore the top 6 Real Estate HubSpot themes specifically designed for the real estate industry.
These themes offer stunning designs, powerful features, and seamless integration with HubSpot's marketing tools, allowing you to showcase your properties effectively and generate leads. Whether you're a real estate agent, agency, or property developer, these themes will help you create a compelling online presence and drive success in the competitive real estate market.
Criteria for selecting one of the best HubSpot real estate themes
When selecting one of the best HubSpot real estate themes, consider the following criteria:
Responsive and modern design
Ensure that the HubSpot CMS themes you choose is responsive, meaning it adapts well to different screen sizes and devices. A modern design will provide a visually appealing and user-friendly experience for your website visitors.
Integration with HubSpot CRM and marketing automation
Look for themes that seamlessly integrate with HubSpot's CRM and marketing automation features. This integration will allow you to efficiently manage your leads, automate marketing campaigns, and track the performance of your real estate website.
Customization options and flexibility
Choose a theme that offers customization options and flexibility. This will enable you to tailor the design, layout, colors, fonts, and other visual elements to align with your branding and meet your specific needs. Customizing and making changes easily without coding knowledge is important for maintaining a unique and professional look for your website.
Property listing and search functionality
The HubSpot CMS themes should provide robust property listing and search functionality. It should allow you to showcase property details, high-quality images, and comprehensive descriptions. The search functionality should be advanced, enabling users to filter properties based on various criteria such as location, price, size, amenities, and more. This will enhance the user experience and make it easier for potential buyers or renters to find the properties they are looking for.
Top 6 HubSpot Real Estate Themes
HubSpot offers a range of real estate themes that cater specifically to the needs of real estate professionals and agencies. These themes provide a solid foundation for building a captivating and user-friendly website. Here are the top six HubSpot real estate themes worth considering:
Morace – Real Estate Theme for HubSpot
The world of real estate can be overwhelming, especially when it comes to designing the perfect website to showcase your business. Luckily, with the Morace Real Estate HubSpot Theme, convenience and quality come hand in hand. The advanced design layout is both attractive and functional, making it visually appealing no matter what device your potential clients are using.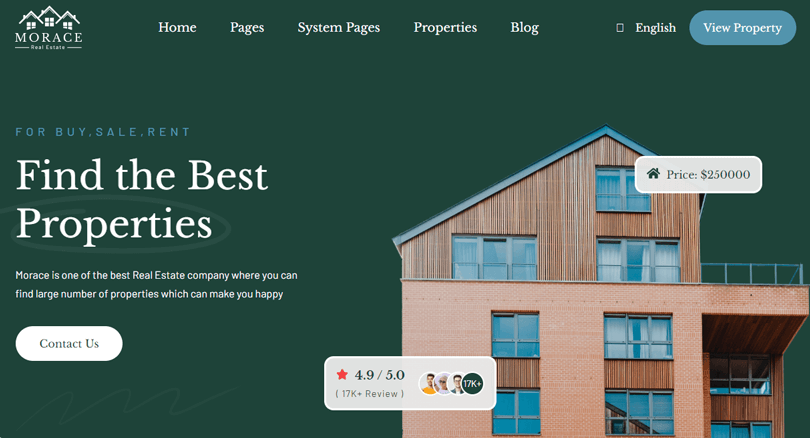 And with customization options that include an array of colors, custom fonts, and retina-ready images, the theme ensures that your website perfectly embodies your brand. So why settle for anything less when you can have Morace? It's the perfect choice for anyone hoping to make a statement in the real estate world and take their estate business to the next level.
Feature list:
Fully Responsive
10 template page
SEO Friendly:
Easy to use and customize
Eye-catchy Properties
Pricing: Free of Cost
RealEstate
When it comes to buying or selling a property, it's important to feel like you're in good hands. That's why RealEstate websites have to be designed in a way that builds trust from the get-go. A Gallery Slider allows the buyer to see the property from all angles, while an Image With Content section can be a great way to highlight specific features or details that could make all the difference.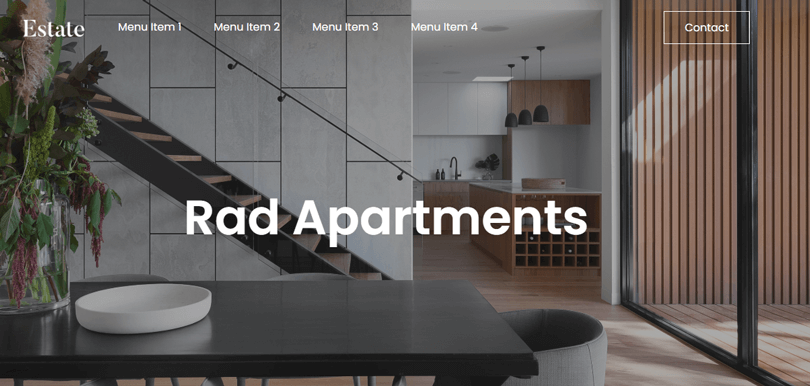 And for those who need a little extra reassurance, showcasing Partners or logos of media outlets and past customers can help instill confidence that the real estate agency cares just as much about the buyer's investment as they do. At the end of the day, Real Estate websites have a big job to do – but with the right design features, they can make a world of difference.
Feature list:
Fully Responsive
Gallery Slider
Image With Content
Easy to use and customize
Map
Pricing: Free of Cost
👉 Learn Why You Should Consider Using HubSpot CMS: Unlock the Benefits of HubSpot CMS
Property Dealer | Easy & Free DIY
Have you ever dreamed of designing your own real estate website with modern and responsive templates, but don't have any coding skills? Well, we have an exciting solution for you! Whether you work in the real estate industry, property services, construction business, or travel and hospitality services, our DIY website builder is here to help.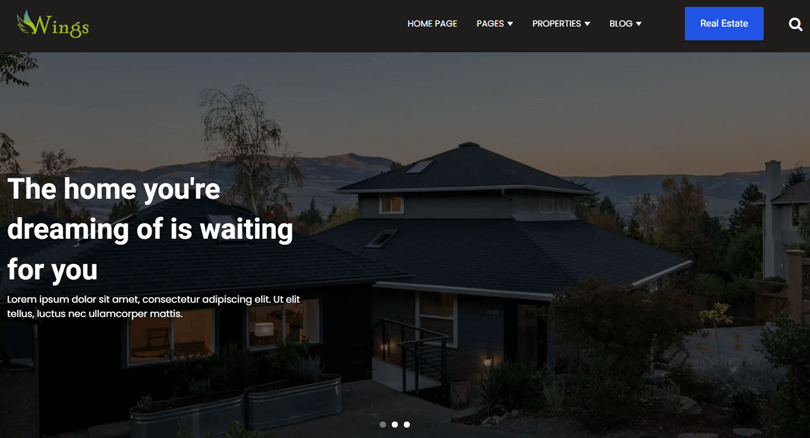 Our easy-to-use platform offers pre-designed attractive templates, all the necessary modules, and eight sections to build real estate website. Plus, you can easily customize your site with powerful theme settings and 100% drag-and-drop functionality. With our ready-to-use platform, there's no need for advanced coding skills.
Feature list:
Modern & responsive design
Home Page
Reusable Sections
Powerful Theme Settings
Ready-to-use!
Pricing: Free of Cost
👉 Check Quick Fixes for Common HubSpot Content Issues
Construction
Creating real estate website can be a daunting task, but with Construction's custom modules building a website is a breeze! With premium modules readily available, you can build a website in a matter of hours. Not to mention, with over 40 multiple website pages, the possibilities are endless. Construction theme also boasts a 100% responsive design, optimizing your website across all devices.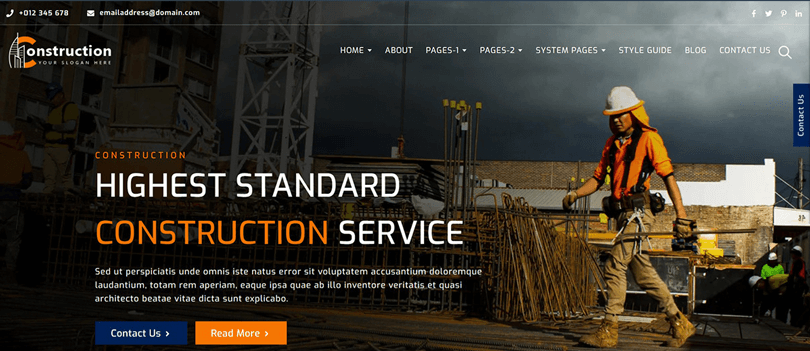 The unique and flexible construction HubSpot theme modules make your website a stand out with 10 header menu variations, 8 footer section variations, a mega menu module, slide-in panel module, multi-step contact form module, and even a popup modal. With lead-oriented, attractive landing pages and multiple systems pages to choose from, your estate business website is a click away from going live!
Feature list:
Multiple system pages
Blog listing & details pages
Drag & Drop editor
No coding knowledge required
Multiple theme options
Pricing: $399
👉 View Best Practices for Customizing HubSpot Themes: Tips and Tricks
Modern Construction
Modern Construction HubSpot theme is the perfect solution for anyone looking to create a stunning and user-friendly website for their construction-related business. With a range of custom modules, you can easily create a site that meets your unique needs and showcases your business in the best possible light. Best of all, you don't need any coding experience to get started!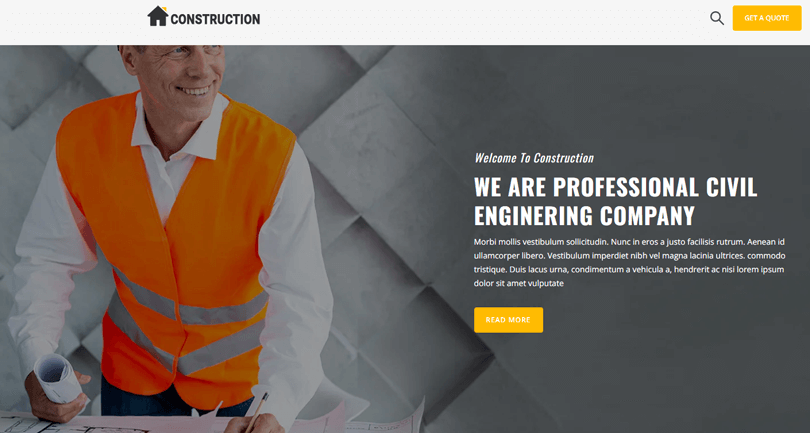 The HubSpot theme design is simple yet attractive, ensuring that your site will look great on any device. And with features like a lead generation form, background images, and a range of different header options, you can create a site that looks and feels exactly the way you want it to. Whether you're in the construction, real estate, or hospitality industries, or any other business that needs a stunning online presence, Modern Construction Theme is the perfect solution.
Feature list:
10+ Custom Modules
No Coding Required
Simple & Attractive Design
User-Focused Design
Responsive Design
Pricing: $99
👉 Read The Benefits of Using HubSpot Themes for Website Design
ProPerty
Property ownership can be an exciting and rewarding experience. Nowadays, finding and buying your dream property has been made even easier thanks to advancements in real estate technology. With the ProPerty Real Estate Theme drag and drop feature, you are able to save sections and easily add them to other pages, making the customization process a breeze.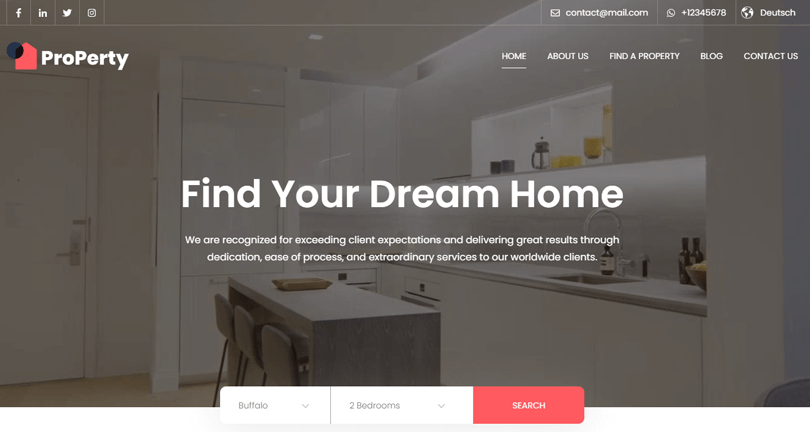 What's more, with over 38 modules available and 15 templates, you can create a unique and modern look that is responsive and looks great on all devices. With an easy-to-read online documentation and ready-to-use content, the ProPerty Real Estate Theme is the perfect way to make your property stand out in the competitive real estate market.
Feature list:
Easy-to-read online documentation
Pre-designed attractive templates: 15
All modules you may need: 38
Sections: 17
Ready-to-use
Pricing: $49
Tips for maximizing the potential of your chosen HubSpot real estate theme
Here are some tips for maximizing the potential of your chosen HubSpot real estate theme:
Customizing the theme to align with your branding
Take advantage of the customization options available in HubSpot to ensure that your real estate theme reflects your branding. Customize the colors, fonts, and overall design elements to create a cohesive look and feel that represents your brand identity. This will help you create a consistent and professional image for your real estate business.
Optimizing property listings and search functionality
Make sure your property listings are well-organized and easy to navigate. Categorize properties based on their type, location, price range, and other relevant criteria. Implement advanced search functionality of the HubSpot CMS themes that allows users to filter properties based on their preferences. Ensure that property details, descriptions, and images are clear and visually appealing. This will make it easier for potential buyers or renters to find the properties that match their requirements.
Implementing effective lead capture and nurturing strategies
Set up lead capture forms on your website to collect contact information from potential clients. Offer valuable resources such as property guides, market reports, or newsletters in exchange for their information. Use HubSpot's lead management tools to segment and organize your leads based on their preferences and interests. Develop automated email workflows to nurture these leads and provide them with relevant content and updates. Personalize your communication to build stronger relationships with your leads and increase the chances of conversion.
Get Exclusive HubSpot CMS Services from Codfer
Setting up an online business can be overwhelming, but with Codfer, it's easy. They offer exclusive HubSpot CMS services designed to take your online presence to the next level. With a wide range of HubSpot CMS themes to choose from, you won't have to worry about any complications while setting up your website or e-commerce store.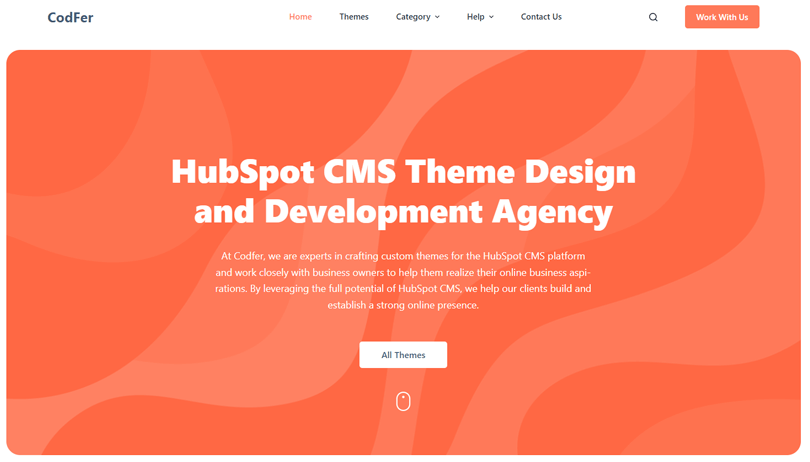 And, if you're looking for something more tailored for your business, Codfer's team of experienced developers will help bring your vision to life. With their exceptional HubSpot CMS services, achieving your online goals has never been easier. So why wait? Get in touch with Codfer today and make your online dream a reality.
Conclusion
In conclusion, HubSpot Real Estate Themes can really make your website stand out from the competition. With their easy-to-use templates, you can create a visually stunning website that is sure to impress your potential clients. From property listings to real estate agents bios, HubSpot has it all covered. Plus, their responsive design ensures that your estate business website will look great on any device, making it easy for clients to browse your listings no matter where they are.