A Beginner's Guide to Choosing the Right HubSpot Theme for Your Business
Are you looking to update your HubSpot website theme but don't know where to start? In this blog post, we will provide a beginner's guide to choosing the right HubSpot theme for your business. We'll go over some factors you should consider when making your decision and offer some advice on how to make the most of your new theme.
So whether you're just starting out with HubSpot or are ready for a brand new look, read on for tips on finding the perfect theme for you.
What is HubSpot CMS and What It Offers
HubSpot CMS is a dynamic and robust content management system that offers a plethora of features that cater to the needs of modern businesses. Somewhat of a game-changer in the world of digital marketing, it effectively balances ease of use with advanced capabilities, enabling marketers and developers to collaborate seamlessly while crafting engaging websites.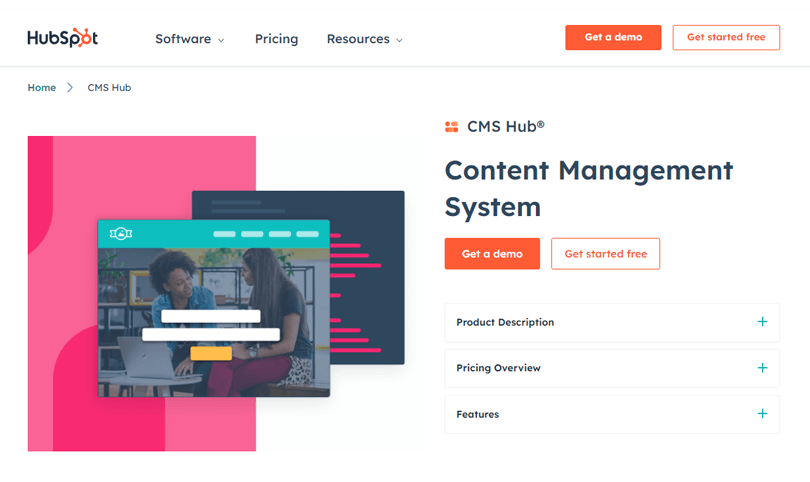 This powerful cms platform integrates CRM, marketing automation, and analytics, thereby fostering a personalized, data-driven approach to content creation. From its user-friendly drag-and-drop editor to its smart content delivery and website optimization tools, HubSpot CMS hub is designed to help businesses not only bolster their online presence but also thrive in an increasingly competitive digital landscape.
Why Choosing the Right HubSpot Theme Is Important
Choosing the right HubSpot theme for any project, event, or initiative is crucial for its overall success, as it establishes a coherent and unifying concept that connects with the target audience. A well-chosen theme has the power to captivate and engage the audience by creating a strong emotional connection that resonates with their values, interests, or aspirations.
Furthermore, an effective theme facilitates shaping the visual design, message, and overall strategy of the project, enhancing its overall impact, coherence, and allure. By carefully considering and selecting the most suitable theme to represent your venture, you can ensure that your project conveys a compelling narrative or purpose, ultimately elevating the value and purpose of your endeavor.
Factors to Consider When Choosing a HubSpot Theme
Audience and Brand Identity
Choosing the right HubSpot theme for your business is crucial in capturing your audience's attention and showcasing your brand identity. When making this choice, consider your target audience and the message you want to convey. Think about the tone, colors, and imagery that best represent your brand's personality and will resonate with your target market.
Additionally, ensure that the HubSpot theme aligns with your company's values and effectively communicates your mission. By skillfully selecting a theme that reflects your brand's essence, you'll create a cohesive online presence that appeals to your audience and fosters an emotional connection with your viewers.
Remember, a well-chosen HubSpot theme not only strengthens your brand identity but also plays a vital role in paving the path toward an exceptional user experience and utmost customer satisfaction.
Functionality and Features
An engaging theme should offer a range of customizable options and tools that enable you to design and create a website tailored to fit your unique business requirements. Additionally, examine the availability of essential features such as easy navigation, responsive design, and integrated SEO tools that will contribute to an outstanding user experience and help your site rank higher in search engines.
Don't forget to explore any add-on advanced search features like e-commerce capabilities, social media integration, and marketing automation so you can seamlessly manage your online presence right from your HubSpot dashboard while choosing the right HubSpot theme.
In essence, the right blend of functionality and features is crucial to ensure both an engaging and efficient website that suits your business's needs while also providing a top-notch user experience.
Design Options and Usability
An ideal HubSpot CMS hub theme should offer a variety of design elements and features that can be customized to suit your brand's aesthetic, enabling you to stand out from the competition. Experimenting with different templates, layouts, and color schemes will allow you to create a unique and cohesive design. Moreover, usability is an equally important aspect, as it directly impacts your visitors' browsing experience.
A high-quality HubSpot theme should ensure seamless navigation, fast loading times, and compatibility across multiple devices and browsers, resulting in improved user experience and higher conversion rates. By keeping design options and usability in mind, you can optimize your online presence and effectively engage your audience.
Platform Compatibility and Responsiveness
One of the most essential factors to consider while choosing the right HubSpot theme is platform compatibility and responsiveness. You want to ensure that your chosen theme works seamlessly across various devices, browsers, and operating systems, allowing your visitors to enjoy a smooth user experience on any device they choose to access your site from, be it a smartphone, tablet, or desktop computer.
Suggested HubSpot CMS Themes for Your Business
Beautian- Spa & Beauty Theme For HubSpot CMS
Beautian- Spa & Beauty Theme is the perfect solution for creating an online presence that radiates elegance and sophistication. This versatile theme has been expertly crafted with the health and beauty industry in mind, making it a perfect match for spas, salons, and wellness centers. Easy to use and highly customizable, Beautian allows you to showcase your unique services, stunning facilities, and highly skilled professionals in a sleek and polished digital environment.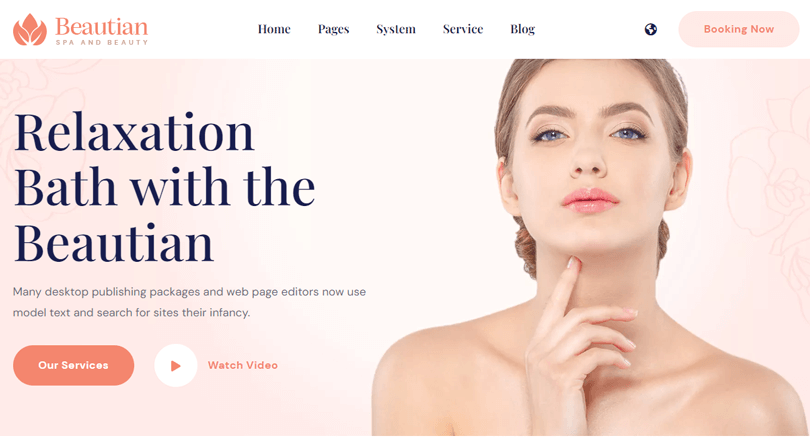 You can take advantage of various design elements, tailored to keep your website visually appealing and engaging while maintaining easy navigation and quick loading times. This remarkable theme offers a range of professionally designed layouts, each catering to the latest design trends for a modern and polished appearance.
This versatile theme, with free and pro versions available, allows you to showcase your unique services and treatments in an elegant and visually pleasing manner. 
Key Features
Intuitive Drag-and-drop
Clean and Modern Hero Section
Easy to use
Service Registration Form
Fully Responsive
SEO Friendly
Included Page: About, Beautician blog listing, Beautician blog post, Contact, Home, Landing page, Service, Service details, etc.
Pricing
You can get this theme for Free
Cofean- Coffee Theme For HubSpot CMS
Cofean is specially crafted for those in the coffee industry seeking to jumpstart their website designs. With its modern aesthetic and Bootstrap framework, Cofean provides not only a visually pleasing experience but also seamless integration and easy customization to help you showcase your unique brand identity. As a coffee shop owner or seller, utilizing this HubSpot theme will help you connect with your target audience and transform your online cafe dreams into a fully-functioning reality that customers will surely love.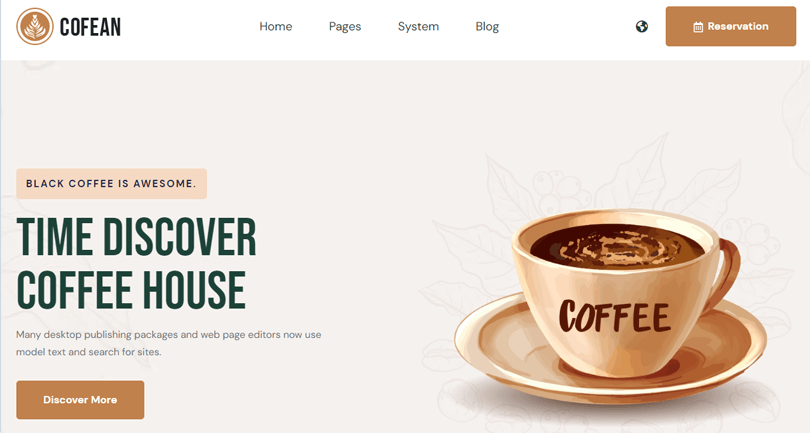 This alluring and unique theme offers the perfect fusion of aesthetics and functionality, with 7+ custom templates and 19+ valuable modules to elevate your digital presence. The Cofean- Coffee Theme encompasses an eye-catching homepage layout that aligns with the latest design trends, ensuring your website stays relevant and appealing to visitors. This theme offers both a free and a pro version, accommodating different needs and budgets.
Key Features
Hero Section with a Modern Look
Blog/News Page
Contact/Lead Form
No Coding Knowledge Required
Pre-built Templates & Modules
Included Page: About, Cofean blog listing, Cofean blog post, Contact, Home, Landing page, Menu, etc.
Pricing
You can get this theme for Free
Morace – Real Estate Theme for HubSpot CMS
Morace HubSpot CMS theme is an exclusive theme for real estate websites. Morace seamlessly meets the unique demands of the industry, incorporating customized RSS feeds and advanced blogging functionalities to provide a richer, more immersive experience for website visitors. This dynamic theme further empowers businesses by flawlessly integrating with HubSpot's robust CRM capabilities, which, in turn, ensures they have unparalleled access to vital customer information.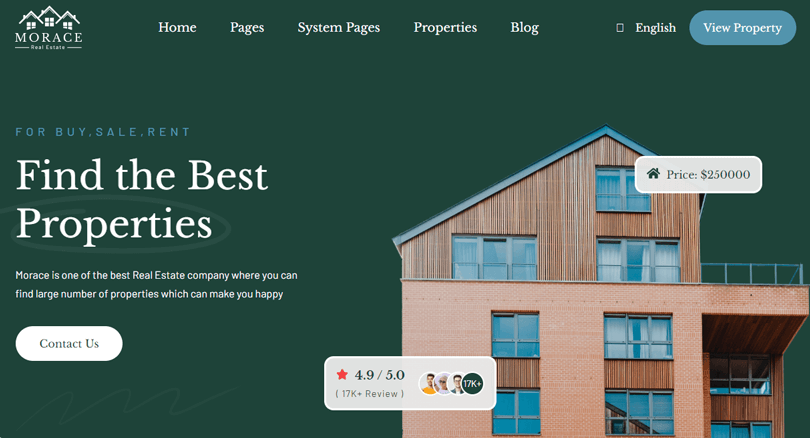 By delivering such a comprehensive, all-in-one online platform, Morace streamlines website design management, enabling real estate businesses to focus on what truly matters – making those deals and satisfying their clients. With both free and pro versions available, Morace effortlessly caters to the needs of agencies and individuals, regardless of budget constraints or design expertise.
Key Features
Pre-made Templates and Modules
Support for DND Editor
Well Optimized for SEO
Eye-catchy Properties
Entirely Responsive
Included Page: About, Morace blog listing, Morace blog post, Contact, Home, Landing page, Service, Service details, Properties, Property details, etc.
Pricing
You can get this theme for Free
Indise – Business Theme For HubSpot CMS
Indise, a remarkable HubSpot theme, is the ultimate choice for any IT business looking to revamp its website design. This theme offers a sleek and contemporary appearance, providing a competitive edge and enabling your company to truly stand out from the crowd. The eye-catching design of Indise is bound to entice new customers by presenting your exceptional projects and works in the best possible light.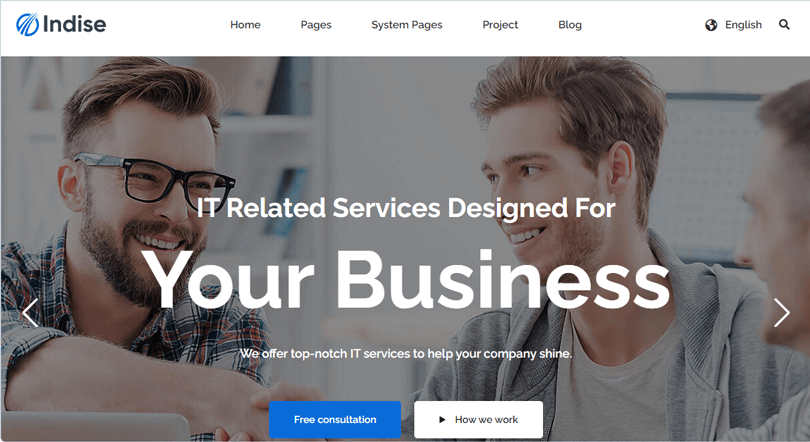 What truly sets Indise apart is the incorporation of retina-ready images, a feature that ensures your website appears crystal-clear and visually stunning on any device. Additionally, Indise offers unlimited color options and custom fonts, allowing you to tailor your site to best represent your company's style and vision.
No matter what line of IT work you're engaged in, this theme is guaranteed to provide the quick and hassle-free website creation experience you desire. This theme offers versatility and convenience to its users by providing both free and pro versions. 
Key Features
Intuitive Drag-and-drop
Fully Responsive
Pixel-perfect, retina-ready & completely responsive
SEO friendly
Included Page: About, Indise blog listing, Indise blog post, Contact, Home, Landing page, Service, Service details, Project, Project Details, etc.
Pricing:
You can get this theme for free
Maxs- Gaming Theme for HubSpot CMS
Maxs – the gaming theme for HubSpot CMS – takes your website design experience to a whole new level. Designed for gaming enthusiasts and businesses alike, Maxs offers a modern yet striking look that aims to captivate visitors and effectively showcase your gaming content. Alongside its visual appeal, this theme boasts responsive design elements that make it easily accessible on any device.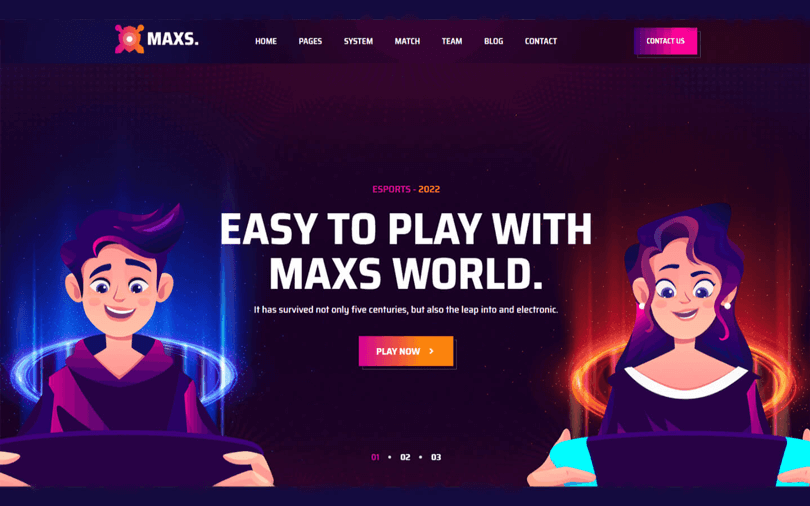 To help your website truly stand out, Maxs provides retina-ready images, an expansive color palette, and plenty of customizable fonts, giving you full control over your site's design. Elevate your gaming website with the exceptional quality and numerous features offered by Maxs – the perfect HubSpot CMS theme.
Key Features
Clean and Modern Look
No Coding Knowledge Required
Intuitive Drag-and-drop
Pre-built Templates & Modules
Included Page: About, Maxs blog listing, Maxs blog post, Contact, Home, Landing page, Service, Service details, Match, Match Details, Team, Team Details, Team member, etc.
Pricing:
You can get this theme for free
Nafil – NFT Theme for HubSpot CMS
With the Nafil HubSpot Theme, you'll have everything you need to take your NFT Marketplace website to the next level. This modern theme provides a contemporary and chic design, so you can customize it to meet your exact needs quickly and easily. You'll be able to create an attractive online presence for all your digital marketplace, crypto collectibles, and non-fungible token transactions with this one-of-a-kind theme.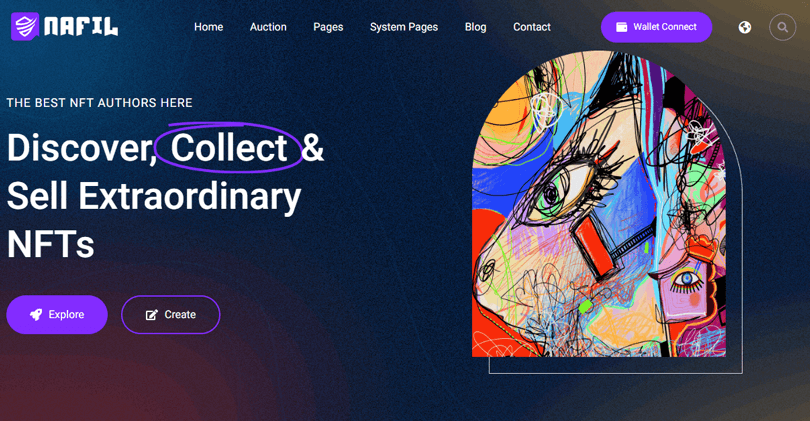 Designed with the user in mind, this exceptional HubSpot Theme enables you to revamp your website with modern design options by making a few straightforward adjustments. The sleek and sophisticated presentation not only highlights your creative works but also keeps viewers mesmerized and eager to return for more. So, don't wait any longer to explore the impeccable beauty of the HubSpot Nafil Theme and elevate your online presence to new heights today!
Key Features
Stunning Product Details Page
Blog/News Page
Contact/Lead Form
Compatible with the DND feature
Included Page: Home, Explore, Author details, Auction, Product details, Nafil blog listing, Nafil blog post, etc.
Pricing:
You can get this theme for free.
Mesbiz – Multipurpose Business Theme for HubSpot CMS
With Mesbiz – Multipurpose Business Theme for HubSpot, you can quickly create a stunning website with ease. This award-winning theme is designed to provide an adaptable, user-friendly experience that comes with pre-designed templates and tailored modules. It also utilizes the latest UI design trends for an enhanced user experience.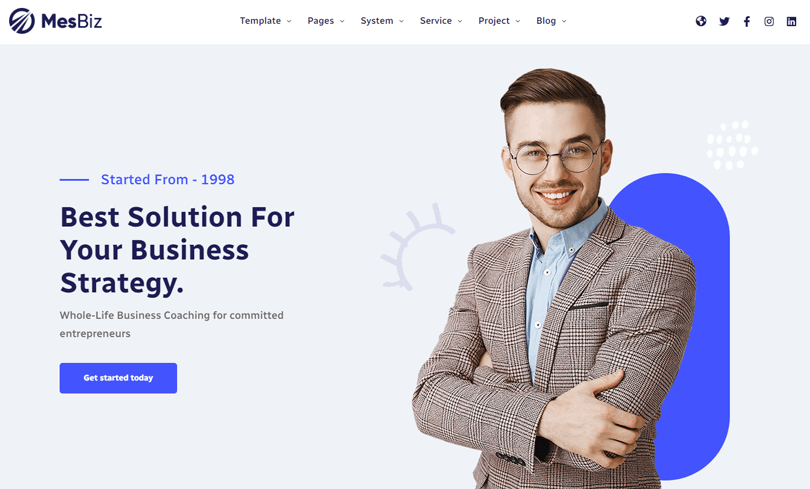 This versatile theme provides a unique and professional framework, complete with customizable options and multi-language support, ensuring an immersive and engaging user experience for every visitor. What's more, you don't have to be a coding expert to bring your design vision to life, as this theme offers a user-friendly approach that looks incredible and remains fully responsive on any device.
Key Features
Pre-built Templates & Modules
Compatibility with DND Feature
Customization Options
Multi-Language Ready
Zero Coding Knowledge Required
Fully Responsive
Included Page: About, Blog post, Boilerplate- blog listing, Case details, Case studies, Contact, Home Business, Home creative portfolio, Home digital agency, Home product landing, Home start-ups, Landing page, Module page, Service, Service details, Project, Project details, User review, etc.
Pricing:
You can get this theme for $999.
Businex – Corporate HubSpot Theme
Businex offers a sleek, polished, and adaptable HubSpot theme that caters to the unique needs of freelancers and corporate businesses alike. It focuses on helping enterprises showcase their innovative ideas and concepts in the best light. By adopting this theme, you're taking a step towards elevating your company's online presence and attracting the attention it deserves.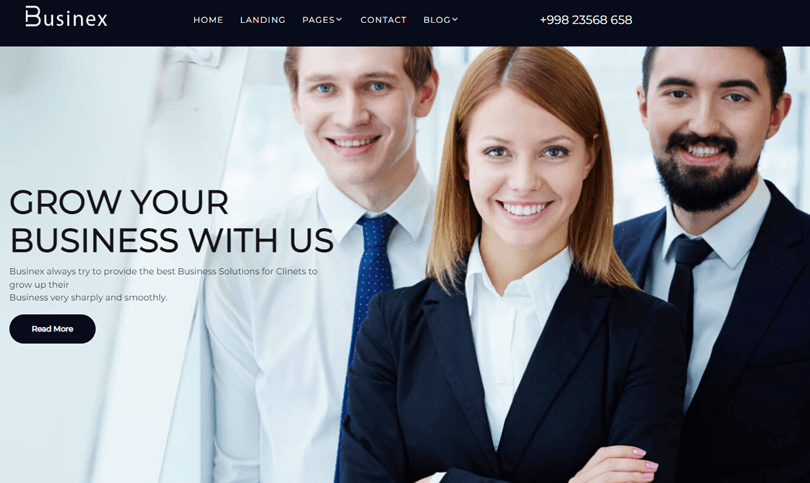 What's more, the theme's customizable design allows you to put your personal touch on it, ensuring your website stands out as sophisticated and stylish in a vast sea of otherwise ordinary pages. With Businex, the possibilities are endless, and the climb to success becomes that much more feasible.
Key Features
Fully Responsive
W3C Validated Code
Clean Code
Speed Optimized
Cross Browser Support
Well Documented
Pricing:Pricing:
Regular License: $47
Extended License: $1500
Financo – Investment HubSpot Theme
Financo has emerged as an exceptional Finance HubSpot theme, designed to cater to the diverse requirements of businesses and agencies alike. Boasting an array of 11 pre-built website pages and 28 versatile modules, Financo ensures that both individual and enterprise-level functions are seamlessly incorporated into your online presence.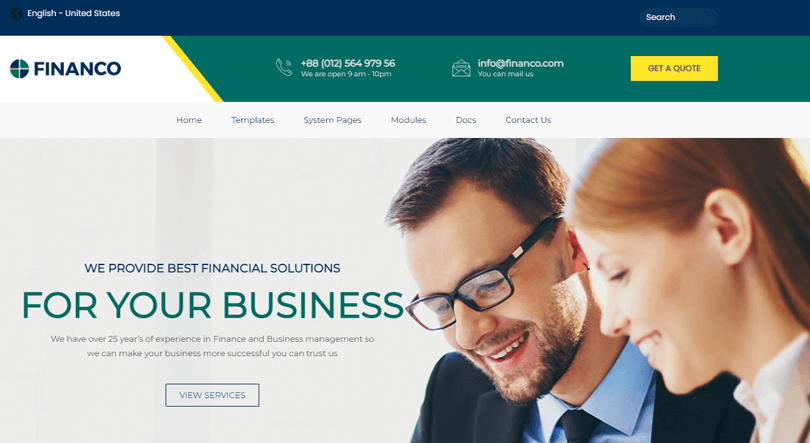 The unique blend of professionalism and creativity embedded within this finance HubSpot theme has successfully established Financo as a popular choice among users in today's competitive digital landscape. Simplify your path to financial success by opting for the Financo HubSpot theme, as it effectively streamlines all your business needs, keeping you ahead of the curve.
Key Features
W3C Validated Code
Clean Code
Speed Optimized
Cross Browser Support
Well Documented
No console error
Pricing:
Regular License: $99
Extended License: $1999
Tips for Making the Most of Your HubSpot Theme
By choosing the right HubSpot theme, you can quickly and easily customize your website's design to stand out from the crowd and make the most of HubSpot's powerful design tools. Here are a few tips to help you make the most of your HubSpot theme and create an amazing online presence.
Customizing Your Theme
Embracing customization enables you to tailor your website to reflect your brand identity and vision, ensuring that each page aligns perfectly with your business goals. To achieve this, consider tweaking aspects such as color schemes, fonts, and images, while also incorporating specialized layouts and modules that enhance user experience. Don't be afraid to experiment with different design elements and tools to find the perfect balance between visual appeal and functionality.
Testing Your Theme Functionality
A properly functioning theme not only ensures a visually appealing user experience but also contributes to enhanced site performance and search engine optimization. Begin by evaluating each template and module to confirm they align with your brand guidelines and display correctly on multiple devices and screen sizes. Additionally, don't forget to assess the theme responsiveness to ensure seamless navigation for your site visitors.
Optimizing Content to Fit the New Format
It's essential to take full advantage of the HubSpot platform by optimizing your content to fit the new format seamlessly. Start by analyzing your existing content, focusing on areas that could benefit from additional visuals or adjusting its structure to align with the layout of the theme. Utilize the available customization options to create a cohesive design, ensuring that visual assets such as images and videos complement your overall brand identity.
Maintaining a Consistent Brand Identity
HubSpot themes present limitless opportunities to solidify your brand image and provide a seamless experience for users. To make the most of this resource, it's crucial to incorporate elements like your company's logo, color palette, typography, and even voice through well-crafted and easily understood messaging. Carefully curating these elements ensures that your target audience is fully immersed in your brand universe, which ultimately leads to increased brand loyalty and, subsequently, growth in your customer base.
Conclusion
In conclusion, choosing the right HubSpot theme for your business doesn't have to be a daunting task. As a beginner, it's vital to understand your business goals, branding strategies, and target audience to make an informed decision. With a plethora of themes available on the HubSpot asset marketplace, it's essential to consider the ease of customization, mobile responsiveness, and the potential for growth before settling on a particular theme.
Remember, the right HubSpot theme plays a critical role in enhancing your online presence, engaging your customers, and ultimately growing your business. So take your time, do your research, and select a theme that aligns with your vision and propels your business to new heights.