Migrating to HubSpot CMS: Best Practices and Considerations
As businesses grow and evolve, they often find the need to migrate their website to a more robust and scalable Content Management System (CMS) like HubSpot platform. However, migrating to a new CMS can be a complex process that requires careful planning and execution.
In this article, we will explore the best practices and considerations for a successful migrating to HubSpot CMS. From pre-migration preparation to data migration strategies, we will provide valuable insights to ensure a smooth transition and maximize the benefits of HubSpot's powerful CMS.
Understanding the Need for Migration
The decision to migrate to a new content management system (CMS), such as HubSpot, is not one to be taken lightly. To understand the need for migration, consider the following critical factors:
Evaluating the limitations of the current CMS
Begin by assessing the shortcomings and constraints of your current CMS. This evaluation may reveal issues like outdated technology, limited functionality, poor user experience, or difficulties in content management. Recognizing these limitations is the first step in acknowledging the need for change.
Identifying the key benefits of migrating to HubSpot CMS
Research and identify the advantages that migrating to HubSpot CMS can offer over your current system. These benefits could include improved scalability, enhanced SEO capabilities, better user interfaces, advanced marketing automation features, and seamless integration with other tools. Understanding what you stand to gain is crucial in justifying the HubSpot CMS migration.
Setting clear goals and objectives for the migration process
Before embarking on the HubSpot website migration journey, establish specific and measurable goals. Determine what you aim to achieve with the move to CMS HubSpot. This might include increasing website traffic, boosting conversion rates, streamlining content management, or improving customer engagement. Clear objectives will help you stay focused throughout the migration process.
Why Should You Migrate Your CMS
In the pursuit of the ideal CMS to cater to their business needs, marketers often find themselves considering HubSpot CMS migration as a necessary step. The decision to migrate arises from various pressing factors, including recurring server downtimes that hamper user experience, an inability to manage unforeseen surges in website traffic, absence of dependable vendor support, inadequacies in desired functionalities, exposure to security vulnerabilities, and persistent challenges in website maintenance.
These pivotal reasons collectively drive the HubSpot CMS migration process, compelling businesses to seek a CMS that can offer a seamless and reliable digital presence while addressing these critical concerns.
Recommended Blog for You:
👉 6 Best HubSpot Real Estate Themes for Your Website
👉 What is a HubSpot CMS Boilerplate, and Why Do You Need It?
👉 8 Best HubSpot Themes for Service Websites
👉 Top 5 HubSpot Blog Themes: Enhance Your Blogging Experience
👉 WordPress vs HubSpot CMS: Which Content Management System is Right for You?
Pre-Migration Preparation
Before embarking on a CMS migration journey, thorough preparation is essential. Here are two crucial steps to undertake:
Run a Website Audit
Begin by conducting a comprehensive audit of your current website. This involves evaluating its structure, content, functionalities, and performance. Identify areas that need improvement or optimization. This audit will provide insights into what aspects of your website need to be carried over or enhanced during migration.
Make A Complete List Of Website Pages
Create a detailed inventory of all the pages on your existing website. This should encompass every webpage, including subpages, blog posts, and other content types. This comprehensive list will serve as a reference point to ensure that no content is overlooked or lost during the HubSpot CMS migration. It will also aid in organizing and categorizing content within the new CMS hub.
Setting up HubSpot CMS
HubSpot CMS offers a user-friendly platform to create and manage your website. Follow these steps to set up your HubSpot CMS website:
Ways to Migrate Your Website to HubSpot CMS
Using HubSpot Importer and WordPress Connect Rest API to Impoprt Blog Posts
HubSpot CMS offers a straightforward way to import your WordPress blog content with its WordPress connect feature. Here's a step-by-step guide on how to perform smoothly migrating to HubSpot CMS:
Begin by accessing your HubSpot account and click on the ⚙️ "settings" icon located in the main navigation bar.
From the left sidebar menu, navigate to "Website" and then select "Blog."
In the "Current View" section, choose the "Import Blog" option from the dropdown menu.
On the import overview page, click "Import new blog" in the top-right corner. Then, from the "Start new import" dropdown menu, select "Blog posts."
Opt for the "WordPress connect" option and proceed by clicking "Next."
Enter the URL of your blog's listing page in the provided field.
By default, all your blog posts are selected for import. If there are specific blog posts or pages you want to exclude from the import process, simply uncheck the corresponding checkboxes on the left.
Click "Import."
In the "Publishing status" dialog box, choose whether you'd like to import your blog posts as drafts or as published posts. After making your selection, click "Save" to initiate the import process.
Once you've initiated the blog import, the status will change to "Import in progress." It will then update to "Import completed" once the process is completed.
Using CMS to CMS Migration Wizard
CMS to CMS serves as a versatile HubSpot website migration wizard, enabling you to seamlessly migrate blogs and website pages across a wide spectrum of 28 CMS and forum software platforms, with additional partial support for numerous other platforms.
Experience an Effortless HubSpot Website Migration with CMS2CMS, utilizing the following straightforward steps:
Select the source CMS from which you are migrating.
Configure your website data migration mapping settings, ensuring a smooth transition of your content.
Let the wizard perform automated data migration, simplifying the process and ensuring accuracy.
URL Redirects
Integrating URL redirects is a crucial step to facilitate seamless navigation for your wordpress site visitors during changes or updates. By adding redirects, you ensure that users can effortlessly locate the new addresses of your web content.
Redirects play a pivotal role in maintaining user experience and ensuring that your audience can access the right resources even when your website URLs undergo modifications, such as changes in links or the merging of pages.
This HubSpot website migration practice safeguards against broken links and enhances the overall usability of your website, making it an indispensable strategy for effective website management.
Design and Development Considerations
When venturing into CMS HubSpot website design and development, several crucial factors demand your attention:
Assessing the need for website redesign or template customization
Begin by assessing whether your current website requires a complete redesign or if template customization would suffice. Consider factors such as outdated aesthetics, changing branding, evolving user needs, and the desire to incorporate new features. This evaluation ensures that your website aligns with your current objectives.
Ensuring responsive design and mobile optimization
In an era dominated by mobile devices, responsive design is paramount. Ensure your website seamlessly adapts to various screen sizes, providing an optimal user experience on desktops, tablets, and smartphones. Mobile optimization boosts engagement and accessibility, catering to a wider audience.
Optimizing website performance and load times
Users expect fast-loading websites. Optimize your site's performance by optimizing images, minimizing code, leveraging browser caching, and utilizing content delivery networks (CDNs). Swift load times enhance user satisfaction, reduce bounce rates, and positively impact search engine rankings.
Testing and Quality Assurance
Before launching your migrated website, comprehensive testing and quality assurance are essential. Here's how to guarantee a flawless user experience:
Conducting thorough testing of the migrated website
Rigorously test every aspect of the migrated website to identify any issues, inconsistencies, or discrepancies. This includes content, links, images, forms, and interactive elements. Validate that all data has been accurately transferred and that user pathways remain intact.
Ensuring proper functionality across different devices and browsers
Ensure the wordpress site functions seamlessly across various devices, screen sizes, and browsers. Perform testing on desktops, laptops, tablets, and smartphones to verify the responsive design. Address any design or functionality discrepancies that may arise on different platforms.
Addressing any issues or bugs before the final launch
In the testing phase, identify and address any issues or bugs that may arise. This could encompass broken links, formatting errors, slow load times, or malfunctioning features. Rectify these concerns to provide users with a smooth and error-free experience.
Get Professional HubSpot CMS Website Migration Services from Codfer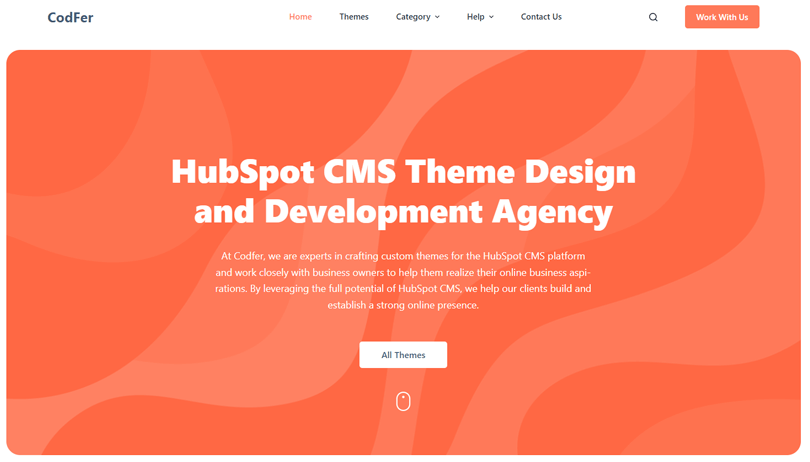 The HubSpot CMS platform is our area of expertise at Codfer, and we work directly with business owners to turn their online dreams into reality. Utilizing HubSpot CMS hub to its fullest extent, we enable our clients to create a solid online presence that stands out.
For HubSpot CMS themes, Codfer is the go-to source because it serves such a wide range of businesses. Regardless matter the nature of your business, our collection has the perfect theme to suit your requirements. Because the CMS hub themes are so straightforward, you can quickly start developing your wordpress site or online store without delay.
Searching for a unique touch? Codfer provides custom themes made to your requirements. Our skilled development team is prepared to work with you to realize your special vision. You can easily alter the look of any theme to create a look that fits the personality of your brand.
Codfer offers you an unrivaled HubSpot CMS experience with cutting-edge design principles and super-fast loading times. With the help of our experience, improve your online presence and set out on a journey of seamless, dynamic, and visually appealing web solutions.
Frequently Asked Questions
Do I need technical expertise to migrate my website to HubSpot CMS?
While technical knowledge can be beneficial, HubSpot provides user-friendly tools and resources to simplify the migration process for users of all levels.
Can I migrate content from my current CMS to HubSpot CMS?
Yes, HubSpot offers HubSpot migration tools and HubSpot migration services to help you move content from other platforms. This includes blog posts, pages, and media files.
How can I ensure that my SEO rankings are maintained after migration?
HubSpot provides SEO tools and best practices to help you retain and even improve your SEO rankings during and after migration.
Is there a risk of data loss during migration?
HubSpot migration tools are designed to minimize data loss. However, it's advisable to backup your data before starting the migration process.
Conclusion
By following these best practices and considerations, businesses can ensure a seamless migration to HubSpot CMS, unlocking its full potential for building a scalable and high-performing website. With careful planning, attention to detail, and ongoing optimization, migrating to HubSpot CMS can be a transformative step toward achieving online success.