Creating Stunning Landing Pages with HubSpot CMS: A Comprehensive Guide
Welcome to our comprehensive guide on creating stunning landing pages with HubSpot CMS! In today's digital age, a well-designed and high-converting landing page is essential for capturing leads, driving conversions, and achieving your marketing goals. HubSpot CMS provides a powerful platform that empowers marketers and website developers to create custom landing pages.
In this guide, we will take you through a step-by-step process of leveraging HubSpot CMS to design and optimize landing pages that not only grab attention but also deliver results. From understanding the fundamentals of HubSpot landing page design to implementing best practices for conversion optimization, we've got you covered.
Understanding the Importance of Landing Pages
Landing pages are pivotal elements in any online marketing strategy. They serve as the initial point of contact between a potential customer and a brand, making them a critical tool for lead generation and conversion. The importance of HubSpot landing pages lies in their ability to deliver highly targeted and relevant content to visitors, aligning precisely with their needs and interests.
By focusing on a single call-to-action (CTA), landing pages guide visitors toward specific desired actions, such as signing up for a newsletter, downloading an e-book, or making a purchase. This focused approach not only streamlines the user experience but also provides valuable data and insights for marketers to refine their campaigns.
Ultimately, well-optimized landing pages have the potential to boost conversion rates, increase sales, and drive business growth by delivering a personalized and persuasive user experience.
Planning Your Landing Page Strategy
Identifying your target audience and goals
Before designing a landing page, it's important to identify your ideal customers and understand their needs, pain points, and preferences. Tailor your landing page content, design, and messaging to resonate with this audience. Determine the primary goal of your landing page, whether it's capturing leads, making sales, or directing visitors to specific information. Having a clear focus ensures that your landing page effectively guides visitors toward the desired action.
Conducting competitor analysis and research
Analyzing your competitors and conducting research is a vital aspect of the landing page HubSpot strategy. Study what your competitors are doing on their landing pages, including their design elements, messaging, and offers. Identify gaps and opportunities where you can differentiate your landing page.
Additionally, research keywords and trends related to your industry or product to optimize your page for search engines. Stay updated on best practices and incorporate proven techniques into your landing page to improve its overall performance.
Features in HubSpot CMS Landing Pages
Drag and Drop Editor
HubSpot's intuitive drag-and-drop editor simplifies the process of building landing pages. You don't need coding skills to create landing pages on HubSpot. You can easily add and arrange elements like text, images, forms, and buttons to design landing pages that align with your brand and message.
A/B Testing:
A/B testing is a crutial feature for optimizing landing page performance. HubSpot CMS Landing Pages allow you to create multiple versions of a page with variations in elements such as headlines, images, or CTA buttons. By testing these variations on real visitors, you can determine which elements drive the best results and refine your HubSpot landing pages for maximum conversion rates.
Personalization:
Personalization is a powerful way to engage visitors and improve conversion rates. With HubSpot CMS Landing Pages, you can tailor the content and messaging based on individual visitor attributes, such as location, device, referral source, or past interactions with your website. This ensures that each visitor sees a HubSpot landing page that is highly relevant to their needs and interests, increasing the chances of conversion.
Step-by-Step Process of Creating Landing Pages with HubSpot CMS
Creating landing pages with HubSpot CMS is a straightforward process. Here's a step-by-step guide:
Log in to your HubSpot account: Start by logging in to your HubSpot account using your credentials.
Navigate to the Marketing tab: Once you're logged in, go to the "Marketing" tab in the main navigation menu.
Access Landing Pages: Under the "Marketing" option in the dropdown menu, select "Landing Pages."

Create a New Landing Page: To begin creating your landing page, click on the "Create landing page" button.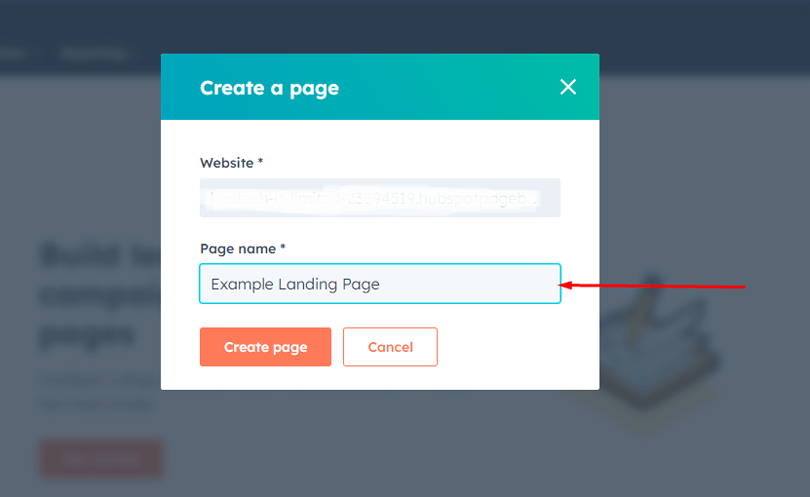 Choose a Theme and Template: HubSpot CMS hub offers various themes and templates to choose from. You can either select one that suits your needs from the options provided or use one of the free themes to get started.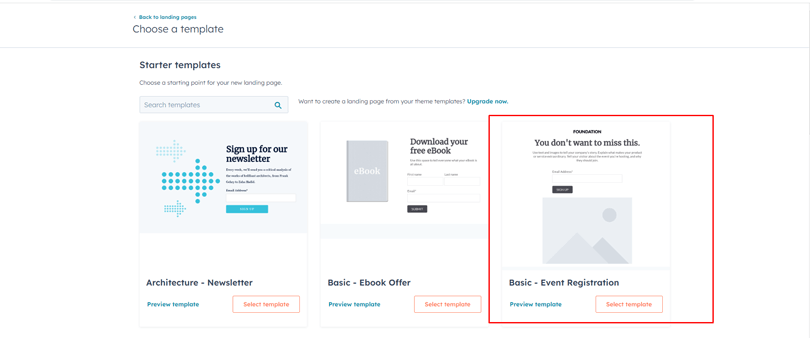 Customize Your Landing Page: Customize your landing page by adding text, images, and other elements. HubSpot's user-friendly interface allows you to easily modify the layout and design by dragging and dropping elements.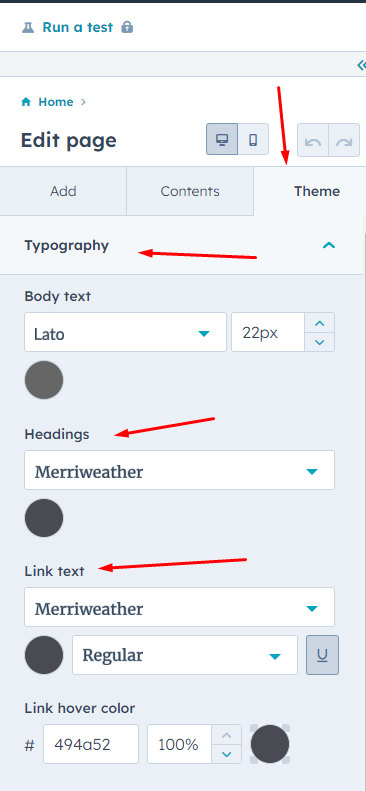 Add a Form: To collect visitor information, navigate to the "Forms" tab and choose the form you want to integrate into your landing page. Customize the form by selecting the fields you wish to include.
Configure Form Confirmation: Set up the form confirmation and thank-you message by clicking on the "Form options" tab. This step defines what visitors see after submitting the form.
Configure Landing Page Settings: Access the "Settings" tab to configure essential landing page settings, such as the URL, page title, and meta description. Proper configuration helps with search engine optimization.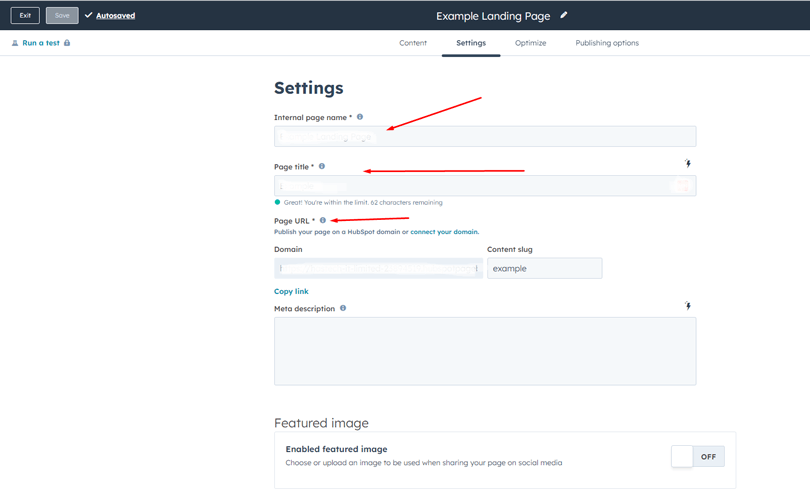 Preview Your Landing Page: Before publishing, use the preview function to review your landing page and ensure that everything appears as intended.
Publish Your Landing Page: Once you're satisfied with the design and content, click the "Publish" button located in the upper right-hand corner of the screen. This action makes your landing page live and accessible to your target audience.
Frequently Asked Questions
Can I use my own design for landing pages in HubSpot CMS?
Yes, HubSpot CMS allows for customization. You can choose from pre-designed templates or create your own layout, and you can add your branding elements and content to match your brand's style.
How do I integrate forms into my landing pages in HubSpot CMS?
You can add forms to your landing pages in HubSpot CMS by clicking on the "Forms" tab and selecting the form you want to include. You can then customize the form fields and settings to match your lead capture needs.
Can I track the performance of my landing pages in HubSpot CMS?
Yes, HubSpot CMS provides analytics and reporting tools to track the performance of your landing pages. You can monitor metrics such as conversion rates, visitor traffic, and engagement to measure the success of your campaigns.
What is personalization, and how can I use it on my landing pages?
Personalization involves tailoring the content and messaging on your landing website pages to individual visitor attributes, such as location or past interactions with your website. HubSpot CMS hub provides personalization tools to give your visitors a more tailored and interesting experience. 
Bonus: Recommended HubSpot CMS Themes for Landing Pages
Salex – Marketing Theme For HubSpot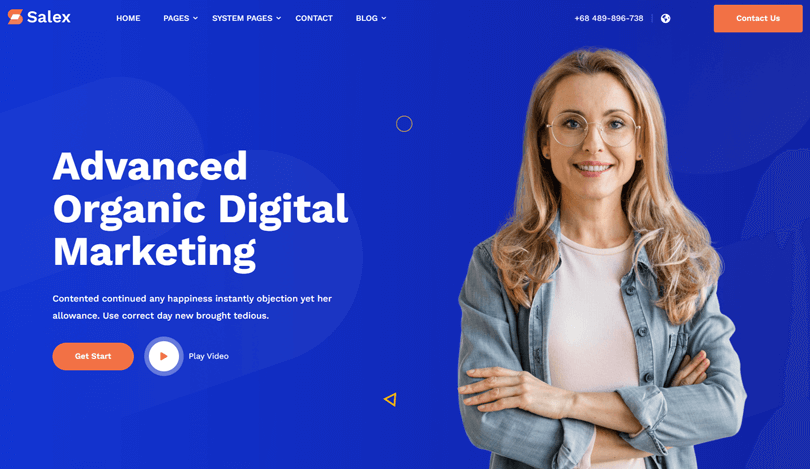 The Salex – Marketing Theme For HubSpot has everything businesses need to create an unforgettable impact on their target audience. This theme boasts stunning modern designs and a vast array of pre-designed templates and modules, including customizable templates and valuable modules, that will help you elevate your marketing.
With HubSpot's intuitive drag-and-drop function, creating your website has never been easier! The Salex theme provides endless customization options, from selecting the colors and typography to including texts, images, and videos tailored to your needs. Salex is the perfect theme for businesses looking to create a unique and lasting impression on their audience.
Feature list:
Intuitive Drag-and-drop
Customization Options
27+ valuable modules
Cross-browser compatible
Pricing: $149
Xshapp – Multipage App Landing HubSpot Theme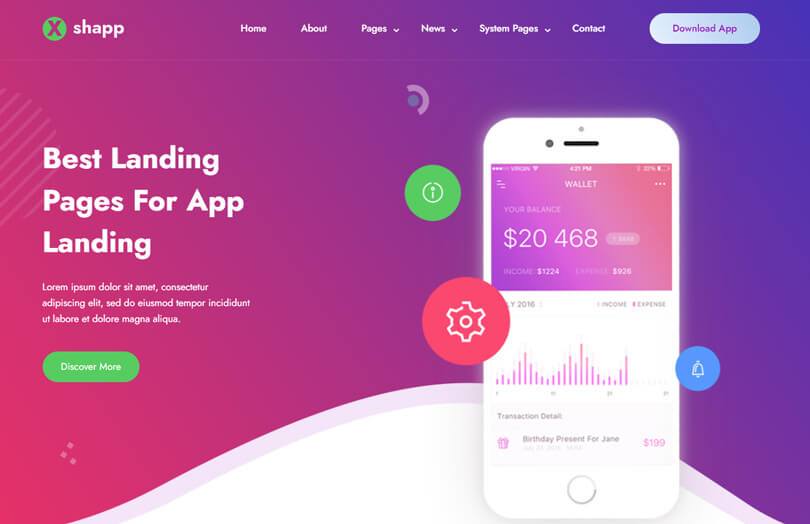 Xshapp – Multipage App Landing HubSpot Theme is the epitome of creative and modern design, making it stand out in the saturated landscape of mobile app landing pages. Its clean and user-friendly interface is perfect for showcasing mobile games, web services, or iOS and Android applications.
The stunning and unique HubSpot page builders are designed to promote apps in a powerful way, while the fully responsive feature ensures that your website looks great on any device. With drag-drop enabled and system pages included, building your web page has never been easier. The clean, professional, and unique design of Xshapp is perfect for those looking for visually appealing HubSpot landing pages for their mobile app or web service.
Feature list:
Drag-drop Enabled
System Pages included
Clean, Professional, and Unique Design
Fully Responsive
Compatible with all major browsers
Pricing: $99
Bomby – Creative Multi-Purpose HubSpot Theme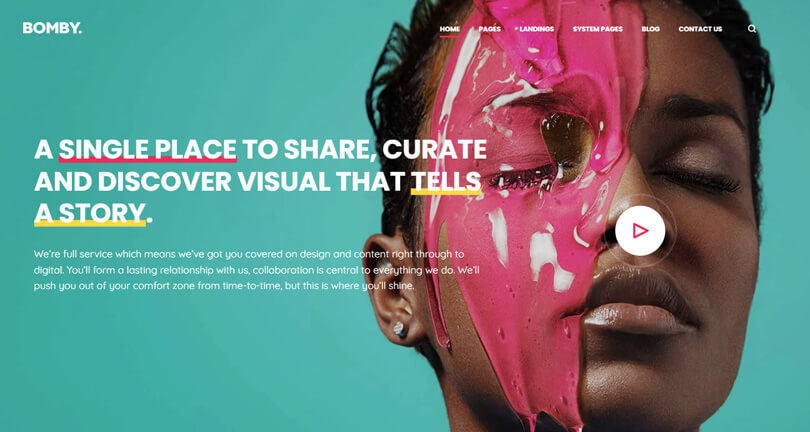 Bomby is a sleek, multi-purpose HubSpot Theme that caters to startups, agencies, and companies operating in various industries. This HubSpot landing page builder is perfect for those who are looking for a quick and easy way to make a professional-looking website. With its 100% responsive design, Bomby will look great on any device, from desktop computers to smartphones and tablets.
Plus, it comes loaded with a variety of layouts, including blog pages, customer service, landing pages, and more, making it incredibly versatile. Additionally, Bomby landing page HubSpot offers numerous features like blog pagination, pricing cards, progress bars, promo boxes, large promos, projects, and service boxes, making it a complete package for those seeking an all-in-one solution to their website-building needs.
Feature list:
Menu Section
Timeline
Testimonials Slider
100% responsive design
Pricing: $79
Avenue – Creative Agency HubSpot Theme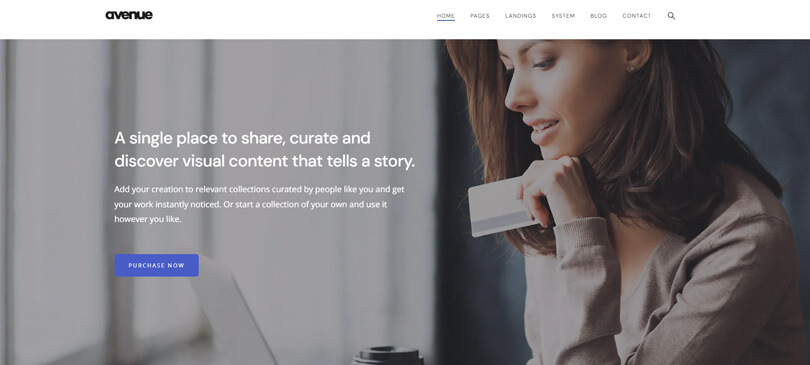 In the fast-paced world of digital marketing, having a website that accurately represents your brand is crucial. Avenue, a landing page HubSpot theme, provides businesses with a clean, creative, and multi-purpose design that will make your website stand out. Whether you're a startup, agency, or a company operating in diverse industries, this theme has something for everyone.
With its fully responsive design, you can rest assured that your website will look great on any device. The theme is particularly impressive with its selection of layouts for landing pages, blog pages, services pages, and more. Don't miss out on the opportunity to enhance your website with the Avenue theme.
Feature list:
Blog Listing
Button
Icon Box
Responsiveness
Compatible
Pricing: $39
Hire Experts to Build Your HubSpot CMS Website: Recommended- Codfer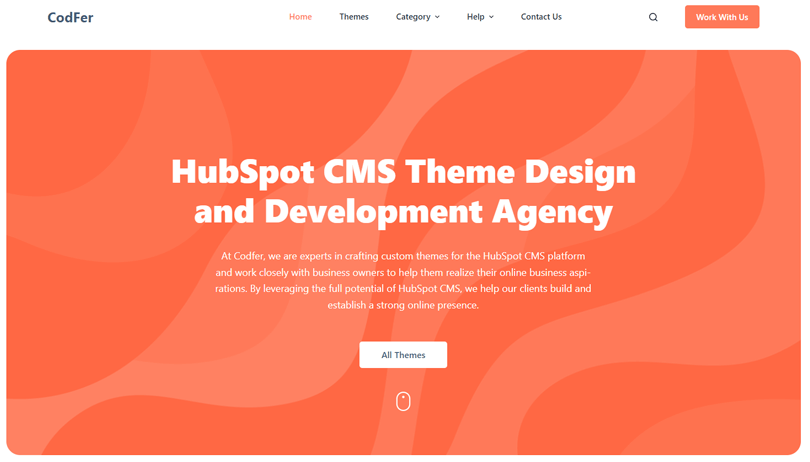 Codfer is the epitome of proficiency when it comes to crafting exceptional HubSpot CMS websites. Their team comprises seasoned experts who bring a wealth of experience and an in-depth understanding of the HubSpot platform to each and every project. Take advantage of Codfer's specialized HubSpot CMS hub services to enhance your online presence.
Whatever the nature of your company, our broad selection of HubSpot themes is painstakingly picked to meet your unique requirements. You may quickly and easily set up your website or online store with the help of these user-friendly themes. Codfer also offers a custom theme service if you want a more personalized look.
The skilled team of developers will painstakingly perfect every element to make sure your website reflects your distinct vision. Choose Codfer today and enjoy the benefits of our cutting-edge design, super-fast loading time, SEO-friendly procedures, and complete customizability. Your online presence will flourish in ways you've never seen.
Final Thoughts
When it comes to creating effective and engaging landing pages, using HubSpot CMS can make all the difference. With its user-friendly interface and vast array of customization options, HubSpot CMS allows you to design landing pages on HubSpot that are not only visually appealing but also optimized for conversion.
By incorporating A/B testing, personalized content, and relevant calls to action, you can ensure that your landing pages are driving leads and effectively nurturing them throughout the buyer's journey. With HubSpot CMS, creating high-performing landing pages has never been easier.