Comparing HubSpot vs Wix: The Best Website Builder for your Workflow
If you're looking to build a website to enhance your business workflow, then finding the right platform can be an intimidating process. Two of the most prominent options available today are HubSpot and Wix, both of which offer a wide range of features and tools.
While HubSpot is known for its marketing automation and customer relationship management (CRM) capabilities, Wix is recognized for its user-friendly interface and website customization. With that being said, which one is the best for your business workflow? In this article, we'll be comparing HubSpot vs Wix to help you make an informed decision. So, let's dive in.
What is HubSpot and Its Features
HubSpot is an all-in-one inbound marketing, sales, and customer service platform that helps businesses attract visitors, convert leads, and close customers. It includes various tools and features such as a content management system (CMS), customer relationship management (CRM), email marketing, social media management, analytics, and more.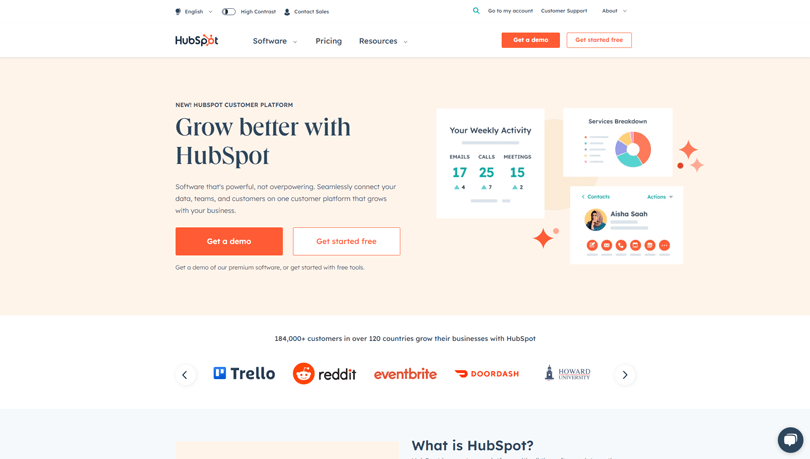 HubSpot's CMS offers a user-friendly interface with drag-and-drop functionality, making it easy for businesses to create, manage, and optimize their website content. Additionally, it provides integration options for popular platforms like WordPress, allowing seamless connectivity and data management across different tools. Overall, HubSpot is designed to streamline marketing and sales efforts, enhance customer engagement, and drive business growth. While it includes a content management system (CMS) as part of its offerings, it extends far beyond that.
Here are some key features of HubSpot:
Marketing Automation: HubSpot provides powerful marketing automation tools that allow businesses to create, schedule, and manage marketing campaigns. This includes email marketing, lead nurturing, and customer segmentation.
CRM Integration: HubSpot's CRM is tightly integrated with its marketing tools, providing a single platform to manage customer interactions, sales pipelines, and customer data.
Website Builder: HubSpot offers a user-friendly drag-and-drop website builder that simplifies the process of creating and managing websites. It includes live page editing, templates, and customization options.
Content Management: HubSpot's CMS allows businesses to manage website content efficiently. It supports content scheduling, SEO optimization, and collaborative content creation.
Blogging: The platform includes a blogging feature that enables users to create, publish, and promote blog content. It provides SEO recommendations and analytics to optimize blog posts.
Recommended Blog
👉 HubSpot CMS Pros and Cons: A Comprehensive Guide
👉 Creating Stunning Landing Pages with HubSpot CMS: A Comprehensive Guide
👉 Unleashing the Power of HubSpot CMS for Multi Language Websites
👉 Advanced HubSpot CMS Features- Ramp Up Your Website Performance
What is Wix and Its Features
Wix is a popular website builder platform that allows individuals and businesses to create and design websites without the need for extensive coding or technical expertise. It offers a user-friendly, drag-and-drop interface and provides a range of features to simplify the website creation process.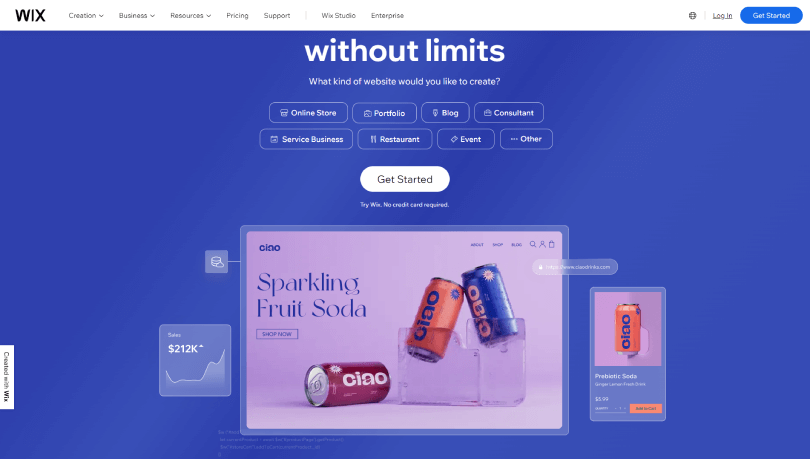 Here are some of its key features:
Drag-and-Drop Editor: Wix's editor is known for its simplicity. You can easily drag and drop elements to design and customize your website's layout, content, and appearance.
Templates: Wix offers a wide selection of professionally designed templates for various industries and purposes. These templates serve as starting points for your website's design.
Mobile Responsiveness: Wix's templates are responsive, ensuring that your website will look and function well on different devices, including smartphones and tablets.
SEO Tools: The platform provides built-in SEO tools, enabling you to optimize your website's visibility on search engines. You can customize meta tags, URLs, and other SEO elements.
Blogging: Wix includes features for creating and managing blog posts. It offers functionalities like categories, tags, comments, and RSS feeds for bloggers.
Ecommerce Capabilities: Wix supports eCommerce, allowing you to create online stores with product pages, shopping carts, and secure payment gateways for selling products and services.
Importance of choosing the right website builder for your business workflow
Choosing the right website builder for your business workflow is crucial as it directly impacts your online presence and customer interactions. A well-suited platform streamlines website creation, content management, and marketing efforts, saving time and resources. It ensures a professional image, seamless user experience, scalability, and cost-efficiency. The right builder integrates with your business tools, supports SEO, and provides customer support, enhancing your ability to attract, engage, and retain customers effectively.
Brief Overview of HubSpot vs Wix
User Interface
HubSpot:
HubSpot's user interface is streamlined for efficiency and ease of use. Its intuitive design and clear menu structures facilitate effortless navigation, allowing users and HubSpot website developers to access a wide array of tools seamlessly. The platform is designed to enhance productivity by making it simple for users to find and utilize the features they need.
Wix:
Wix boasts an exceptionally user-friendly interface, perfect for individuals without prior website-building experience. Its drag-and-drop editor stands out as one of the most intuitive tools in the market. Users can add, delete, and rearrange page elements without delving into any code. Additionally, Wix hosting and domain security simplify the entire process for users.
Customization
HubSpot:
HubSpot CMS hub offers design flexibility, allowing businesses to create and customize websites, emails, and other content templates. This customization ensures consistent branding and alignment with the business's unique identity.
Wix:
Wix provides a high level of flexibility and creative freedom. Its Unstructured Editor offers a blank canvas and over 900 customizable templates, enabling extensive customization. Users can add various elements like images, text, videos, and more. Wix's drag-and-drop functionality allows fine-tuning, and there's a dedicated mobile editor for optimizing the mobile experience. For users with coding skills, Velo by Wix allows advanced customization possibilities.
Some Useful Blog Post for You:
👉 HubSpot CMS vs Traditional CMS: Which One is the Right Solution for Your Business?
👉 WordPress vs HubSpot CMS: Which Content Management System is Right for You?
👉 Custom Website Design vs HubSpot Theme: What's the Right for You?
Marketing Automation
HubSpot
HubSpot's CMS hub is tightly integrated with its marketing sales customer service tools, offering a seamless experience for businesses. It allows the creation and management of marketing campaigns, email marketing, lead generation, and marketing automation directly within the platform. What sets HubSpot apart is its exceptional ability to integrate with a wide array of applications and automate various processes.
The HubSpot App Marketplace is a treasure trove of integrations with other tools and platforms, enabling users to streamline tasks, synchronize data, and boost productivity. Key automation features include versatile workflows and email marketing automation, providing businesses with the tools they need to save time and operate efficiently.
Wix:
Wix's approach to marketing automation is designed to cater to individual entrepreneurs and small businesses. Their in-house marketing suite, Wix Ascend, covers an array of essential marketing tools, including email marketing, live chat, and Wix automation.
Wix doesn't just stop at marketing. It offers a comprehensive range of business features for managing operations, branding, customer support, and eCommerce.
Wix Ascend also empowers users to create and distribute social media posts, produce promotional videos, and connect with various advertising and marketing tools to attract visitors. Suppose you're already using email marketing platforms like Mailchimp or Constant Contact.
In that case, Wix marketing sales customer service allows you to seamlessly integrate these and even track critical statistics such as open rates and click-through rates (CTR).
Customer Relationship Management (CRM)
HubSpot
HubSpot provides an easy-to-use CRM that offers real-time insights into sales pipelines and individual performance. The customer service software tools help businesses track team activities, productivity, and growth opportunities efficiently.
Wix
Wix offers a complete CRM solution integrated directly into your website, simplifying lead capture, conversion, and relationship management. Its streamlined workflow helps businesses capture leads, nurture relationships, and manage tasks seamlessly, making it a practical choice for integrated customer management.
Pricing
HubSpot CMS
The HubSpot CMS plans are as follows:
Starter- $18/mo
Professional – $360/mo
Enterprise – $1200/mo
Wix
One of the cheapest website builders, Wix offers 3 different types of plans.
Website plans
Business and eCommerce plans
Enterprise plan
The Website plans are as follows:
Connect Domain – $4.50/mo
Combo – $8.50/mo
Unlimited – $12.50/mo
VIP – $24.50/mo
The eCommerce plans are as follows:
Business Basic – $17/mo
Business Unlimited – $25mo
Business VIP – $35/mo
The Enterprise plans are as follows:
Custom – Built for large-scale businesses
Support and Resources
HubSpot
HubSpot CMS hub stands out for its extensive support and resources. Their knowledge base provides in-depth guides and documentation, aiding HubSpot website developers in understanding the platform's intricacies. The HubSpot community forums create a collaborative space where users can connect, learn from one another, and share experiences.
Moreover, HubSpot offers expert support, including customer service representatives and consultants. This ensures that users have access to assistance when navigating the platform and implementing their marketing strategies. The combination of detailed documentation, a supportive community, and expert guidance makes HubSpot user-friendly and well-supported.
Wix
Wix offers robust customer support through various channels. Users can seek assistance via live chat, a callback phone line, or ticket submission. This multi-faceted approach ensures users can choose the method that suits their preferences and urgency.
Additionally, Wix's knowledge base is extensive and meticulously curated, providing comprehensive answers to a wide array of issues that users might encounter while building their websites.
This comprehensive support system makes Wix a reliable choice for individuals and businesses seeking prompt and effective customer service.
Which is better for your workflow – Wix or HubSpot CMS?
The choice between HubSpot vs Wix for your workflow depends on your specific needs and the scale of your business. Here are some considerations to help you decide:
Choose Wix If:
You have a smaller business or personal website: Wix is particularly well-suited for individual entrepreneurs, small businesses, and personal websites due to its ease of use and cost-effectiveness.
You prioritize simplicity: Wix's drag-and-drop interface and straightforward website builder make it a great choice if you prefer a user-friendly, uncomplicated approach to web design.
You require a website with basic to intermediate features: If your website doesn't require extensive marketing automation or customer relationship management, and you need a more budget-friendly option, Wix could be ideal.
You need a visually appealing site quickly: Wix's templates and design tools make it easy to create a visually appealing website without significant time investment.
Choose HubSpot CMS If:
You have a larger business or complex marketing needs: HubSpot CMS hub is suitable for larger enterprises and businesses with advanced marketing and automation requirements.
You want a unified platform: If you need seamless integration between your content management system and your marketing tools, HubSpot provides an all-in-one solution.
You value advanced marketing features: HubSpot offers robust marketing automation, lead generation, and analytics tools, making it the go-to choice for businesses with comprehensive marketing strategies.
You prioritize extensive support and resources: HubSpot's extensive support options, including documentation, forums, and expert assistance, can be invaluable for businesses seeking guidance.
In summary, Wix is a user-friendly and cost-effective choice for smaller websites and businesses, while HubSpot CMS is a comprehensive solution for larger enterprises with complex marketing and automation needs. The choice ultimately depends on your specific workflow, business size, and objectives.
Frequently Asked Question
Is HubSpot good for SEO?
Yes, HubSpot is known for its strong SEO tools and features, making it a good choice for optimizing websites for search engines.
Can I use HubSpot for free?
Yes, HubSpot offers a free plan with limited features, allowing users to get started with their platform without a subscription cost.
Is HubSpot better than Wix?
It depends on your specific needs. HubSpot is primarily a marketing and sales platform, while Wix is a website builder. If you need comprehensive marketing tools, HubSpot might be a better choice. If you need a user-friendly website builder, Wix could be more suitable.
Which platform is more affordable, HubSpot Vs Wix?
Wix is generally more affordable, especially for individuals and small businesses. HubSpot's pricing can be higher, especially for advanced marketing and sales features.
Can I use HubSpot's CRM with Wix?
Yes, you can integrate HubSpot's CRM with Wix, allowing you to manage customer relationships effectively while using Wix's website-building capabilities.
Do both platforms offer customer support?
Yes, both HubSpot and Wix offer customer support. They provide various support channels, including email, chat, and knowledge bases, to assist users with their queries and issues.
Hire Experts to Build Your HubSpot CMS Site: Recommended-Codfer
Codfer is a great choice for businesses that want to create a website or online store using HubSpot CMS. We offer lots of different HubSpot CMS themes that make it easy to set up your site.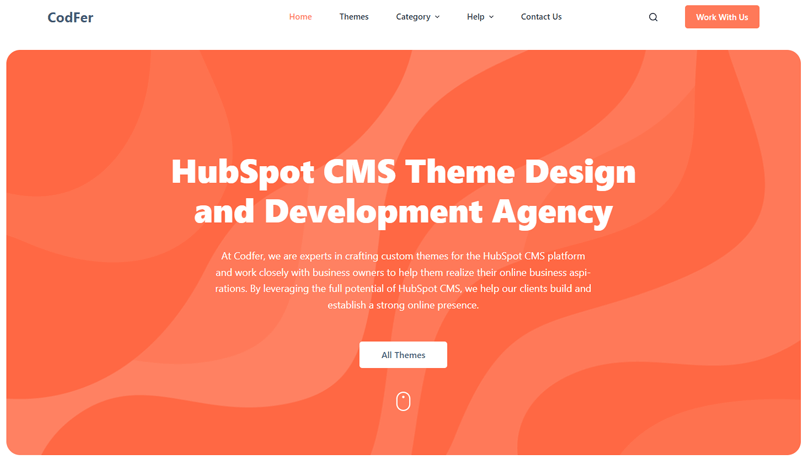 If you want your website to look special and match your brand, we have a team of experts who can help. We'll work closely with you to make sure your site looks just the way you want it to.
With Codfer's help and HubSpot CMS, you can make the process of building your online presence easier. Get in touch with us to use our excellent services and improve your online presence.
Conclusion
Choosing a website builder can be a daunting task, but when it comes down to HubSpot vs Wix, two of the most popular options on the market, knowing your workflow can help make the decision easier. While Wix may be a more affordable and user-friendly option, HubSpot offers a wide range of features that cater to businesses with more complex workflows and marketing needs. Ultimately, it's important to consider not only the initial cost but also the long-term benefits for your business when deciding for the best website builder for your workflow.