HubSpot CMS Pros and Cons: A Comprehensive Guide
There are several alternatives to think about while picking a content management system (CMS). However, HubSpot CMS is one of the popular platforms that quickly rises to the top of the list. With its powerful features and integrations, it's no wonder why it's a favorite among marketers and small business owners alike. But like any tool, there are both Pros and Cons to consider before making the investment. In this comprehensive guide, we'll explore the HubSpot CMS pros and cons to help you make an informed decision for your website needs.
Brief history of HubSpot (Short history and mention when they started CMS)
HubSpot's journey began in 2004 when two MIT students, Brian Halligan and Dharmesh Shah, recognized the evolving marketing landscape. In response to the changing needs of businesses and customers, they envisioned a solution aligned with emerging market trends. In 2005, they presented the first prototype of what would become HubSpot CRM at an MIT competition, marking the initial step towards their ambitious venture.
By 2006, HubSpot was founded officially, and the company's mission evolved. It centered on the concept of "inbound," emphasizing that people prefer assistance over interruption in marketing and sales. HubSpot's commitment to inbound marketing led to the development of a platform offering website optimization, email marketing, and improved social media engagement solutions.
Today, HubSpot's inbound movement continues to empower businesses globally, enabling them to shift their focus from interrupting to helping, ultimately prioritizing the customer. HubSpot CMS, a key offering, plays a vital role in this journey by facilitating user-friendly, content-focused website management.
What is HubSpot CMS?
HubSpot provides a content management system called HubSpot CMS Hub. It is intended to help businesses create, manage, and analyze the content of their websites and blogs. The main selling point of HubSpot is its cloud-based customer relationship management (CRM) platform, which enables email marketing, customer care, and sales operations.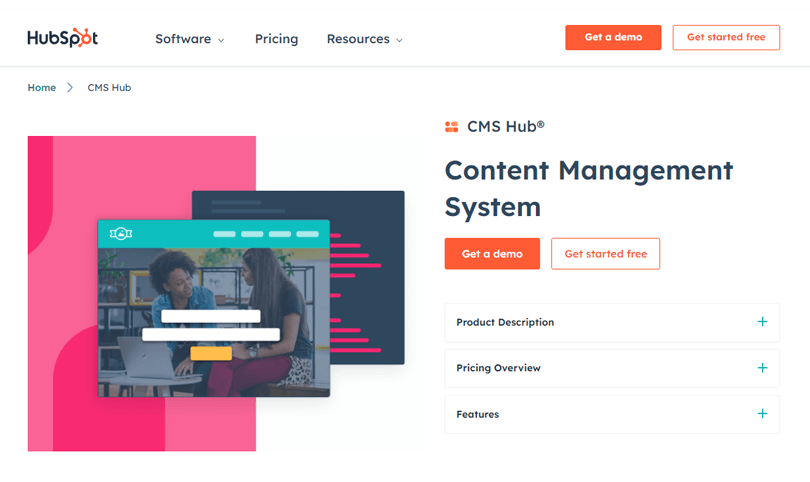 With HubSpot CMS Hub, it extends its capabilities to content management, providing users with tools to streamline content creation, optimize websites for better performance, and gather insights through analytics. This integrated approach allows businesses to maintain a cohesive online presence while benefiting from HubSpot CRM and marketing features.
HubSpot CMS Pros and Cons
HubSpot CMS, or content management system, is a well-liked platform for marketing, sales, and website administration. It has advantages and disadvantages of its own, just like any software. The main HubSpot CMS pros and cons are as follows:
Pros of HubSpot CMS
Unified Publishing Tools:
HubSpot CMS hub provides a unified platform for content management, making it easier for users to create, edit, and publish content. This centralization of tools simplifies the website management process, ensuring a consistent and user-friendly experience for content creators.
Responsive Templates:
HubSpot's responsive templates are designed to adapt seamlessly to different screen sizes and devices. The drag-and-drop manager tool empowers users to customize these templates to suit their branding and content needs. This responsiveness guarantees that visitors will have an optimal experience regardless of whether they are on a desktop computer, tablet, or smartphone.
Supports Smart Content:
Smart Content is a standout feature of HubSpot CMS hub. It allows website owners to deliver personalized content based on visitor information. For instance, you can display tailored calls-to-action (CTAs) and content modules to users depending on their past interactions with your site. This personalization enhances engagement and increases the relevance of your content.
Built-In Security Features:
HubSpot CMS hub places a strong emphasis on security. It offers several built-in security features, including:
HubSpot CDN: The Content Delivery Network handles high levels of website traffic efficiently, ensuring fast and reliable access to your site.
SSL Certificate: HubSpot includes an SSL certificate with its CMS, providing secure and encrypted connections, which is essential for protecting user data and building trust.
Security Through Obscurity: HubSpot employs a rarely found security measure known as "security through obscurity." This approach involves using less common software configurations, making it more challenging for potential attackers to identify and exploit vulnerabilities.
Personalization Without CMS:
HubSpot's versatility extends beyond its own CMS. Users can leverage personalization elements like CTAs and forms on websites built with other content management systems. By simply inserting these elements into their HTML, users of various CMS platforms can harness the power of personalization to improve user engagement and drive conversions.
Recommended Blog for You:
👉 Is HubSpot Easy to Use? A Comprehensive Evaluation of User-Friendliness of HubSpot CMS
👉 HubSpot CMS Review: Unveiling the Power of a Marketing-Centric Platform
👉 HubSpot CMS for Nonprofits and Educational Institutions
👉 HubSpot CMS Security: Protecting Your Website and Customer Data
Cons of HubSpot CMS
HubL Learning Curve:
Using HubSpot CMS for website development and design can differ slightly from using other content management systems. It could take some time for users to become familiar with HubL, the templating language used by HubSpot, and the distinct development process of the CMS. For people who are used to using different platforms, this learning curve may be difficult.
Backup & Recovery:
HubSpot CMS hub lacks a robust version history feature. While it offers real-time snapshots of data to back up page content, templates, and files, it doesn't maintain a comprehensive version history. This limitation means you might encounter difficulties when trying to revert to a specific version of your website, especially compared to platforms like WordPress that offer extensive version control capabilities.
HubSpot CMS Pricing Plan
The HubSpot CMS plans are as follows:
CRM Suite Starter – $20/mo billed monthly & $18/mo billed annually
Starter – $25mo billed monthly & $23/mo billed annually
Professional – $400/mo billed monthly & $360/mo billed annually
Enterprise – $1200/mo
Frequently Asked Questions
Why is HubSpot CMS better?
HubSpot CMS is preferred for its user-friendly interface, powerful marketing tools integration, robust analytics, and excellent customer support. It offers seamless content management, marketing automation, and CRM capabilities in one platform.
Is HubSpot CMS a website builder?
Yes, HubSpot CMS is a comprehensive drag-and-drop website builder that allows users to create, manage, and optimize websites without needing extensive technical knowledge.
Is HubSpot CMS easy to use?
Yes, HubSpot CMS is designed with user-friendliness in mind. Its intuitive interface, drag-and-drop features, and pre-built templates make it easy for both beginners and experienced users to create and manage websites.
Is HubSpot CMS good for SEO?
Yes, HubSpot CMS is SEO-friendly. It provides tools and features to optimize on-page SEO elements, track keyword performance, create SEO-friendly URLs, and improve website speed, all of which are essential for search engine optimization.
What is Content Management Systems (CMS)?
Content Management Systems (CMS) are software applications that enable users to create, manage, and modify digital content without the need for extensive technical knowledge. CMS platforms are commonly used for websites and web applications, allowing users to update content, images, and multimedia elements easily. Examples include WordPress, Joomla, and HubSpot CMS.
Bonus: Recommended HubSpot CMS Themes
Beautian – Spa & Beauty Theme For HubSpot
Are you looking to enhance your beauty business's online presence? Look no further than Beautian – Spa & Beauty Theme for HubSpot CMS hub. Designed specifically for salon owners, spa managers, and beauty service providers, Beautian is the perfect blend of beauty and sophistication. With pre-built templates and customizable modules, creating a stunning website has never been easier.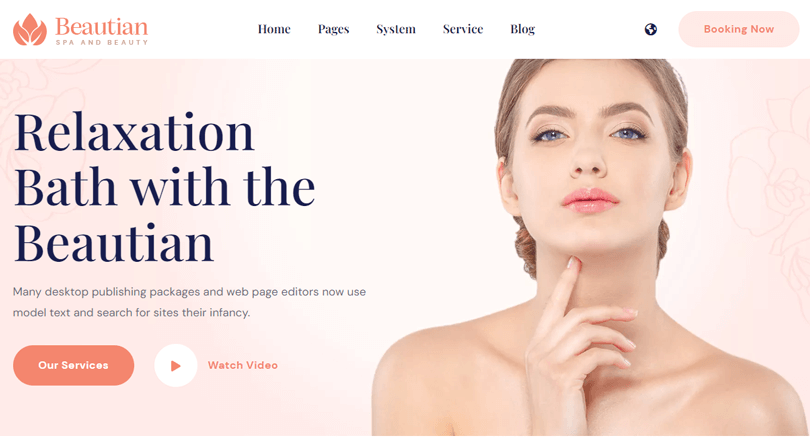 Plus, the intuitive drag-and-drop feature makes setup seamless. With Beautian – Health & Beauty Theme for HubSpot, your online presence will be captivating and unforgettable. Don't miss out on this ultimate tool for beauty industry transformation.
Feature list:
8+ Pre-built Templates & 25+ custom modules
Fully Responsive
SEO Friendly
Easy to use and customize
Built with Bootstrap 5
Pricing: Free of Cost
Morace – Real Estate Theme for HubSpot
Experience the ultimate modern website design with the Morace Real Estate Theme for HubSpot. This impressive theme offers everything you need to showcase your brand's identity in style. You can create a stunning website that perfectly represents your company with incredible customization options, including color schemes and custom fonts.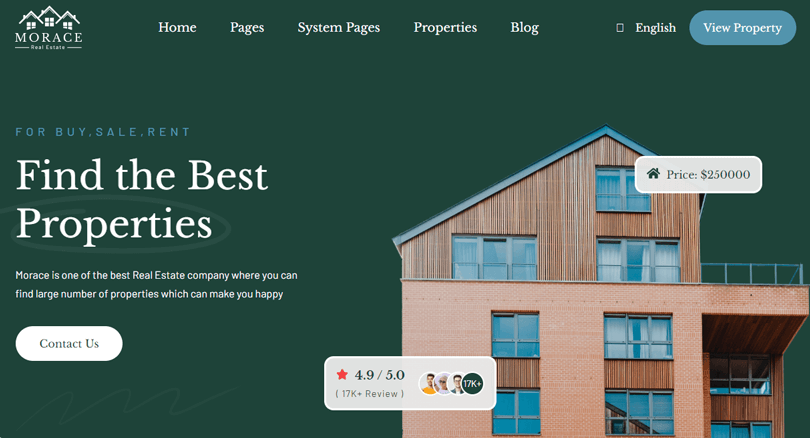 This free HubSpot theme's retina-ready graphics and responsive design ensure a visually stunning display on all devices, while integration with HubSpot's marketing automation program guarantees a seamless user experience. With 10 template pages and SEO-friendly design, the Morace Real Estate Theme is the ultimate choice for anyone looking to take their website to a whole new level.
Feature list:
Fully Responsive
10 template page
SEO Friendly
Easy to use and customize
Eye-catchy Properties
Pricing: Free of Cost
Cofean- Coffee Theme For HubSpot
For coffee aficionados and business owners alike, Cofean is an exciting new offering. Designed specifically for HubSpot CMS, this coffee-themed theme is the perfect way to elevate your online presence. With user-friendly customization options and a modern aesthetic, Cofean allows for effortless personalization of pre-built templates and modules.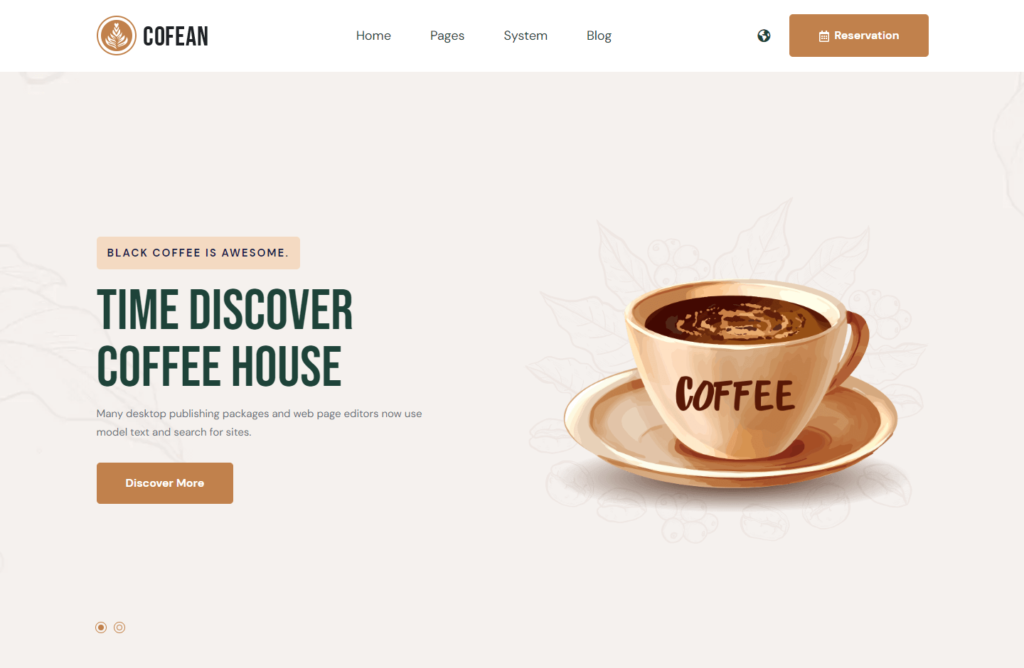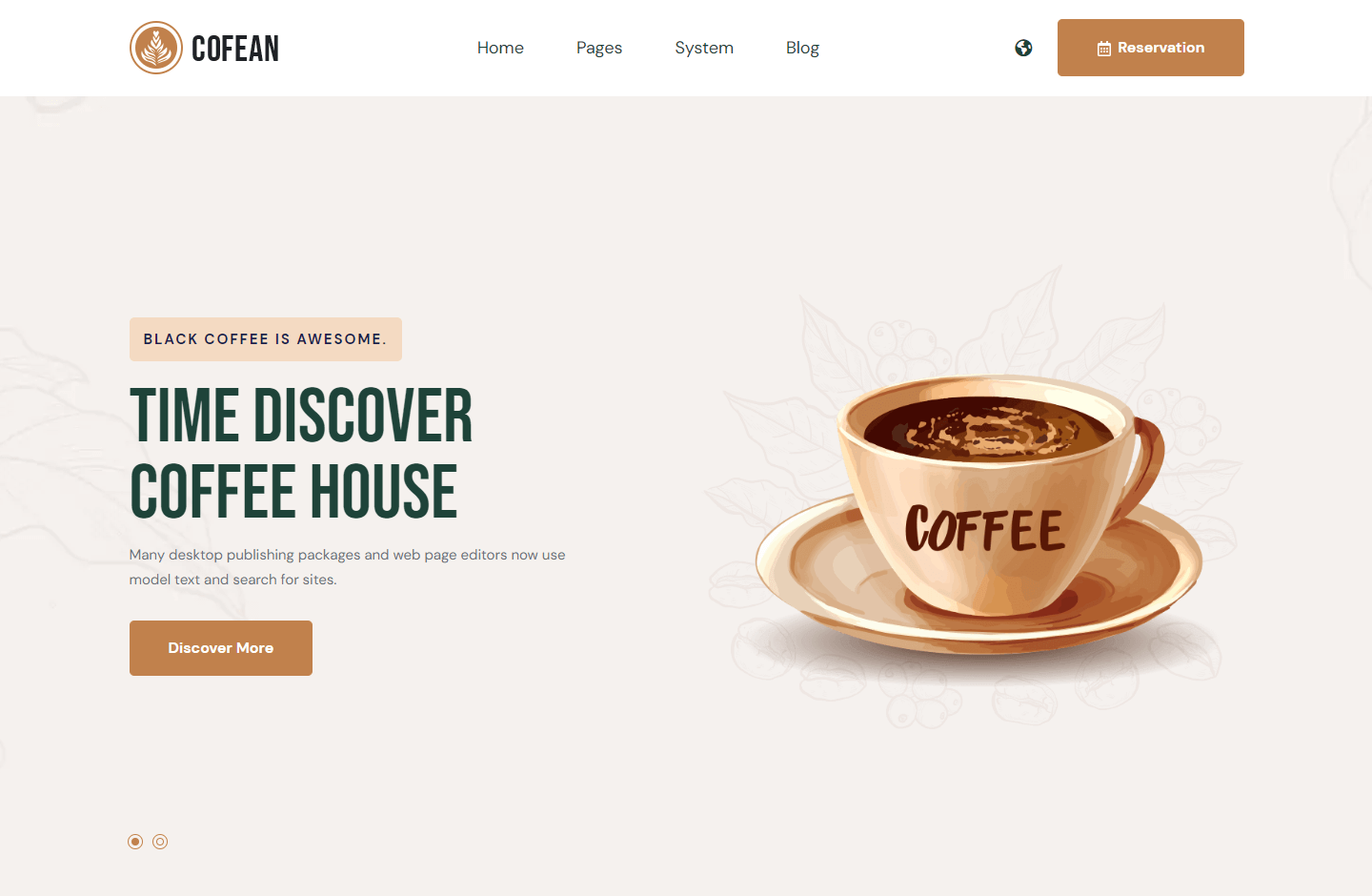 This free HubSpot theme packs a punch with its fully responsive design, SEO friendliness, and 10 template pages. Whether you're a coffee shop owner looking to boost sales or simply seeking to create a sleek website, Cofean is the perfect choice. Say goodbye to clunky website design and hello to a fresh new look with Cofean.
Feature list:
Fully Responsive
10 template page
SEO Friendly
Easy to use and customize
Eye-catchy Properties
Pricing: Free of Cost
Mesbiz – Multipurpose Business Theme for HubSpot
Looking for the perfect website theme can be an overwhelming task. But, with Mesbiz – Multipurpose Business Theme for HubSpot, your search for a user-friendly, adaptable, and feature-rich website theme may just be over. This award-winning theme can help you create a beautifully designed website in just minutes.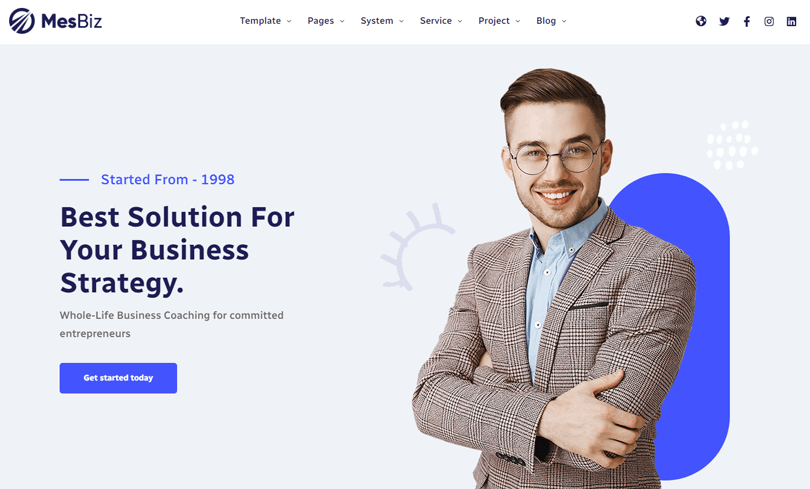 And, with its compatibility with HubSpot's drag-and-drop feature, customization has never been easier. Whether you have a corporate, branding agency, consultancy, or any other type of business, Mesbiz has got you covered with its pre-built templates and modules. Don't waste your time building a website from scratch. Give Mesbiz a try and see how easy and effective it can be!
Feature list:
5 different categories of Home Page
Pre-built Templates & Modules
Compatibility with DND Feature
Customization Options
Multi-Language Ready
Pricing: Free of Cost
Final Word
After thoroughly examining and analyzing HubSpot CMS pros and cons, it's clear that there are both advantages and disadvantages to this platform. One of the biggest pros of HubSpot CMS hub is its user-friendly interface, making it easy for even non-technical users to navigate. Another advantage is its integration with other HubSpot tools, streamlining the marketing process.
However, HubSpot CMS hub also has its downsides, such as limited SEO capabilities and a higher cost compared to competitors. Overall, it's essential to weigh the pros and cons of HubSpot CMS before deciding if it's the right fit for your business.