Maxs – Gaming theme for HubSpot CMS
Maxs – Gaming theme for HubSpot CMS is an excellent way to give your business and website a professional look. This theme offers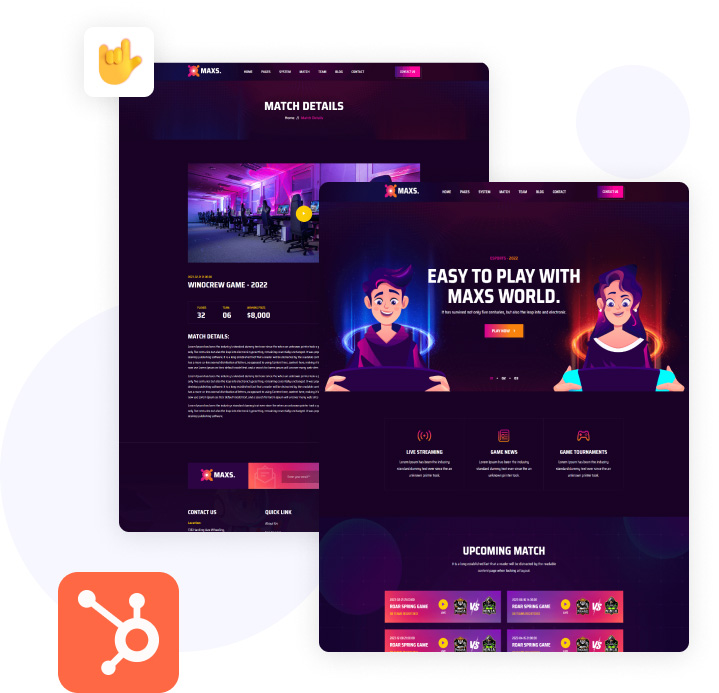 Presenting Maxs, the #1 Gaming theme for HubSpot CMS
With Maxs – Gaming theme, you'll get a modern and custom look that will make your gaming website stand out. This HubSpot theme was built specifically with gaming in mind, including features like retina-ready images, unlimited colors, custom fonts, and much more.
This gaming theme offers a wide range of page templates and system templates to get started quickly when building your websites with HubSpot CMS. This theme has 12 page templates, 14 system templates, 18 sections, and 25 modules to choose from.
With this gaming theme, you have everything you need to create stunning pages without having to build them from scratch. Moreover, all the templates are mobile friendly and look aesthetically pleasing on all devices. You also have lots of customization options giving you flexibility when designing pages for your website.
Plus, the responsive design ensures that all of your visitors can enjoy a seamless experience on any device. With this advanced yet intuitive theme installed on HubSpot CMS, it's easy to create the perfect gaming website without having to code from scratch.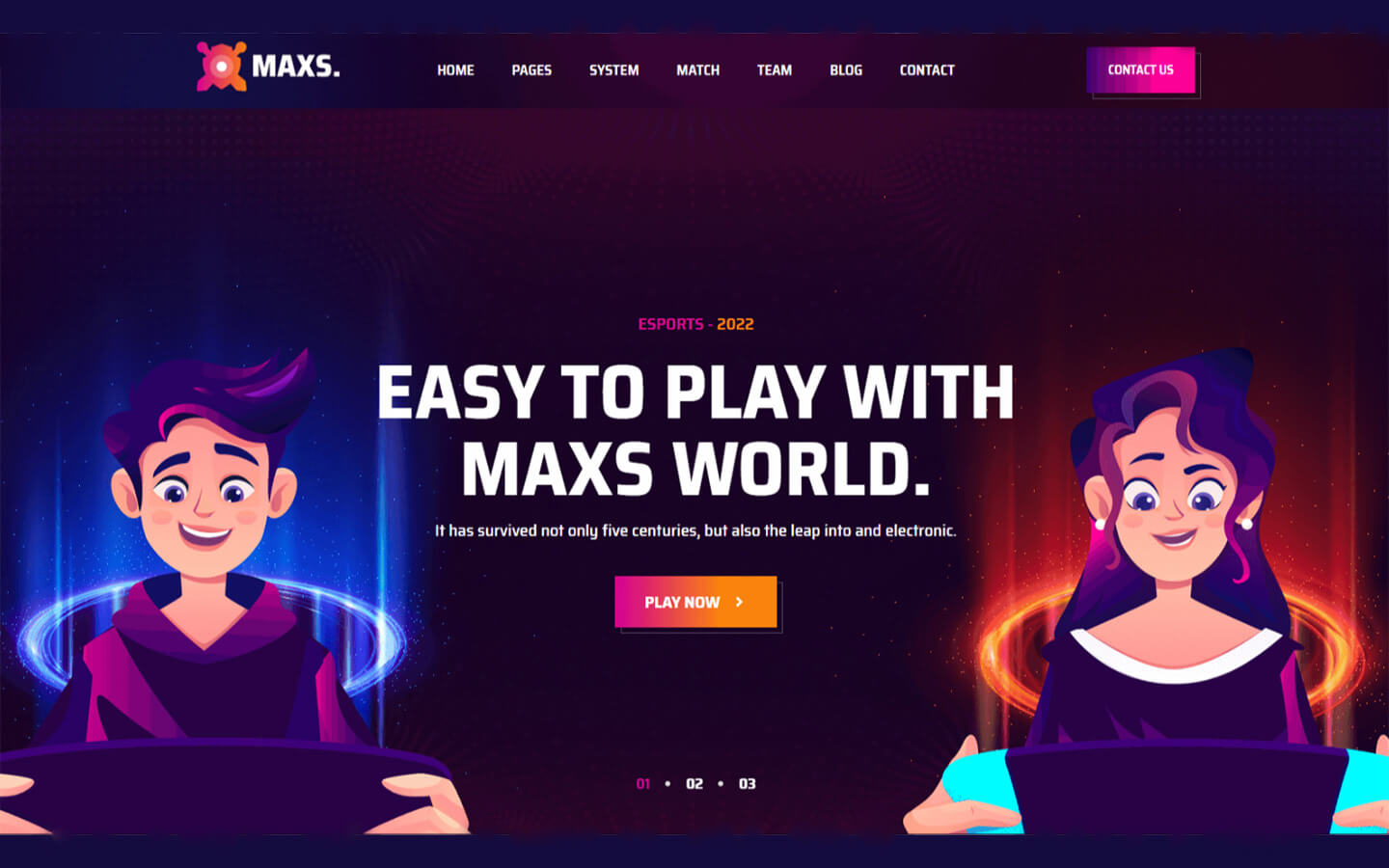 Why is this Gaming theme Best for you?
Maxs – Gaming HubSpot Theme is the ideal choice for any gaming enthusiast out there. It comes with an impressive array of features designed to help gamers create the ultimate user experience. Whether it's through social media integration, high-resolution imagery or its capacity for engaging audiences, this gaming HubSpot theme makes connecting with your followers a breeze.
This theme has all the necessary features to create an impressive site easily.
Its modern, responsive design ensures that your content looks great no matter how your visitors access it.
You can easily customize the look and feel of your site using our user-friendly interface.
This theme is optimized for SEO success so that you can get even more visitors to your pages.
The high-resolution retina-ready images included with the theme will ensure that your pictures always look sharp, making every page stand out from the competition.
The benefits of using Maxs – Gaming theme for HubSpot CMS
Some of the benefits of using Maxs – Gaming HubSpot theme are as follows-
Create stunning webpages quickly and easily with the drag-and-drop page builder.
Fully responsive design optimized for mobile use to reach more users on the go.
Pre-made web page templates, one-click color palettes, and lead capture forms to maximize engagement and conversions.
SEO optimization so your content is discoverable online.
Advanced analytics so you can measure the results of your efforts.
Dedicated technical support team to ensure you get the most out of your theme.
Key Features of the Maxs – gaming theme
This gaming theme for HubSpot CMS is a robust and powerful theme, designed for businesses seeking to create compelling websites that deliver the best user experience. Maxs is packed with key features that can help you create a unique website, perfect for any gaming platform seeking to elevate its online presence. Here are a few key features —
Clean and Modern Look
This HubSpot theme gives your gaming website a clean and modern look while managing to remain user-friendly and professional. This HubSpot theme features SEO-friendly coding, making it easier for search engines to find your website, as well as an easy-to-use control panel for website management.
Contact/Lead Form
A Contact/Lead Form is a useful tool for any website owner looking to optimize their lead collection process. By enabling this feature, you can easily gather important contact information from potential customers, thereby streamlining the experience of both website visitors and your business.
No Coding Knowledge Required
With its pre-built CMS Gaming Theme, there's no need to learn how to do coding or navigate complicated admin interfaces. Installing is straightforward and provides your website with professional fonts, colors, images, and icons. Creating the perfect gaming space has never been easier!
SEO Friendly
This HubSpot Theme offers an efficient and effective way to design a website that is optimized for search engines. It does this by utilizing various features that ensure the site will get more attention from search engines such as Google, Yahoo, and Bing. The developer also focused on making the website dynamic, with features that keep it up-to-date with the latest advances in SEO and IT.
Maxs – Gaming theme For HubSpot CMS
The Maxs – gaming theme has a total of 10 Template pages, which are the following:
About
Contact
Home
Landing page
Match
Match Details
blog listing
blog post
Player Details
Team
Team Details
Team Member
Maxs is designed to meet your needs

Consulting
Free HubSpot consultation, schedule via email, Google Meet, Zoom, or Microsoft Teams.

Solution
Creating a personalized website, from migration to launch, as per the requirements discussed.

Delivery
Efficient HubSpot website delivery in two weeks, incl. 2 revisions & satisfaction guaranteed.

Launch & Growth
After website approval, we will launch it online and witness your growth and success together.
Frequently Asked Questions
Are there any coding abilities required to use the theme?
No coding experience is required to use the Maxs – Gaming HubSpot theme. The drag-and-drop page builder makes it easy to create beautiful web pages without knowing how to code.
Are there more free theme options in HubSpot CMS?
Yes, HubSpot CMS provides more free themes on their HubSpot CMS theme library. In addition, they are featuring enhanced features in CMS Hub premium editions.
Does this Gaming HubSpot theme come with customer service/technical support?
Yes, the theme comes with a dedicated technical support team to ensure you get the most out of your theme.
Can I use the Max theme to create a gaming hubspot theme?
Yes, you can use the Max theme to create a gaming hubspot theme. This theme is designed specifically for gaming websites, allowing developers to keep up with the latest gaming industry trends. It is mobile-friendly and responsive, ensuring your site looks great on all devices.