Beautian Pro- Health & beauty Theme for HubSpot CMS
Beautian Pro- Health & beauty Theme for HubSpot CMS is a great way to give your business and website a professional look. Indise offers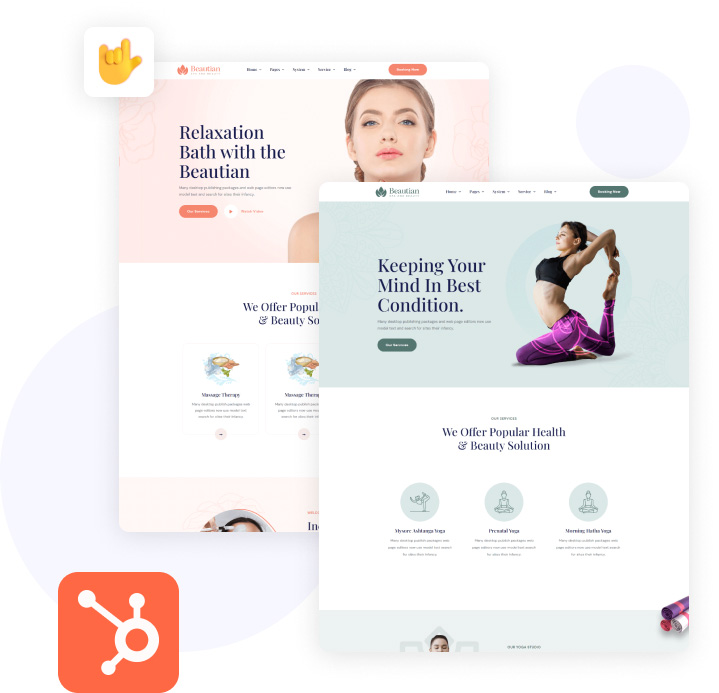 Presenting Beautian Pro, the #1 Health and Beauty theme for HubSpot CMS
The Beautian Pro- Health & beauty Theme for HubSpot is the perfect tool for anyone looking to create a modern online presence for their beauty products. It's a feature-packed and fully responsive web template that allows you to quickly create beautiful, engaging websites tailored to your business.
With Beautian Pro, you can easily add contact forms to your site, develop comprehensive product pages with photos and descriptions, include impressive sliders, and even integrate seamlessly with HubSpot CMS to enable easy content management.
With the ability to easily customize backgrounds, font sizes, and colors, create stunning galleries with high-quality images, and more, Beautian Pro provides the perfect platform to help your business thrive in an increasingly competitive beauty industry.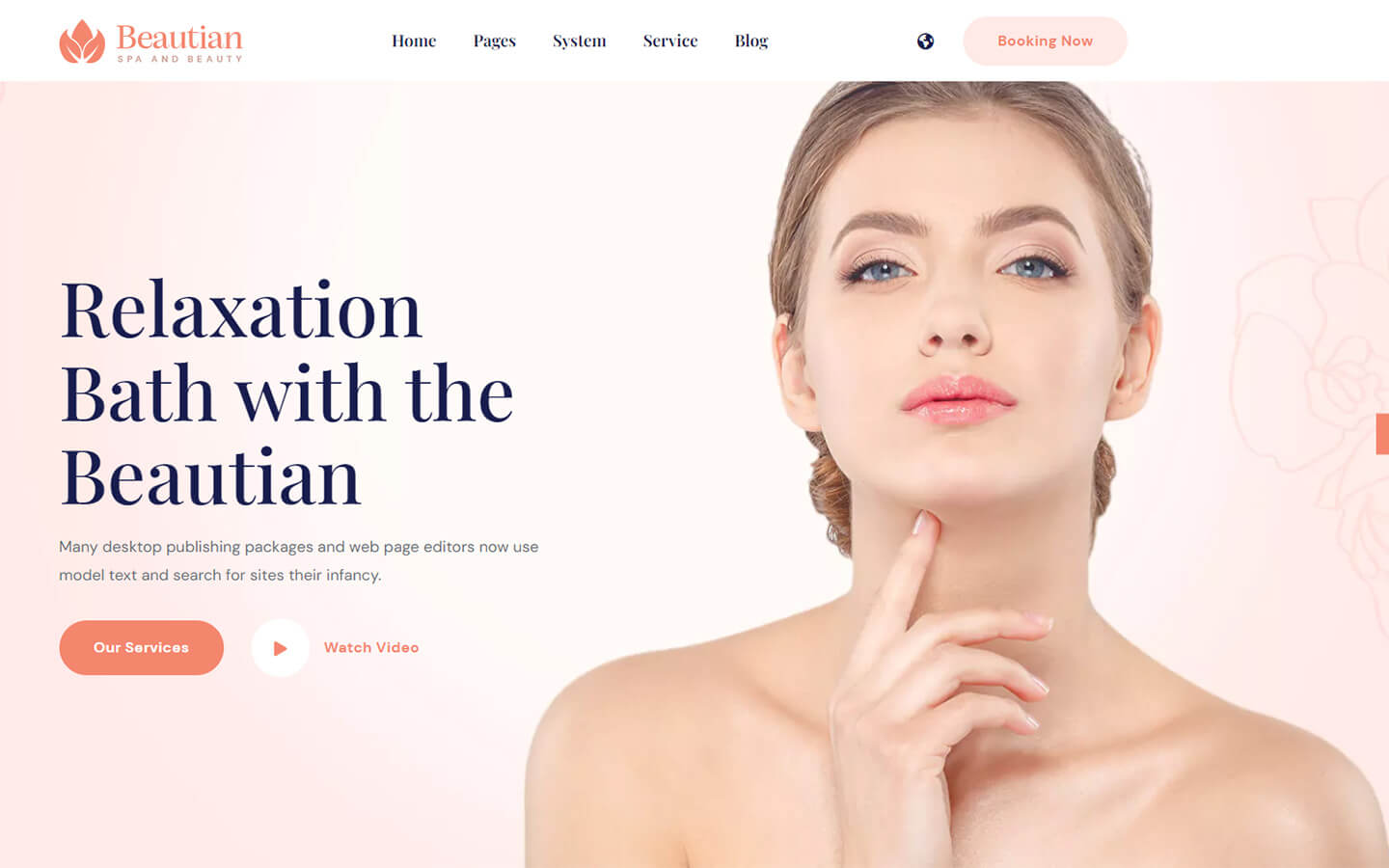 Why is this Health & beauty Theme for HubSpot Best for you?
Beautician Pro is one of the best health and beauty app themes available on HubSpot.
This theme is entirely responsive, providing an optimal viewing experience regardless of your viewing device.
The smooth animations work effortlessly and quickly, increasing user satisfaction.
It can be easily customized if needed to visualize the desired look and feel on your website.
Beautian Pro is designed with cross-browser support in mind. Consequently, it looks amazing on all modern browsers.
It has comprehensive and detailed instructions, so you can get up and running quickly and without stumbling blocks.
Plus, you will experience no console errors when using this theme – nothing can ruin an otherwise great website experience quite like a console error.
The benefits of using Beautian Pro – Health & beauty Theme for HubSpot
Beautician Pro – Health & Beauty Theme for HubSpot is a phenomenal tool that offers many beneficial features. This HubSpot Theme is an excellent choice for any user looking to create or enhance their online presence.
It provides 20 product templates, each with 27 modules, 19 sections, and the ability to use FontAwesome as its icon font.
With W3C-validated code and clean code, this theme provides both a quality build and quick loading times as a result of its advanced features.
Comes with a sleek, modern design. Built to accommodate mobile devices, the theme offers smooth animations and is easy to customize for desktop and mobile experiences.
Also included are helpful features such as smooth animations to enhance user experience, fully responsive design, so your site looks great on all devices,
An easy-to-customize panel from which you can modify layouts and content.
In short, Beautian Pro – Health & Beauty Theme for HubSpot is a fantastic asset to any website.
Key Features of the Beautian Pro – Health & beauty Theme for HubSpot
One of the most potent and feature-rich themes available right now is the Beautian Pro – Health & Beauty Theme for HubSpot. It has a variety of elements that you can use to build a beautiful website, ideal for any company looking to improve its online presence. Here are some key features:
Pre-designed Templates and Modules
With this theme, setting up your website or project can be a breeze. You no longer have to settle with plain, generic templates. This one comes with 29 fully designed templates and 23 customizable sections that follow the latest trends. In addition, the 32 modules it offers allow you to create copy easily, add dynamic text effects, develop FAQs, and more – all without any complicated coding.
Options for Customization
This theme makes it remarkably easy for users to create a website that looks exactly how they want it to. With options for customization, users can modify nearly every aspect of their page to match their desired vision perfectly. So whether you desire a video background or an intricate font style, it will be attainable with this theme. Plus, color schemes and images are totally customizable, so your website won't look like any other out there. Now that's something to celebrate.
Easy Admin Panel
Beautian Pro – Health & beauty Theme for HubSpot provides a streamlined experience that doesn't require coding knowledge or expertise. The intuitive design of the admin panel also makes it easy to configure settings swiftly and with minimal effort. In addition, there is lots of specialist help available should you need advice on any feature.
Simple Lead or Service Registration Form
Having a well-designed lead or service registration form on your website is essential for the success of any business. It can help you to collect more leads and keep track of the services you offer, making it easier for prospective customers to choose you when they're ready to make a purchase.
With this theme, you get a simple but powerful form that makes registering easy and fast. From start to finish, in no time at all, customers can provide the information required and start benefiting from your services.
News/Blog Page
A blog or news page is a great way to ensure you get the most out of your website. This HubSpot theme allows you to present articles, blog entries, and other content in an easy-to-read format for visitors. A properly managed blog/news page will help you gain organic visitors and boost your ranking in search engines.
Beautian Pro HubSpot theme Includes Template pages
The Beautian Pro HubSpot Theme has a total of 10 Template pages, which are the following:
About
About Two
App Landing Page
Beautian Pro – blog listing
Beautian Pro – blog post
Coming Soon
Contact
Contact Two
Home
Home Hair Salon
Home Nail Salon
Home Spa
Home Yoga
Landing Calendar Page
Landing eBook Page
Landing page
Landing Page Two
Landing Payment Page
Landing Webinar Page
Lead Capture Landing Page
Lead Capture With Video Landing Page
Reservation Form
Service
Service Details
Service Details Two
Service Two
Team
Team Details
Thank you page
Beautian Pro is designed to meet your needs
| | | |
| --- | --- | --- |
| | Beautian Pro | Beautian free |
| A free 30/15 minutes consultation Before Purchasing via email, google Meet, Zoom, or Microsoft Team | | Limited email consulation |
| FREE migration service and launching a new website learn more | | |
| Free 7-day migration service | Yes(Day one query support from the day after we will start the Migration work) | |
| Powerful and Flexible HubSpot Theme | Pro: 29 page templates, 20 system template, 32 modules | Free: 08 page templates, 14 system template, 25 modules |
| FREE Unlimited Email and Chat Support | | Limited free support |
| FREE Theme Updates | | |
| Free child theme library and child theme instation service. | | |
| A 30-Day REFUND Guarantee | | |
| Price | Pro: $299 | Free themes |
Note: The theme Can be customized further to include new designs and features. We can help you further to customize as per your requirement. Don't worry! We offer a range of hourly packs based on the project size
Beautian Pro is designed to meet your needs

Consulting
Free HubSpot consultation, schedule via email, Google Meet, Zoom, or Microsoft Teams.

Solution
Creating a personalized website, from migration to launch, as per the requirements discussed.

Delivery
Efficient HubSpot website delivery in two weeks, incl. 2 revisions & satisfaction guaranteed.

Launch & Growth
After website approval, we will launch it online and witness your growth and success together.
Frequently Asked Questions
What types of health and beauty services does HubSpot offer?
HubSpot offers a range of resources and tools designed to help users create, manage, and grow their health and beauty businesses. HubSpot provides the tools you need to succeed online, from email marketing to website design.
Can HubSpot be used to build a health and beauty website?
You can create a stunning, branded health and beauty website using HubSpot without being a developer. With our drag-and-drop website builder, you can quickly create a unique website for your company. Then, utilize HubSpot's CRM technology to monitor your website's performance and observe your company's expansion.
While the theme is designed for health and beauty businesses, it can be used for any business that wants to create a clean, professional, and modern look. The customizable design of this theme allows users to personalize and customize the templates.
Does HubSpot provide templates for health and beauty websites?
Yes! HubSpot offers several templates specifically designed for health and beauty businesses which can be customized to fit your unique needs