Improve Your Website Performance with HubSpot Clean themes
Do you want to take your website's performance to the next level? HubSpot Clean themes provide an effective solution that can help you achieve your goal. With its intuitive and innovative design, this theme can make it easier for you to create a stunning website without compromising on speed or reliability. By leveraging HubSpot Clean themes, you'll be able to enhance the performance of your CMS website and make it stand out from the competition.
Features HubSpot Clean themes
HubSpot Clean themes offer a range of features that make website creation and customization easy and efficient. Some of the key features include:
100% Drag-n-Drop: Clean themes allow you to build and design your website using a visual drag-and-drop editor. This means you can easily add, rearrange, and customize elements on your web pages without the need for coding or technical expertise.
ZERO coding required: With Clean themes, you don't need any coding knowledge to create a professional-looking website. The intuitive interface and pre-designed elements make it accessible to users of all skill levels.
Totally customizable: Clean themes provide extensive customization options, allowing you to tailor every aspect of your website's design. You can customize colors, buttons, fonts, layouts, and more to align with your brand identity and create a unique website.
Multi-Language Ready: HubSpot themes are designed to support multi-language websites. This feature enables you to create a localized experience for your global audience by easily translating and adapting your content into different languages.
Mega-Menu Options: Clean themes offer mega-menu options, which allow you to create large, visually appealing dropdown menus with multiple columns and submenus. This feature is useful for websites with complex navigation structures or large amounts of content.
Mobile Responsive: HubSpot themes are optimized to ensure your CMS website looks amazing and functions seamlessly on mobile devices. The fully responsive design automatically adjusts the layout and elements to provide an optimal user experience on smartphones and tablets.
Advantages of HubSpot Clean themes
Easy to Use and Customize
HubSpot Clean themes are designed to be user-friendly, allowing users to easily navigate and customize their website. The intuitive interface and drag-and-drop functionality simplify modifying layouts, colors, fonts, and other design elements without requiring extensive technical expertise.
Fast Loading Times
Clean themes are optimized for speed, resulting in fast loading times for web pages. This is important as slow-loading websites can lead to higher bounce rates and a negative user experience. With HubSpot themes, visitors can access content quickly, enhancing their overall browsing experience.
Security and Reliability
HubSpot is known for its robust security measures, and Clean themes inherit these features. By using Clean themes, you benefit from the security infrastructure provided by HubSpot, including protection against malware, data breaches, and other online threats. Additionally, HubSpot ensures regular updates and maintenance to keep your website reliable and secure.
Optimized for SEO
Clean themes are designed with search engine optimization (SEO) best practices in mind. They typically include features such as optimized HTML markup, clean code structure, mobile responsiveness, and meta tags, which contribute to better search engine rankings. With Hubspot Clean themes, you have a solid foundation for implementing SEO strategies and improving your website's visibility in search engine results.
Recommended Blog for You:
👉 Top 5 HubSpot Blog Themes: Enhance Your Blogging Experience
👉 8 Best HubSpot Themes for Service Websites
👉 5 Top HubSpot Themes for eCommerce Websites
How to Get Started With HubSpot Clean themes
To get started with HubSpot Clean themes, you can follow these steps:
Download and Install
Visit the HubSpot Marketplace and search for the Clean theme that you want to use. Once you purchase a HubSpot theme, click on it to access the HubSpot theme details page. From there, you can download the theme file into your computer.
Enable theme Settings
Log in to your HubSpot account and navigate to the Design Tools section. In the Design Tools, go to "themes" and click on "Upload a theme." Next, choose the Clean theme file that you downloaded and upload it to your HubSpot account. Once uploaded, enable the HubSpot theme by selecting it from the list of available themes.
Customize the Design
After enabling the Clean theme, you can start customizing the design to fit your brand and website requirements. HubSpot provides a user-friendly interface for customizing themes. You can modify colors, fonts, layouts, and other design elements according to your preferences. Use the customization options provided to make the theme reflect your brand's visual identity and style.
Preview and Publish
As you make changes to the HubSpot theme design, you can preview how your website will look. This allows you to review and fine-tune the design before making it live. Once you are satisfied with the customization, click on the "Publish" button to apply the changes and make the clean pro theme live on your website.
Recommended HubSpot themes for Clean and Minimal Websites
Mesbiz – Multipurpose Business theme for HubSpot
Creating a professional business website may seem like a daunting task, but with Mesbiz, it has never been easier. This HubSpot CMS hub theme is powerful, user-friendly and packed with full of features to help you showcase your business online.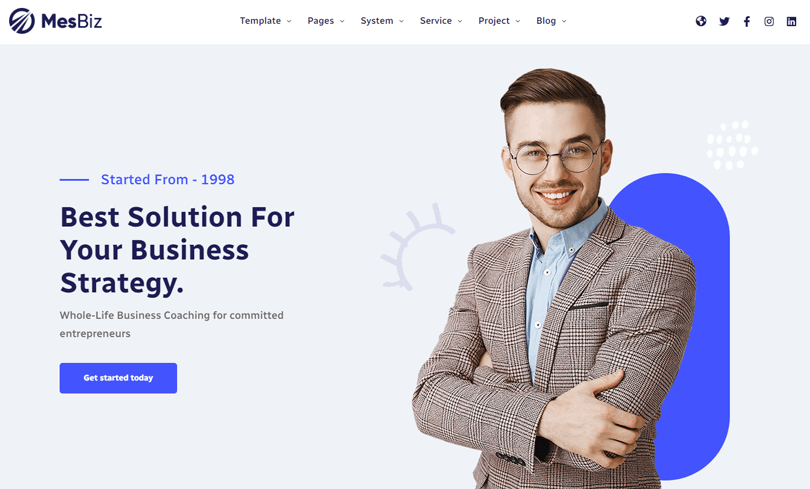 Whether you need an 'About' page to share your story, service details to inform your customers, or user reviews to build trust, Mesbiz covers it all. But that's not all – with easy customization options, and a fully responsive design you can easily add a portfolio, blog, contact forms and more. Upgrade your online presence with Mesbiz and bring your business vision to life.
Feature list:
Intuitive Drag-and-drop
Fully Responsive
Pixel-perfect, retina-ready & completely responsive
SEO friendly
Pricing: $999
Beautian – Health & Beauty theme for HubSpot
Are you a health or beauty professional wanting to take your online presence to the next level? Look no further than Beautian, the all-in-one Health & Beauty HubSpot CMS theme. This theme has everything from simple homepages and landing pages to detailed service descriptions and even listings for beautician blogs.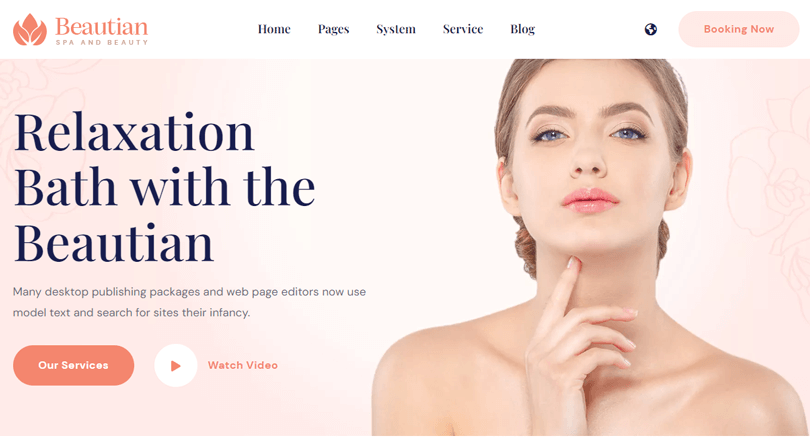 Thanks to a drag-and-drop editor that makes setup a breeze, it's incredibly easy to use. Plus, the pro version offers even more HubSpot CMS hub design templates, specifically tailored to beauty services like hair salons, spas, and nail care – so you can easily build a strong web presence.
Feature list:
Pre-built Templates & custom modules
Fully Responsive
SEO Friendly:
Easy to use and customize
Built with Bootstrap 5
Pricing: Free of Cost
Cofean- Coffee theme
Cofean is an innovative HubSpot platform offering a stylish homepage layout that will immediately catch your customers' attention. The website also has a user-friendly design that makes it easy to navigate through different features such as online ordering and menu navigation. Additionally, you can keep your customers up-to-date with the latest news from your shop through the social media support feature.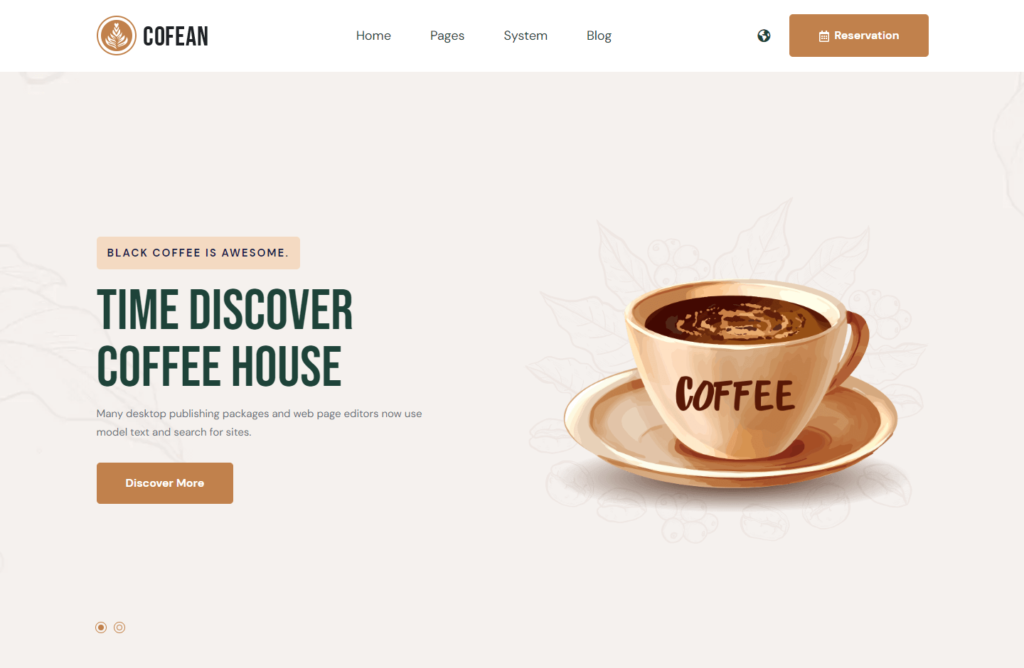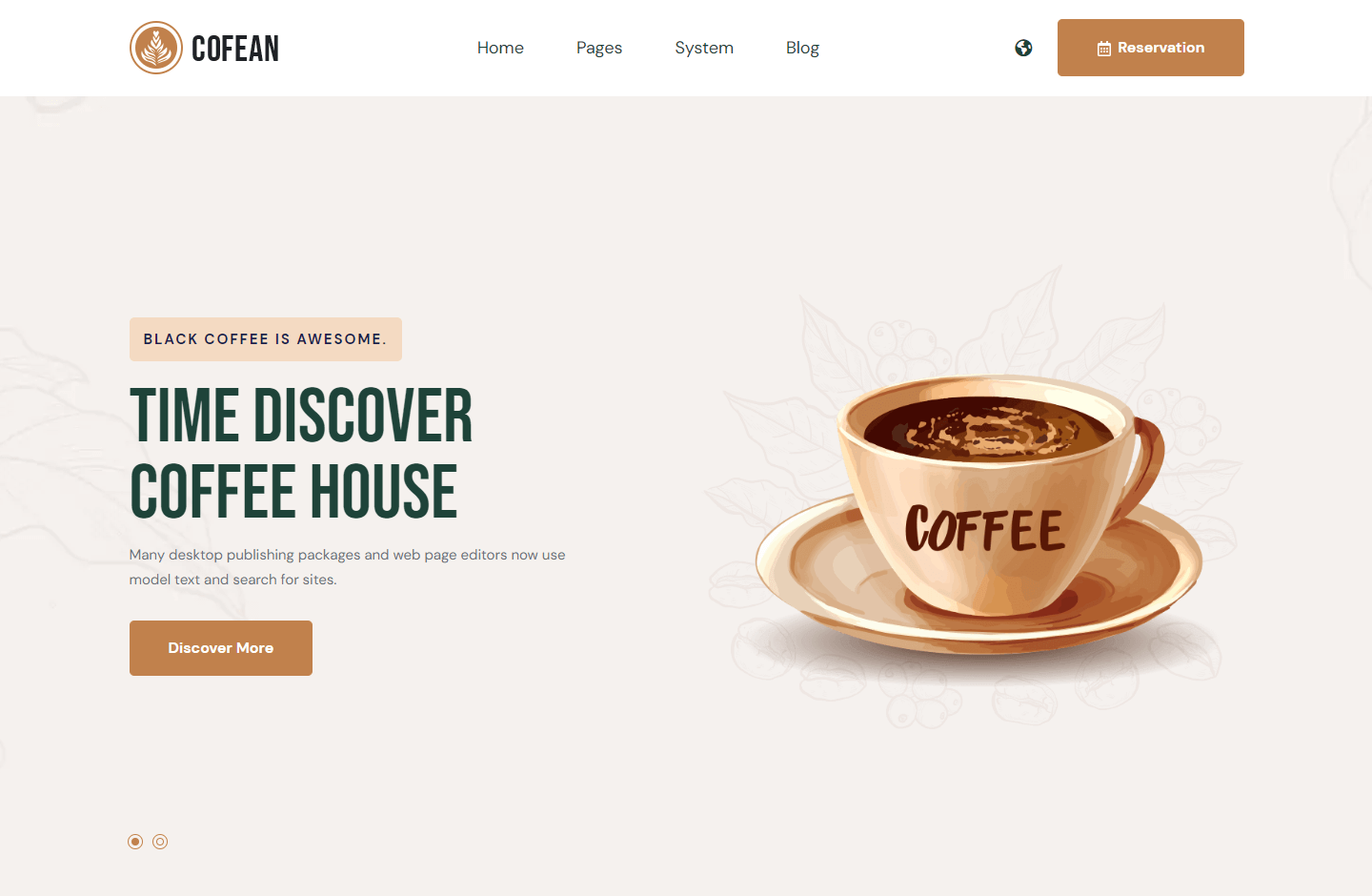 Cofean also offers modules like Google Map integration and contact forms making it easy for your customers to find you and contact you. With Cofean, you can make your coffee shop stand out from the competition and attract more customers in no time.
Feature list:
Hero Section with a Clean and Modern Look
Fully Responsive
SEO Friendly:
Easy to use and customize
Blog/News Page
Pricing: Free of Cost
Nafil – NFT theme for HubSpot
Nafil is the newest HubSpot CMS theme designed with your specific needs in mind. With a sleek and contemporary look that can be customized to fit your vision, Nafil is impressively intuitive and easy to use.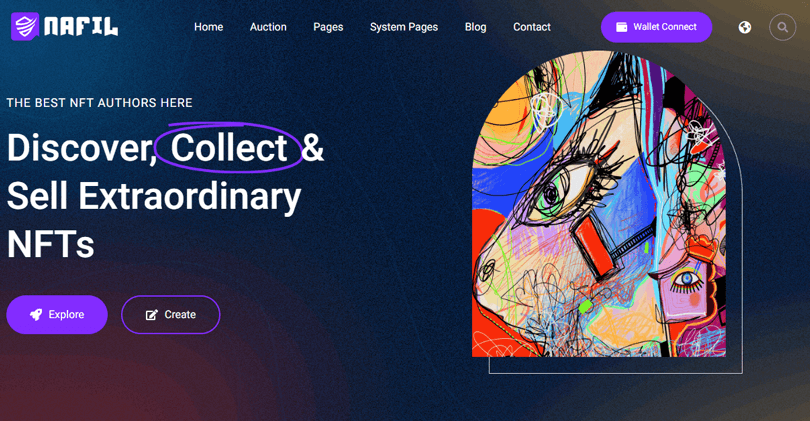 And rest assured, your website will look fantastic regardless of your visitors' device. With all of Nafil's powerful features, your website will surely stand out from your competition and provide genuine value to your visitors.
Feature list:
Fully Responsive
9 template page
SEO Friendly:
Easy to use and customize
Stunning Product Details Page
Pricing: Free of Cost
Morace – Real Estate theme for HubSpot
The Morace HubSpot CMS theme has a sleek and sophisticated design, Morace stands out from the crowd while offering unparalleled customization options. You can choose from endless color possibilities, custom fonts, and retina-ready graphics to make your website truly your own.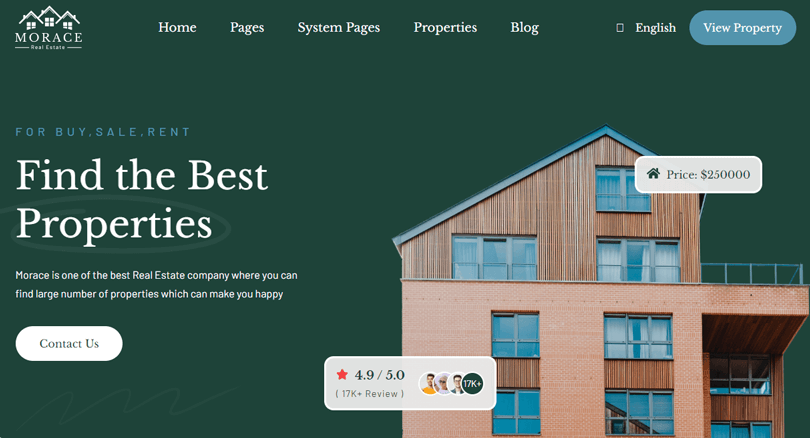 And with seamless integration with HubSpot CMS hub's marketing automation program, you can make the most of your online presence. Whether you're a real estate agent looking to showcase your listings or a property owner looking to highlight your portfolio, the Morace theme is the ideal choice.
Feature list:
Fully Responsive
10 template page
SEO Friendly
Easy to use and customize
Eye-catchy Properties
Pricing: Free of Cost
Frequently Asked Questions
What makes Clean themes different from other HubSpot themes?
A: Clean themes are designed with a focus on simplicity, minimalism, and user experience. They offer a modern and clean aesthetic that can be easily customized to meet the needs of any business.
Are Clean themes mobile responsive?
Yes, all Clean themes are mobile responsive, ensuring that your website looks great and functions properly on a range of devices and screen sizes.
Can I customize my Clean theme?
Yes, Clean themes can be fully customized using the HubSpot drag-and-drop editor. You can add, remove, or rearrange modules, change colors and fonts, and more.
How do Clean themes help increase conversions?
HubSpot CMS themes offer a range of features and functionality designed to improve user experience and increase conversions, including mobile responsiveness, clear navigation, optimized page speed, call-to-action buttons, and customizable forms.
Can I switch to a different theme after launching my Clean theme website?
Yes, you can switch to a different theme at any time. However, it's important to note that switching themes may require some additional customization and configuration work to ensure that your website looks and functions properly with the new theme.
Get Custom HubSpot CMS Services from Codfer
Setting up your online business has never been easier with Codfer's exclusive HubSpot CMS services. Upgrade your online presence with a wide range of HubSpot CMS themes that are specifically curated to suit your business needs. With no complications, you can set up your website or eCommerce store in no time.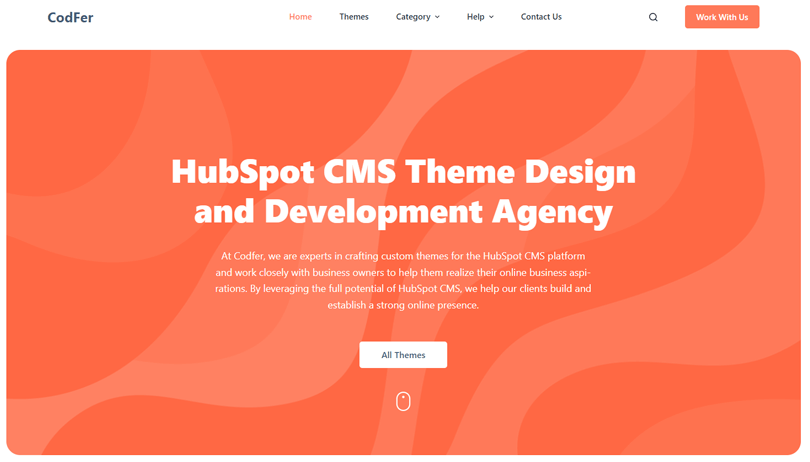 But if you're after a custom look tailored to your unique needs, Codfer's team of proficient and seasoned developers is here to help. They will fine-tune every detail to ensure your website looks exactly how you want it to. Achieving your online goals has never been easier. Get in touch with Codfer today and experience the benefits of their exceptional HubSpot CMS services.
Conclusion
In conclusion, HubSpot CMS theme can do wonders for your website performance. Its user-friendly interface and streamlined design offer your visitors an engaging and hassle-free browsing experience.
Its responsive layout ensures that your website looks great on any device, while the built-in modules will help you easily create stunning pages without the need for any coding expertise. Plus, it's optimized for search engines, so you can rest assured that your website is getting the visibility it deserves.