Top 5 HubSpot Blog Themes: Enhance Your Blogging Experience
When it comes to creating a captivating and professional blog, the right theme can make all the difference. HubSpot, known for its comprehensive marketing platform, offers a range of remarkable blog themes that can take your content strategy to new heights. In this article, we will delve into the top 5 HubSpot blog themes that combine stunning design, user-friendly interfaces, and robust features.
Whether you're a seasoned blogger or just starting your blogging journey, these themes will empower you to create visually appealing and engaging blog posts that leave a lasting impact on your readers. Let's explore the top HubSpot blog themes that will transform your blog into a captivating online destination.
Importance of choosing the right blog theme for HubSpot
As a HubSpot user, it's essential to understand the impact of choosing the right blog theme for your platform. Your chosen HubSpot website theme can either enhance the aesthetic appeal of your blog or hinder it. With plenty of themes to choose from, it is crucial to select the one that perfectly aligns with your brand voice and caters to your target audience's preference.
Here are some important facts about choosing the right blog theme for HubSpot:
Establishes a professional and consistent brand identity.
Enhances user experience and engagement on your blog.
Increases search engine visibility through optimized design and layout.
Provides access to necessary and relevant features such as social sharing buttons, subscribe forms, and comment sections.
Offers customization options to tailor your blog to your specific needs and goals.
Supports mobile responsiveness for improved accessibility.
Integrates with other HubSpot tools for seamless marketing and sales strategies.
Helps attract and retain readers by providing a visually appealing and user-friendly design.
Contributes to increased website traffic and lead generation.
Saves time and resources by simplifying the blog creation process.
Top HubSpot Blog Themes in Our List
Mesbiz
As a business owner, you need a website that represents your brand, engages your audience, and drives conversions. This is where Mesbiz – Multipurpose Business Theme for HubSpot comes in. This CMS hub theme is designed for user-friendliness, adaptability, and feature-richness. With Mesbiz, you can create a stunning website in just a matter of minutes, without any coding knowledge.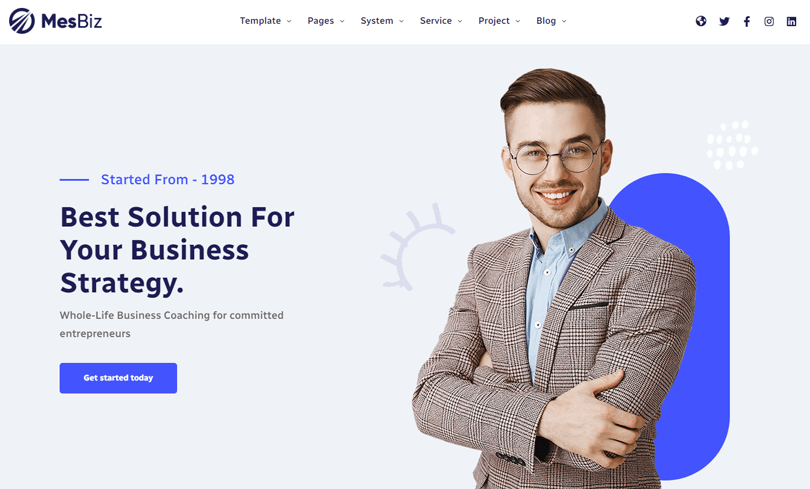 This award-winning HubSpot CMS hub theme adds value to your website by providing a professional and polished appearance. The MesBiz HubSpot CMS theme offers 5 distinct categories to choose from on your home page. Whether you're a business owner, digital agency, or creative professional, you can find a layout that fits your needs.
Plus, this HubSpot CMS theme comes with pre-built templates and modules to streamline your web design process. And for those who want to take their customization to the next level, the MesBiz HubSpot theme is also compatible with the drag-and-drop (DND) feature. To upgrade your HubSpot blog themes with the MesBiz and see your website come to life.
Feature list:
Intuitive Drag-and-drop
Fully Responsive
Pixel-perfect, retina-ready & completely responsive
SEO friendly
Pricing: $999
Indise
If you are an IT professional or business owner and you're looking to create an online presence that showcases your work in an elegant, modern way, look no further than Indise, the perfect choice for a HubSpot blog theme. Indise offers a clean and attractive design that is sure to grab the attention of potential clients and is loaded with useful features like retina-ready images, unlimited colors, and custom fonts.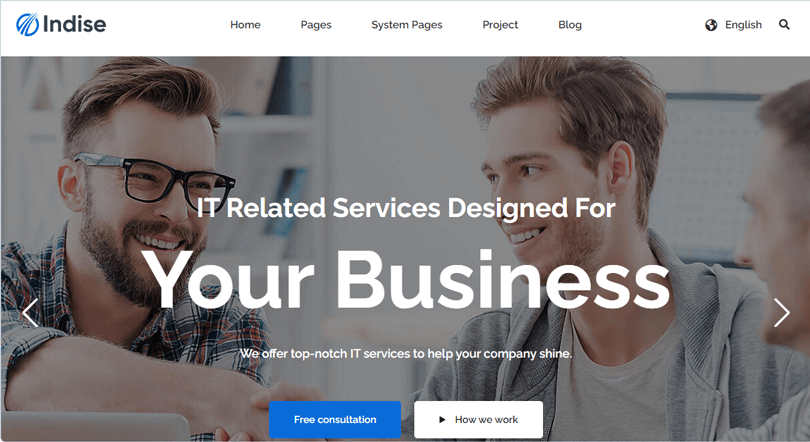 With a vast selection of 10+ templates and 24+ modules, businesses can easily tailor their website themes to their specific needs. Additionally, Indise makes website creation intuitive and user-friendly through its cutting-edge drag-and-drop interface.
Whether you're an IT-related business or simply looking to expand your online presence, HubSpot Blog Themes provide a premier web design solution that's efficient, effective, and easy.
Feature list:
Intuitive Drag-and-drop
Fully Responsive
Pixel-perfect, retina-ready & completely responsive
SEO friendly: optimized page speed, compressed CSS and JavaScript & lazy load images
Pricing: Free of cost
Neonal – Medical Service HubSpot Theme
When it comes to promoting healthcare services through web designing, there is no better tool than the Neonal- Medical Service HubSpot Theme. This popular HubSpot blog theme is perfect for any hospital, clinic, or other medical service provider looking to showcase their quality and professionalism.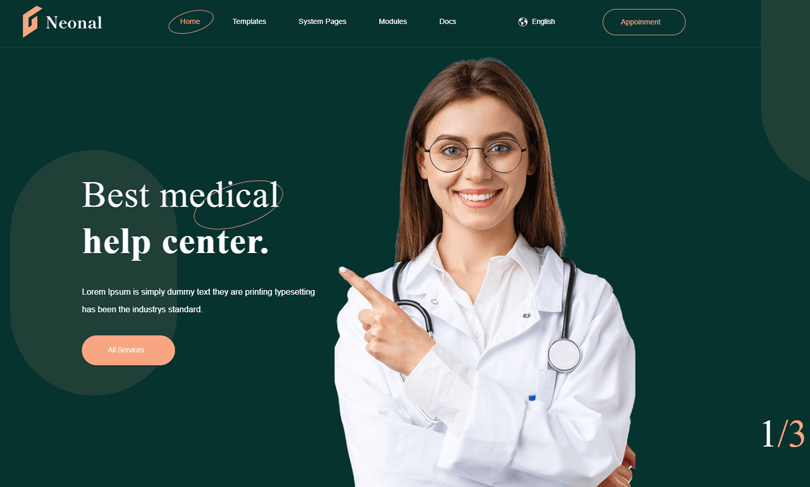 With a range of 10 customizable page templates to choose from and 21 different modules, you'll have everything you need to create an aesthetically pleasing website that your existing and potential clients will take notice of.
With its W3C-validated and clean code, you can be sure to have a site that's both user-friendly and optimized for speed. Plus, the theme's cross-browser support means that it can be accessible to users on all platforms. With its user-friendly interface and ease of customization, Neonal is the perfect choice for anyone looking to create a professional and engaging online presence for their medical service.
Feature list:
W3C Validated Code
Clean Code
Speed Optimized
Cross Browser Support
Well Documented
No console error
Pricing:
Regular License: $99
Extended License: $1998
👉 Learn Custom Website Design vs HubSpot Theme: What's the Right for You?
KorKi – Tax & Finance HubSpot Theme
If you're looking for a sleek and sophisticated way to showcase your financial consulting services, look no further than KorKi- Tax & Finance HubSpot Theme. This meticulously designed HubSpot Blog Theme is tailored specifically for businesses and agencies that want to present themselves as leaders in the finance industry.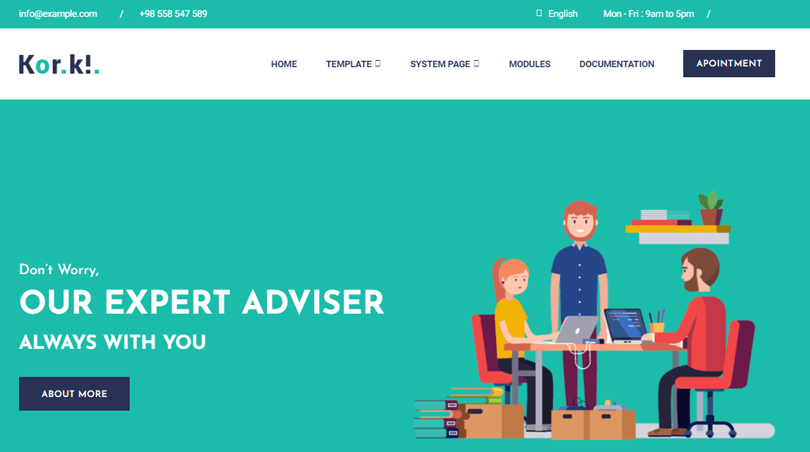 With 10+ page templates and a whopping 31 modules to choose from, KorKi provides endless opportunities for customization and creativity, allowing your website to truly stand out from the rest. The extensive grids available in this HubSpot Theme make it a fantastic option for presenting your content across a multitude of categories.
Whether you're looking to showcase your portfolio, team profiles, or upcoming events, this Hubspot theme offers the versatility you need without compromising on the appearance or cohesiveness of your pages. Its highly customizable options make it easy to manage, so you can focus on creating engaging content that resonates with your audience.
This HubSpot Theme truly provides an effective and professional solution for bloggers of all kinds.
Feature list:
Build with Bootstrap 4
1 Homepage
Number of Templates: 10+
Number of Modules: 31+
Icon font (FontAwesome)
W3C Validated Code
Clean Code
Pricing:
Regular License: $99
Extended License: $1999
👉 Check 5 Top HubSpot Themes for eCommerce Websites
Suga – Blog and Magazine Hubspot Theme
Suga is a top-notch HubSpot CMS theme that every blogger should have on their radar. This theme boasts an expertly designed layout that is clean, modern, and perfectly balanced. With Suga, bloggers have access to a plethora of user-friendly modules that can be easily edited, making it a breeze to achieve the desired look and feel for your blog.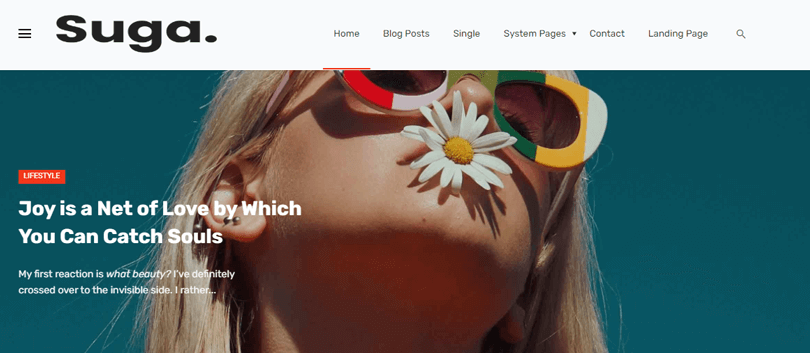 This HubSpot theme also comes equipped with three distinct page templates, including a search results template, a password prompt template, and a subscription-preferences template, giving bloggers the flexibility to tailor their website to their specific needs. In short, Suga is a smart choice for any blogger looking for a powerful, versatile, and user-friendly CMS theme.
Feature list:
3 Page Templates
2 error page templates
Search results template.
Password prompt template
Subscription-preferences template.
Subscriptions-confirmation template.
Pricing:
Regular License: $599
Extended License: $1998
👉 View 8 Best HubSpot Themes for Service Websites
AtoZ – Blog and Magazine HubSpot Theme
For bloggers looking to enhance their website, the AtoZ HubSpot CMS theme is a must-see. Offering a clean and balanced layout, this theme is the perfect choice to showcase your content. With easy-to-edit modules and page templates for Home, Contact, Landing Page, and Blog Listing, AtoZ caters to your every need.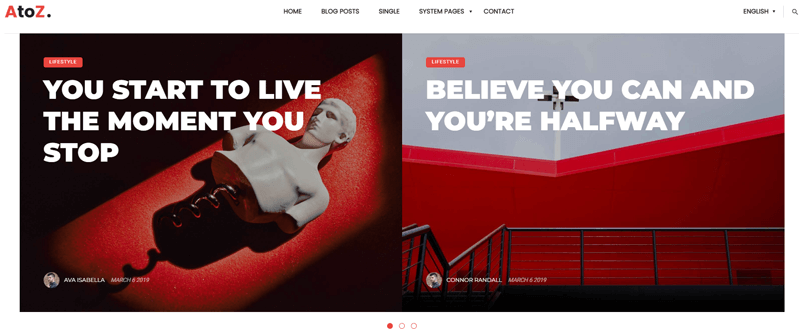 Whether you're a seasoned blogger or just starting out, this HubSpot cms hub theme ensures that your website looks professional and polished. So don't miss out on the chance to take your blog to the next level with AtoZ.
Feature list:
Search results template.
Password prompt template
Subscription-preferences template.
Subscriptions-confirmation template.
Multi-language Content Support
Pricing:
Regular License: $699
Extended License: $1500
Get Exclusive HubSpot CMS Services from Codfer
Codfer offers exclusive HubSpot CMS services that cater to businesses looking to enhance their online presence. By leveraging the features of HubSpot, Codfer can help in creating a custom website tailored to fit your specific needs. From designing HubSpot blog themes to creating landing pages, their team of experts can help you achieve your desired results.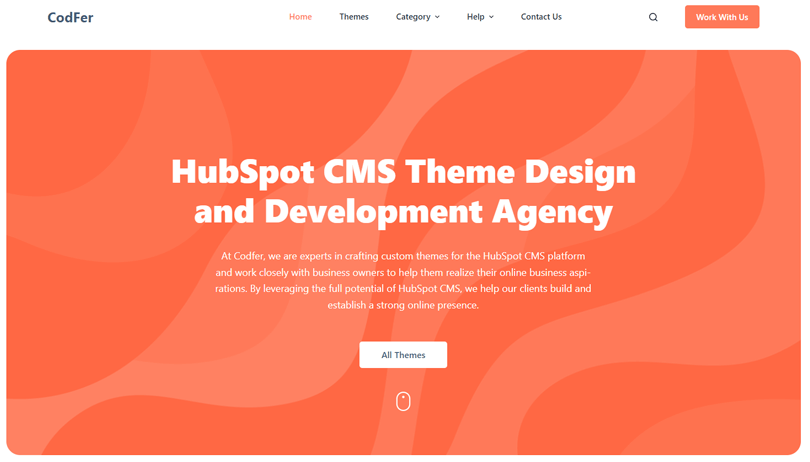 With Codfer, rest assured that your website will be optimized for speed and efficiency, ensuring that your visitors always have a seamless experience. Choose Codfer for reliable and professional HubSpot CMS services that can take your business to the next level.
Frequently Asked Questions
How do I choose the best HubSpot blog themes for my needs?
Factors to consider when choosing a HubSpot blog theme include your blog's niche or industry, branding, target audience, website goals, and desired features. You should also ensure that the theme is mobile-responsive and optimized for SEO.
Do I need coding or technical skills to use HubSpot blog themes?
No, you do not need coding or technical skills to use a HubSpot blog theme. The themes for Hubspot CMS come with a visual editor that allows you to easily customize your blog without any coding knowledge.
Can I switch to a different HubSpot blog theme after launching my blog?
Yes, you can switch to a different HubSpot blog theme after launching your blog. However, switching themes may require additional customization and adjustments to maintain a consistent design and user experience.
Conclusion
With the rapid growth of content marketing, blogging has become an indispensable tool for businesses to connect with their audience in a more personalized way. HubSpot Blog Themes offer an avenue for bloggers to create visually appealing and user-friendly blog pages that enhance the user experience. In this article, we have discussed the top 5 HubSpot Blog Themes that offer a plethora of features and customization options to elevate the overall appearance of your blog.
By selecting the right theme that aligns with your brand and content, you can create an engaging and seamless blogging experience for your readers. So, gear up and choose the best Hubspot theme that suits your blogging needs, and let your creativity soar!