Mesbiz – Multipurpose Business Theme for HubSpot
Mesbiz – Multipurpose Business Theme for HubSpot is a great way to give your any business and website a professional look. Mesbiz offers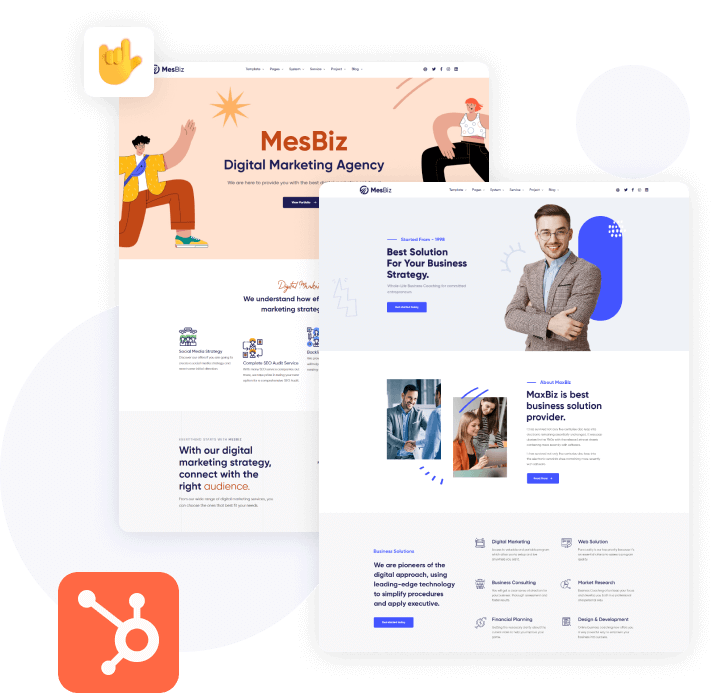 Presenting Mesbiz, the #1 Multipurpose Business Theme for HubSpot CMS
Mesbiz – Multipurpose Business Theme for HubSpot provides website owners with plenty of flexibility and customization options. Users can quickly set up their ideal site environment with an intuitive drag-and-drop interface. From sleek design elements to major add-ons such as Live Chat Support and Gallery Viewers, this theme has everything you could want out of a business HubSpot template.
The code is written with optimization in mind with structured loading resources, so websites built with this theme will be lightning-fast and efficient. Moreover, our team of experienced developers is on hand to provide technical support whenever you need it. So, make building your online business presence easier than ever with this Mesbiz today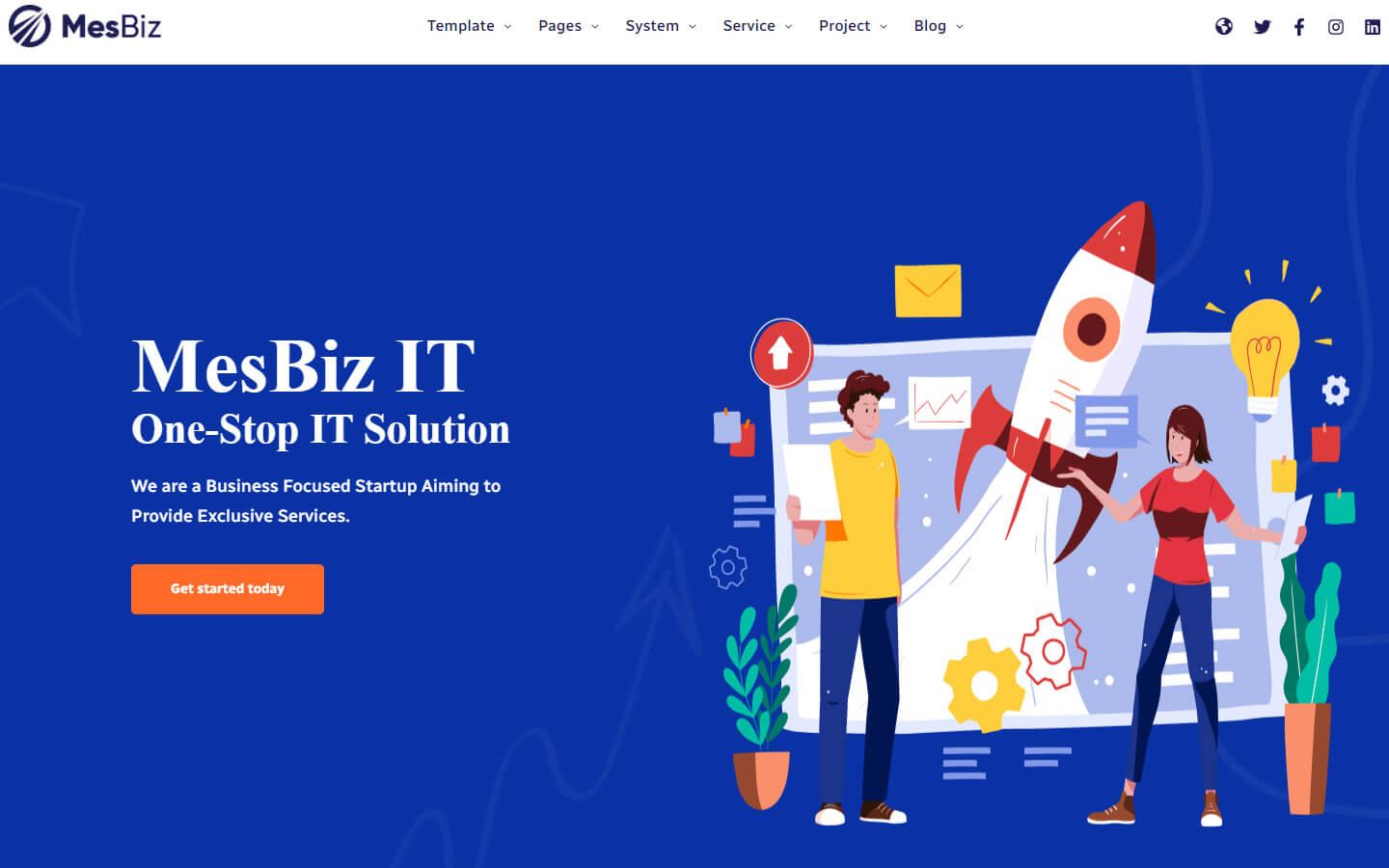 Why is this App Website Theme Best for you?
With this Multipurpose Business Theme for HubSpot, you get everything you need to create a professional-looking website that is both easy to use and highly advanced.
The theme has a sleek, modern design that will adapt its look to any resolution or device for optimal viewing by all your visitors.
It is completely optimized for SEO performance so your site can gain traffic from every corner of the web.
With retina-ready images included with the theme, you can ensure that every page looks perfect on any device, making yours the standout site.
No coding knowledge is required.
The benefits of using Mesbiz – Multipurpose Business Theme for HubSpot
Mesbiz – Multipurpose Business Theme for HubSpot is the perfect all-in-one solution for any brand or business looking to get a website up and running quickly. Whatever type of business you are in – from Businesses to Digital agencies to Creative portfolios or even Product landing – Mesbiz makes building an impressive website easier than ever. Some benefits of HubSpot Theme are given below-
Developed using the latest version of Bootstrap 5, the theme comes with 5 beautiful home page designs and 18+ plus individual templates along with 44+ plus modules that enable you to construct any type of website in quick time,
Its pre-built templates, modules, and customization options make it incredibly easy to create an attractive website for your customers in no time.
It comes complete with Drag & Drop feature compatibility and multi-language support.
Fully responsive and SEO-friendly, and requires absolutely zero coding knowledge.
An ideal choice for even the most novice online entrepreneur, as it is easy to use and customize.
Key Features of the Mesbiz – Multipurpose Business Theme for HubSpot
The Mesbiz – Multipurpose Business Theme for HubSpot is one of the most powerful and feature-rich themes available today. It features a range of components that can help you create a well-designed website, perfect for any business seeking to elevate its online presence. Here are a few key features —
Pre-built Templates & Modules:
Mesbiz is the perfect choice for any business looking for a stunning first impression – and one that will keep on giving. With its pre-built templates and modules, creating an eye-catching website has never been easier.
Carefully designed with modern UI design trends and robust UX in mind, this theme allows users to create different business websites, from corporate to branding agencies and beyond. Easy to use yet incredibly effective, it enables businesses to craft genuinely compelling digital experiences.
Compatibility with DND Feature
This theme offers a comprehensive, multipurpose business theme that makes using HubSpot easier than ever. Not only does it support broad customization, but it also supports HubSpot's most innovative drag-and-drop feature that enables users to quickly and easily customize almost all aspects of their website with minimal effort.
Customization Options
Mesbiz is a powerful and versatile theme by HubSpot that allows users to sculpt their website exactly how they want. Every user's website can echo their own style, thanks to the many customization options it offers.
The range of possible alterations is broad, including the ability to modify colors and typography settings. With the use of images, texts, and media files, this theme provides all the tools you need to personalize your design completely.
Fully Responsive
It is the perfect multipurpose business theme for HubSpot, designed to make your website look professional from the get-go. Our fully responsive Hubspot theme adjusts automatically to all types of devices and screen sizes, ensuring your viewers can browse your content without issues, regardless of their devices.
SEO Friendly
With this theme, you can create a fantastic website with HubSpot to showcase and share your business's offerings without worrying about getting recognized in search engines. The theme is SEO-friendly, allowing search engines to crawl and index your web pages easily.
So if you have essential keywords related to your offerings on the website, search engines will figure them out, and that helps you rank higher in the SERP, bringing potential customers closer.
Video Presentation of Mesbiz
Mesbiz themes Template Pages Includes
The Mesbiz Theme for HubSpot has a total of 25 Template pages, which are the following:
About
blog post
Boilerplate – blog listing
Case Details
Case Studies
Contact
Home Business
Home Creative Portfolio
Home Digital Agency
Home Product Landing
Home Start Ups
Landing page
Module Page
Project
Project Details
Service
Service Details
User Reviews
Mesbiz is designed to meet your needs
| | | |
| --- | --- | --- |
| | Mesbiz Pro | HubSpot Free themes |
| A free 30/15 minutes consultation Before Purchasing via email, google Meet, Zoom, or Microsoft Team | | Limited email consulation |
| FREE migration service and launching a new website learn more | | |
| Free 7-day migration service | Yes(Day one query support from the day after we will start the Migration work) | |
| FREE Unlimited Email and Chat Support | | Limited free support |
| FREE Theme Updates | | |
| Free child theme library and child theme instation service. | | |
| Revisions (Unlimited) | | |
| Price | Pro: $999 | Free themes |
Note: The theme Can be customized further to include new designs and features. We can help you further to customize as per your requirement. Don't worry! We offer a range of hourly packs based on the project size
Mesbiz is designed to meet your needs

Consulting
Free HubSpot consultation, schedule via email, Google Meet, Zoom, or Microsoft Teams.

Solution
Creating a personalized website, from migration to launch, as per the requirements discussed.

Delivery
Efficient HubSpot website delivery in two weeks, incl. 2 revisions & satisfaction guaranteed.

Launch & Growth
After website approval, we will launch it online and witness your growth and success together.
Frequently Asked Questions
What are multipurpose themes?
A multipurpose theme is a pre-built theme that can be used for different websites. It comes with various features and customizations that enable you to quickly and easily design a website without coding the entire site from scratch.
What makes HubSpot's multipurpose themes unique?
HubSpot's multipurpose themes stand out from the rest, allowing you to utilize HubSpot's robust design features without needing professional design skills. They are user-friendly and customizable, enabling you to create a website that precisely showcases your brand. You can also create a custom layout using the responsive design feature or choose from several ready-made templates.
Who should use multipurpose business themes?
Multipurpose Business Theme for HubSpot are great for any business – from small startups to large corporations. They offer quick, customizable solutions that don't require extensive coding knowledge or time investment.
How is Mesbiz different from other business themes?
Mesbiz stands out from other business themes by offering a powerful, multipurpose solution for corporate sites and online businesses. Its easy-to-use design coupled with customization options allow users to tailor their website look and feel with ease. With such comprehensive features available to you, Mesbiz is clearly the best choice when it comes to selecting a business theme.