Indise – Business Theme for HubSpot CMS
Indise – Business theme for HubSpot CMS is a great way to give your business and website a professional look. This theme offers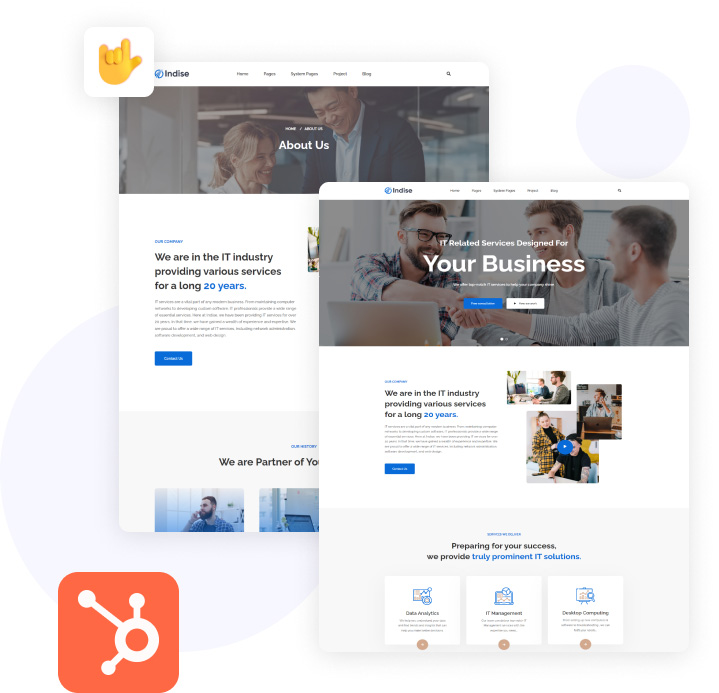 Presenting Indise, the #1 Business theme for HubSpot CMS
Indise is the perfect Business Theme for HubSpot CMS for anyone looking to make an impression in the IT world. It has an eye-catching and modern design that will help you stand out from your competition and ensure your business remains relevant in this ever-evolving digital landscape.
Moreover, it has several essential features like unlimited colors, retina-ready images, custom fonts, and more. With this theme at the helm of your website design, you can be sure that potential clients and customers will see only the best version of your business. Create a website that reflects and celebrates all forms of creativity in IT services and products – with it's help.
Indise theme for HubSpot CMS is an excellent solution for creating professional website layouts. It comes with 10 pages and 14 system templates that enable you to design your website to showcase your products and services.
Each template has 14 sections comprising 27 modules, allowing users to place content where they need it comfortably. In addition, Indise HubSpot theme provides the tools necessary to quickly create a well-designed and sophisticated online presence, perfect for any business trying to stay ahead of its competition.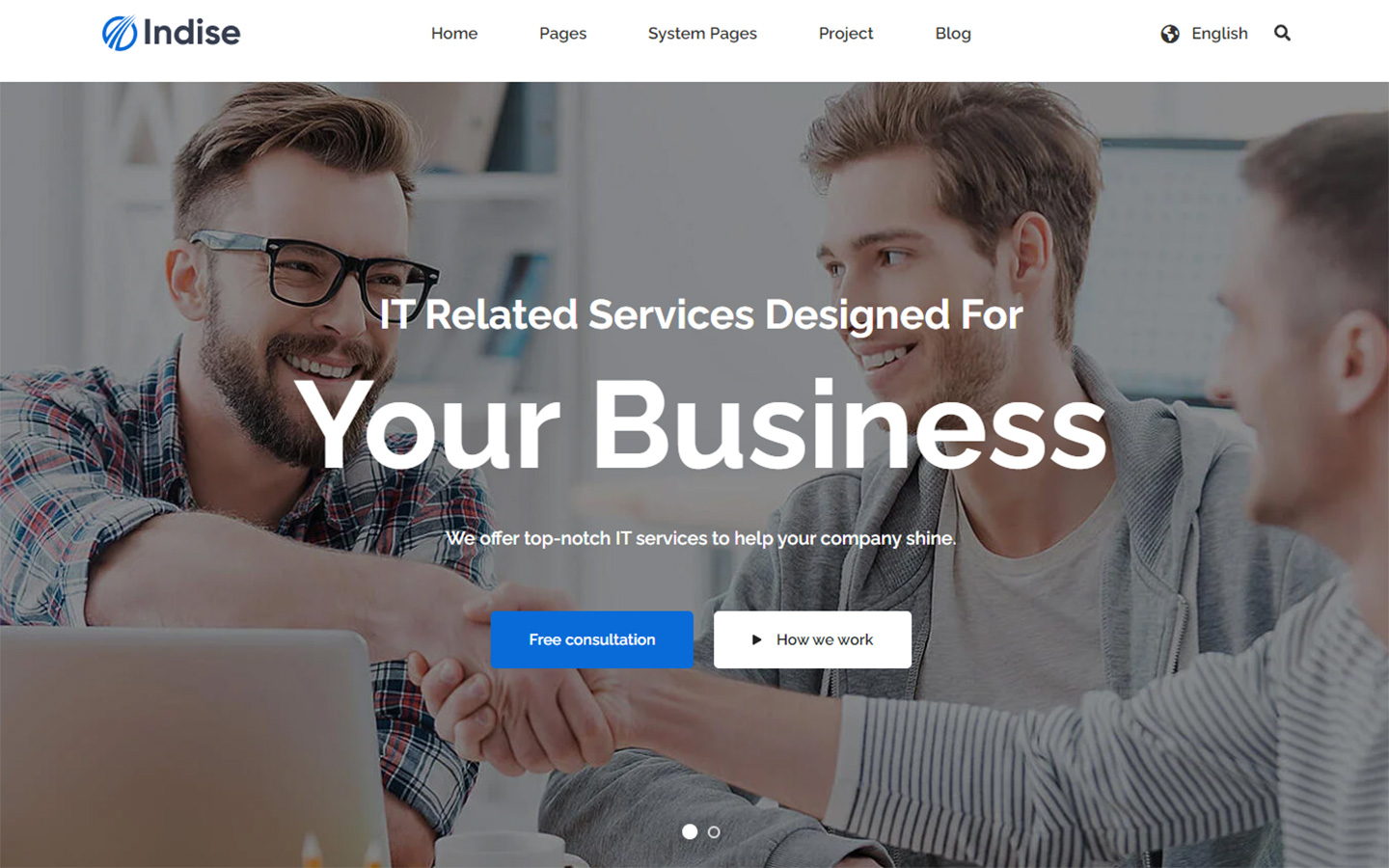 Why is this Business Website theme Best for you?
This Business Theme is the perfect choice for a sophisticated and clean business website. It is a stunning business theme for HubSpot that possesses almost everything you need to make your website look its best. With advanced modern, responsive design and easy customization, your website will have the professional look and feel you desire.
This theme has all the necessary features to create an impressive site easily.
Its modern, responsive design ensures that your content looks great no matter how your visitors access it.
You can easily customize the look and feel of your site using our user-friendly interface.
This theme is optimized for SEO success so that you can get even more visitors to your pages.
The high-resolution retina-ready images included with the theme will ensure that your pictures always look sharp, making every page stand out from the competition.
The benefits of using Indise – Business Theme for HubSpot CMS
Indise for HubSpot CMS is an excellent choice for businesses looking to upgrade their online footprint. Some benefits of this theme for HubSpot are given below-
Provides extensive customization options with 10+ templates and 24+ modules.
Get a stunning, professional look explicitly tailored to your needs.
Intuitive drag-and-drop editor streamlines the design and editing process, enabling even complete novices to take advantage of this sophisticated platform.
It offers pixel-perfect, retina-ready results that are completely responsive.
SEO-friendly with optimized page speed, compressed code, and cross-browser compatibility for all your viewers.
It includes custom features like multilingual ready posts, menu options, and more, making this business theme perfect fit for any Web project!
Key Features of the Indise – Business Theme For HubSpot CMS
The Indise business theme for HubSpot is one of the most powerful and feature-rich themes available today. It features a range of components that can help you create a well-designed website, perfect for any business seeking to elevate its online presence. Here are a few key features —
Retina Ready
This theme is the perfect theme for business websites of any size due to its retina-ready design. It boasts sleek animations, responsive web designs, and sharp, clear visuals that are guaranteed to capture the eye of anybody viewing your site.
Responsive Design
This Business theme is fully responsive. Our users will no longer have to worry about how their website looks on a mobile device or desktop, as Indise is optimized for optimal viewing on any device.
SEO-friendly
It is an SEO-friendly theme for HubSpot. It was made with SEO in mind from the get-go and underwent special processes to ensure the structure and content could be optimized against search engines.
It was made with SEO in mind from the get-go and underwent special processes to ensure the structure and content could be optimized against search engines.
Clean and Modern Hero Section
You can use the theme's hero section to highlight your main features and provide a quick overview of your website. You can also display your company tagline and other relevant information in this Clean and Modern Hero Section.
Blog/News Page
HubSpot's Indise theme offers an excellent way for companies to share their most up-to-date news and announcements. Whether about exciting special events or the latest corporate updates, this theme makes it easy for companies to create an engaging blog/news page.
Users can access the most important content in an easily navigable format by having a platform specifically designed for delivering relevant information.
Including template pages of Indise theme
The HubSpot CMS Indise theme has a total of 10 Template pages, which are the following:
About
Contact
Home
Indise – blog listing
Indise – blog post
Landing page
Project
Project Details
Service
Service Details
Indise is designed to meet your needs

Consulting
Free HubSpot consultation, schedule via email, Google Meet, Zoom, or Microsoft Teams.

Solution
Creating a personalized website, from migration to launch, as per the requirements discussed.

Delivery
Efficient HubSpot website delivery in two weeks, incl. 2 revisions & satisfaction guaranteed.

Launch & Growth
After website approval, we will launch it online and witness your growth and success together.
Frequently Asked Questions
What are HubSpot themes?
HubSpot themes are a collection of modules, templates, style options, and global content that can be combined to build websites.
Is there a free theme option in Hubspot CMS?
Yes, HubSpot provides totally free themes. In addition, they are featuring enhanced features in CMS Hub premium editions.
How do I change my HubSpot CMS theme?
You may access the theme options by selecting the Theme tab on the left in the content editor. Click Edit theme settings after that. Setting the default styles for colors, fonts, and spacing will affect all the elements on your page.
What are HubSpot CMS themes?
HubSpot CMS themes provide users with the ability to customize their HubSpot sites and landing pages. It offers an array of free and paid themes from their Asset Marketplace that can be applied to HubSpot sites to create a professional, cohesive appearance.