Beautian – Health & Beauty Theme for HubSpot CMS
Beautian – Health & Beauty theme for HubSpot CMS is a great way to give your business and website a professional look. This Health and Beauty theme offers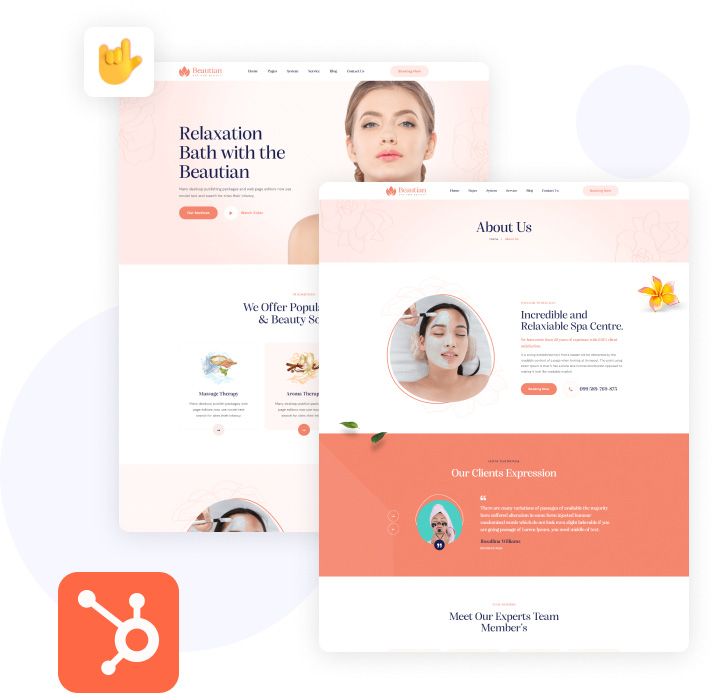 Presenting Beautian, the #1 Health and Beauty theme out there
Creating an online presence for a health and beauty services business can be difficult. However, using Beautian- health & Beauty Theme for HubSpot CMS turns that challenge into an effortless task. Unlike many web themes with generic designs, it is specifically crafted to create aesthetically pleasing websites for beauty services businesses.
With this Spa & Beauty Theme, you can choose from multiple layouts and make subtle modifications to the content or design quickly and easily to create an eye-catching website that will attract customers or show off your portfolio of services
Beautian is one of the best options to elegantly represent any beauty services, from salons and spas to cosmetic procedures. It has all you need to build the ideal online presence for your business that serves the health and beauty industries, with built-in features such as sections for galleries of works, a variety of items, social media buttons, and contact information forms.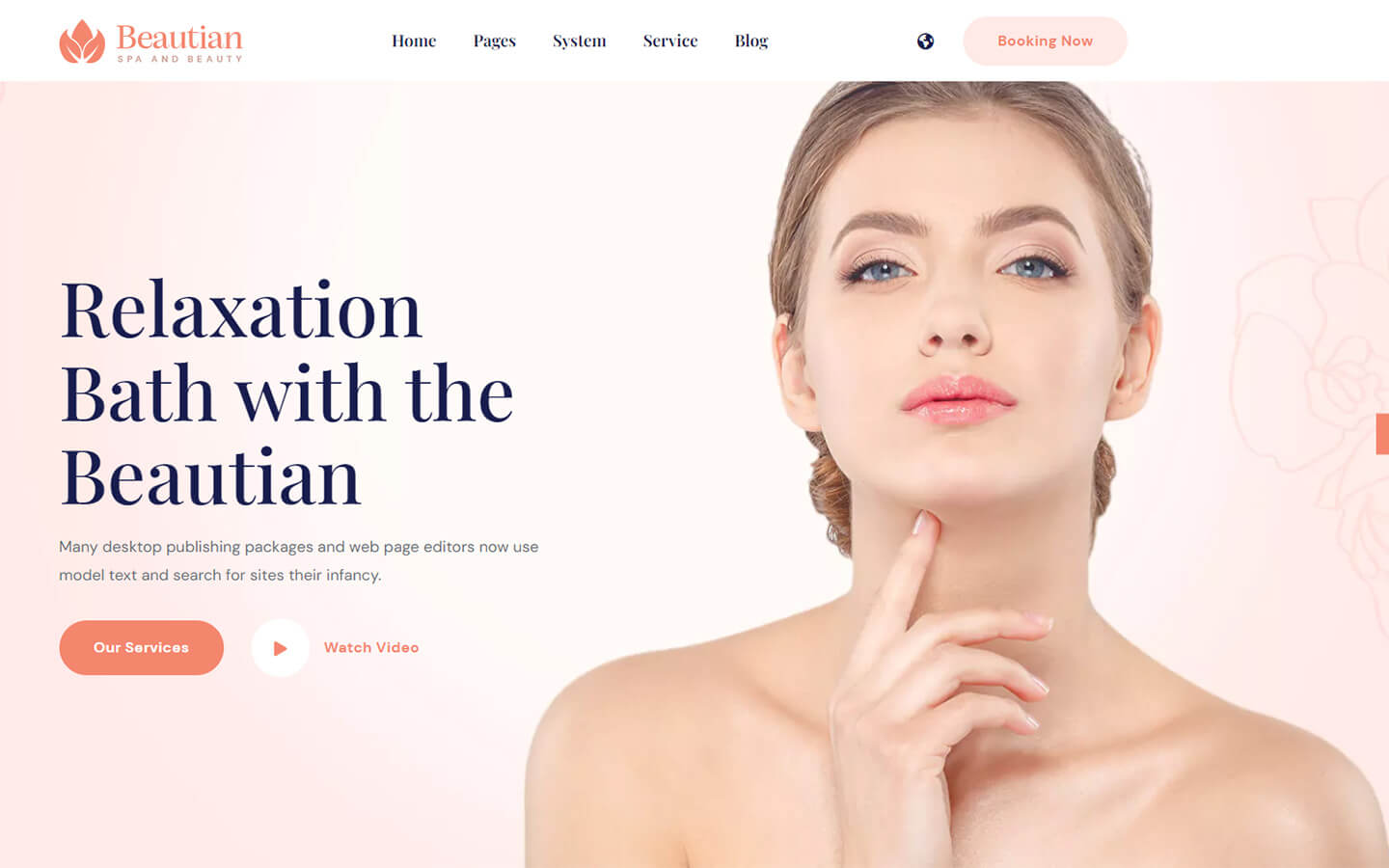 Why is this HubSpot Website Theme Best for you?
Additionally, it integrates directly with HubSpot CRM, marketing automation, customer service, and more, ensuring that whatever your needs, they are handled seamlessly with this theme. Some reasons why this HubSpot website theme is best for you are given below:
It offers a sleek, modern, mobile-friendly design and is easy to navigate.
You can customize the look of your website with flexible design options.
It includes an intuitive drag-and-drop builder, making it easy to create pages without any coding knowledge.
The Theme includes powerful features such as a customizable lead capture form, contact information management, search engine optimization (SEO), and analytics.
This HubSpot provides complete technical support to help you get the most out of its tools.
The benefits of using Beautian HubSpot Theme
Some benefits of this Spa & Beauty HubSpot Website Theme are given below-
This HubSpot website Theme provides a user-friendly, customizable platform to help you create a beautiful and professional website.
It supports mobile responsiveness, helping you reach more mobile users.
With the drag-and-drop builder, you can create stunning pages without any coding knowledge.
You can use powerful features such as lead capture forms, contact information management, SEO optimization, analytics, and more to increase engagement and conversions.
And with excellent technical support from the support team, you're sure to get the most out of your website.
Key Features of the Beautian – Spa & Beauty Theme For HubSpot
Here are a few key features of this Spa and Beauty theme:
Clean and Modern Hero Section
While a clean and modern hero section can be incredibly useful in signaling to potential visitors the major features of your website, it's also an opportunity to capture their attention.
The hero section can effectively communicate your company's purpose while keeping visitors interested, encouraging them to continue exploring your website with a combination of catchy language and visually appealing images. Take advantage of this valuable asset and make sure it reflects all that is great about your business
Pre-built Templates & Modules
With the plethora of design trends at our fingertips, it can be a daunting task for any website builder to keep up-to-date with the right look and feel. This health and beauty theme provides multi-functional pre-built templates that comply with all standards and styles, eliminating the hassle of creating countless designs from scratch.
In addition, the modules are designed precisely to suit your needs while being aesthetically pleasing, granting an elevated solution to any website builder's problem.
Intuitive Drag-and-drop
It's intuitive drag-and-drop feature equips users with the latest HubSpot with the tools needed to create and customize their website quickly and efficiently. With just a few clicks, users can make all the necessary website modifications.
Fully Responsive
With it's fully responsive design, regardless of what device your visitors are using, the experience will be optimal. No longer is it necessary to create a different version of your site for desktop, tablet, and mobile devices – the layout and design will automatically adjust to all screen sizes.
SEO Friendly
SEO Friendly web development is essential, and Beautian knows it. That's why they have designed their websites to be highly search engine optimized. Using their platform allows you to draw more attention from major search engines to your website. This means more traffic for you and in turn, more business opportunities, ultimately leading to improved conversions.
Beautian – health & Beauty Theme For HubSpot template pages
The Beautian- Health & Beauty Theme For HubSpot has a total of 8 Template pages, which are the following:
About
Blog listing
Blog post
Contact
Home
Landing page
Service
Service Details
Beautian is designed to meet your needs

Consulting
Free HubSpot consultation, schedule via email, Google Meet, Zoom, or Microsoft Teams.

Solution
Creating a personalized website, from migration to launch, as per the requirements discussed.

Delivery
Efficient HubSpot website delivery in two weeks, incl. 2 revisions & satisfaction guaranteed.

Launch & Growth
After website approval, we will launch it online and witness your growth and success together.
Frequently Asked Questions
How easy is it to customize this HubSpot Beautian theme?
Customizing the HubSpot Beautian theme is really straightforward and simple. The intuitive tools and drag-and-drop functions make it easy to adjust settings, add images, and make edits quickly.
Does this theme come with technical support?
Yes! Beautian HubSpot provides complete technical support to help you get the most out of its tools.
What kind of website design options are available with Beautian HubSpot Website Theme?
With the powerful platform of HubSpot, Beautian offers a generous selection of website design options. Each design comes with a library of customizable components and page layouts, built to promote your business's products, services, and membership models.
Is Beautian HubSpot theme fully responsive?
Yes! This HubSpot theme is fully responsive theme for any devices.