Nafil – NFT Theme for HubSpot CMS
Nafil – NFT Theme for HubSpot CMS is an awesome way to give your NFT business and website a professional look. Indise offers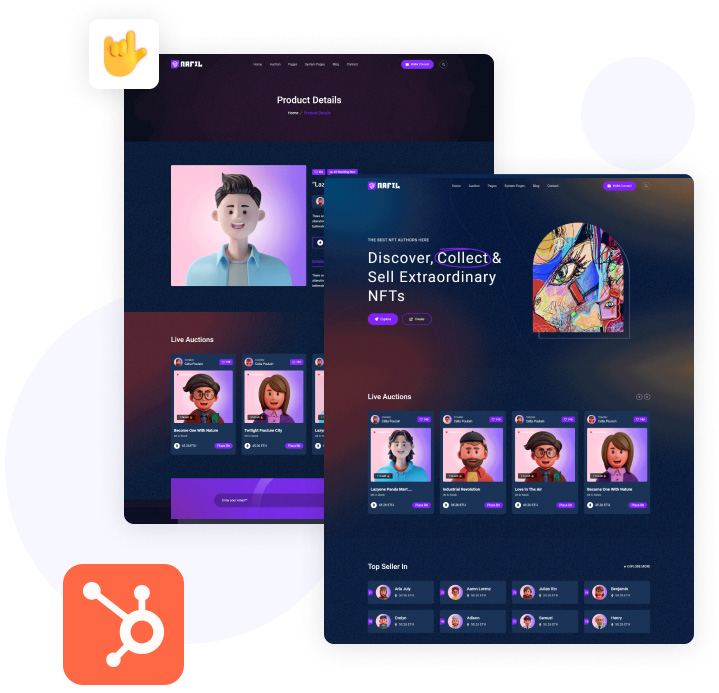 Presenting Nafil, the #1 NFT theme for HubSpot CMS
Nafil is an exceptionally eye-catching NFT Theme for HubSpot that provides all the tools you need to create a professional-looking and visually stunning NFT marketplace website.
Whether you're looking to create an online store related to a digital marketplace, crypto collectibles, non-fungible tokens, or anything else related to digital art, it can provide the customization and features your business needs for a modern design.
Its superior design has all the features you need to create a sleek look without compromising warmth or performance. Additionally, with it's great flexibility and customization capabilities, you'll be able to customize your web page enough to make it stand out from the crowd.
No matter what industry you're in, this HubSpot website theme can help ensure your business has a professional and attractive website.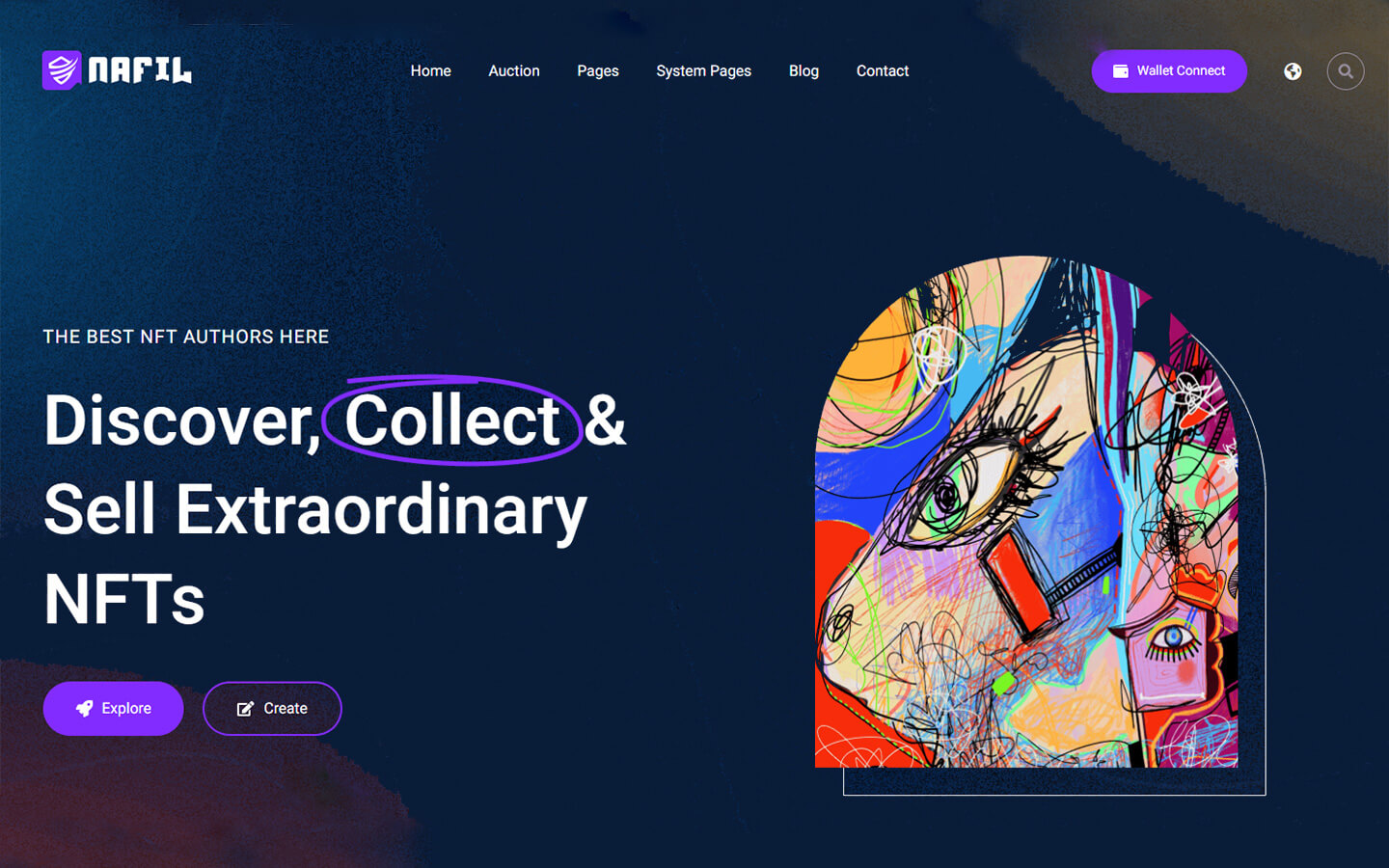 Why is this NFT Theme for HubSpot Best for you?
This NFT Theme for HubSpot makes it easy to create a beautiful website with ease and offers a range of features that make the process even simpler.
Visitors can access your site on a desktop, laptop, tablet, or phone, the modern, responsive design guarantees that your content looks stellar no matter what device they use.
It comes with a user-friendly interface, and it's simple to customize your site's look to reflect your style.
It ensures your site reaches as many people as possible. This HubSpot theme is also optimized for SEO success.
All images included with the theme are high-resolution and retina-ready so that everyone can enjoy crisp and clear visuals when they view your pages.
The benefits of using Nafil – NFT Theme for HubSpot
Nafil – NFT Theme for HubSpot is a fantastic choice for any website, offering users a great selection of benefits.
It comes with 9 templates and 20 modules, along with an icon font using Font Awesome,
with smooth animations, responsive design, and easy customization – they are giving any website the professional touch they need to stand out among competitors.
The theme also comes with documentation that provides quick reference guides to those who are unfamiliar with certain concepts or require further assistance.
All in all, this theme offers the perfect combination of performance and aesthetics, making it an ideal solution.
Key Features of the Nafil – NFT Theme for HubSpot
This NFT theme makes it easy to create a beautiful website with ease and offers a range of features that make the process even simpler. Some of the key features are –
Pre-made templates and modules
This HubSpot theme is the perfect choice for anyone that wants to set up a beautiful and interactive NFT Marketplace website. This pre-designed templates and modules allow you to create a fantastic website fast and easily.
You'll always have options when building your site since this theme features dozens of UI design trends, robust UX, 9-page templates, 20 modules, and a single homepage. It won't take long for the visitors to appreciate your elegant design. Create a unique experience for them with Nafil – NFT Theme for HubSpot.
Compatible with the DND feature
The Nafil NFT theme is a great way to make your website stand out with its support of HubSpot's DND feature. You don't have to be an experienced coder to customize your site. All you have to do is take advantage of the simple, drag-and-drop editor available to make your website truly unique and eye-catching.
Customizability
Designers, entrepreneurs, and businesses will all benefit from its customizability, allowing you to create a truly unique site tailored specifically to you. For the ultimate in creative freedom, take advantage of being able to quickly implement a variety of fonts and styles, color schemes, text, and image modifications – virtually everything that is necessary to shape your very own masterpiece on the web.
SEO Optimized
With Nafil's SEO-optimized NFT website theme, it is easier for you to rank better in the search engine result pages. The more organic visitors to your website who are ready to explore your site will engage with the content. Not only does this help you achieve high in SERPs, this also helps increase brand awareness.
Contact/Lead Form
One helpful feature of this theme is the Contact/Lead Form option. This feature allows visitors to quickly and easily contact and engage with you. It's an excellent way to capture important leads, ensuring that you can follow up with them in the future.
Having this kind of tool at your disposal is key if you want to build relationships with customers or potential clients. Plus, it makes accessing vital contact information effortless.
Including Pages of Nafil – NFT Theme for HubSpot
The Nafil – NFT Theme for HubSpot CMS has a total of 9 template pages, which are the following:
Auction
Author Details
Contact
Explore
Home
Landing page
Blog post
Blog listing
Product Details
Nafil is designed to meet your needs

Consulting
Free HubSpot consultation, schedule via email, Google Meet, Zoom, or Microsoft Teams.

Solution
Creating a personalized website, from migration to launch, as per the requirements discussed.

Delivery
Efficient HubSpot website delivery in two weeks, incl. 2 revisions & satisfaction guaranteed.

Launch & Growth
After website approval, we will launch it online and witness your growth and success together.
Frequently Asked Questions
What is an NFT theme?
An NFT (non-fungible token) theme is a type of template that allows users to create and issue digital assets backed by the Ethereum blockchain. With an NFT theme, users can easily customize the look and feel of their creation with various colors, fonts, images, etc. The user's asset can then be put up for sale on dedicated marketplaces or trading platforms.
Are there any fees associated with using an NFT Theme?
No, HubSpot does not charge any fees for using their NFT themes. However, they offer various packages at different price points to cater to the needs of different users.
Does the HubSpot theme only work on the HubSpot platform?
While hubspot's themes are designed for use within the hubspot platform, they can be customized for any website and integrated with other CMS.
What types of assets can I create with an NFT theme?
You may access the theme options by selecting the Theme tab on the left in the content editor. Click Edit theme settings after that. Setting the default styles for colors, fonts, and spacing will affect all the elements on your page.