Morace – Real Estate Theme for HubSpot CMS
Morace – real estate theme for HubSpot CMS is an awesome way to give your real estate business and website a professional look. Morace offers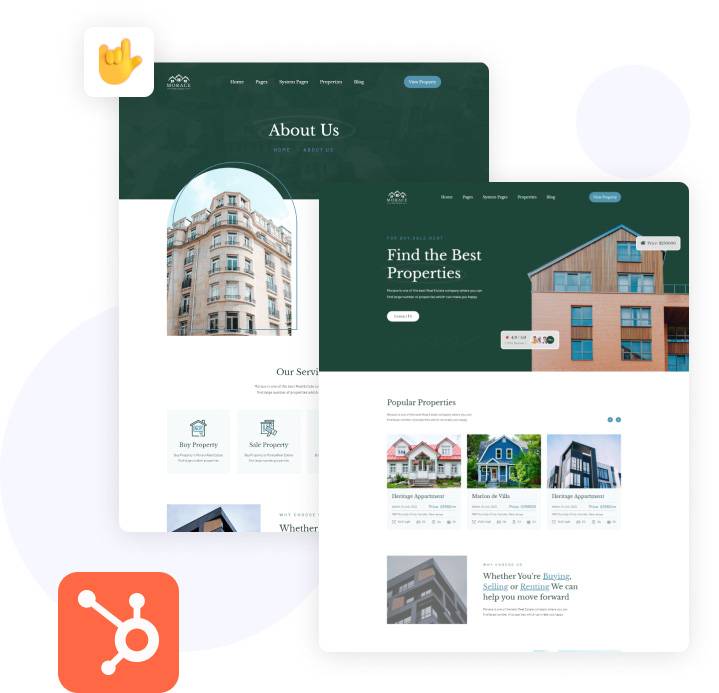 Presenting Morace, the #1 Real Estate theme for HubSpot CMS
The Morace real estate theme for HubSpot CMS is the perfect tool to take advantage of creating a polished online presence for real estate companies. Boasting features such as a modern design, robust marketing technology, and tools that allow you to manage your leads effectively.
There is no other theme that can provide this level of sophistication created specifically for the needs of the real estate industry. With Morace Real Estate Theme, you can set yourself apart from other competitors by showcasing the unique value of your services on an expertly crafted website.
Morace has revolutionized the real estate market with their custom-made real estate website theme for HubSpot CMS. This HubSpot theme will provide you with an attractively designed website for your real estate business that you can easily customize to match your company's branding. You can take it one step further and make a few little adjustments to really make it stand out.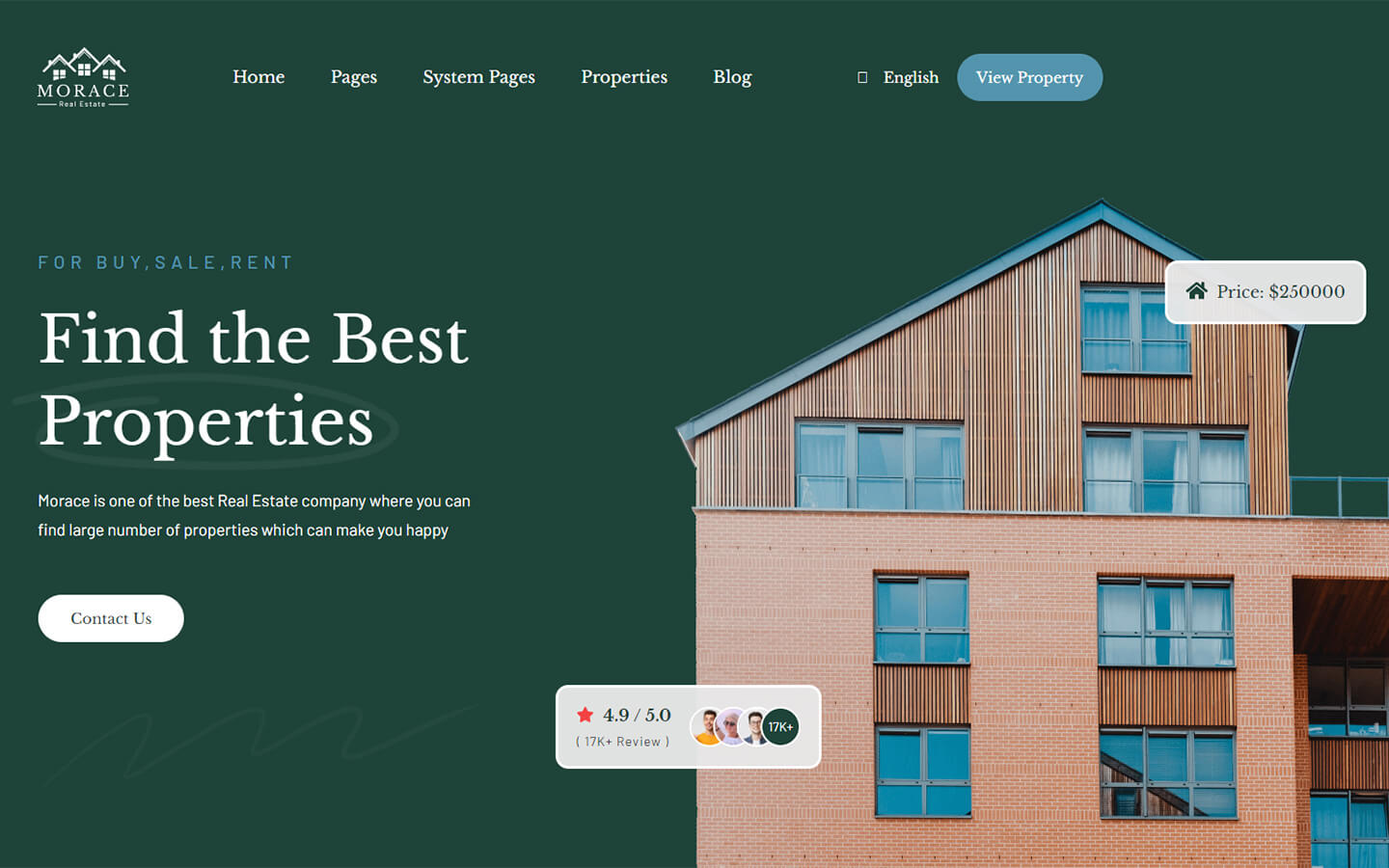 Why is this Real Estate Theme for HubSpot Best for You?
A great way to boost your real estate business is by utilizing the power of technology. The Morace Real Estate Theme for HubSpot provides an innovative platform that allows you to take your services to the next level. With features like user-friendly design, attractive layout options, and customizable content, this theme can help you create a stunning and successful website with ease.
Morace Real Estate Theme for HubSpot is fully customizable, allowing you to create a unique website that matches your brand.
It is optimized for SEO, helping you get ahead in search rankings and reach more potential customers.
This theme has an intuitive design, so users will quickly find the information they need and take the next steps toward making a purchase.
The theme is responsive, meaning your website will look great on all devices, from desktops to laptops to smartphones.
There are also built-in analytics tools that provide valuable data about visitors' behavior on your site.
And with easy integration of third-party applications like MailChimp and Zapier, you can automate tasks and streamline operations.
The benefits of using a Real Estate Hubspot Theme
Real Estate professionals now have the opportunity to reap the benefits of a Real Estate Hubspot Theme. This theme is designed to provide an efficient and comprehensive platform for marketing Real Estate services, property listings, and more. Some of the key benefits are given below:
Morace Real Estate Theme for HubSpot makes it easy to create and customize a professional, modern website for your business.
The theme offers comprehensive SEO tools which help you optimize your site for better search rankings.
Its intuitive user interface ensures maximum engagement and fast loading times.
The theme is responsive, ensuring that your website looks great on all devices.
Built-in analytics and integration of third-party applications make it easy to gain insights into user behavior on the site and automate tasks.
It also provides a variety of customization options so you can create a website that reflects your brand identity.
Key Features of the Morace Real Estate Theme
The Morace Real Estate theme for Hubspot offers some exclusive features to streamline and modernize the website experience. These key features are described below:
Easy Customization
You can quickly switch up the look and feel of the whole site by changing its color scheme, adjusting fonts, inserting new images and videos, and including your own phrases that promote your company or services. Rather than a static, one-size-fits-all look, this theme provides real estate customers with a design that showcases their individual brand's personality and flair.
Support for DND Editor
It is an ideal real estate theme for HubSpot users due to its unparalleled compatibility with the platform's drag-and-drop editor. This intuitive feature enables customers to easily create visually stunning websites without manual coding or piecing HTML and CSS blocks together.
It even allows users to make quick content edits in mere minutes right on the page. The result is a streamlined website-building process that simplifies daily website maintenance while improving customer satisfaction and ROI.
Eye-catchy Properties And Property Details Page
Its eye-catching property and property details pages stand out from the crowd and give you the type of attention that could help attract more potential buyers. Properties lists are displayed in a sleek grid format, making it easy for users to browse through their options while letting each detail be clearly visible, so they don't miss any crucial information.
Entirely Responsive
Morace crafted this theme with the modern consumer in mind, prioritizing adaptability and exceptional user experiences across desktop, mobile, and tablet devices. As a result, users will be able to access this beautiful website theme without worrying about their device size itself.
This fluid design stateside creates a seamless transition between the different devices, perfect for anyone looking to create a successful website or digital content.
Well Optimized for SEO
This HubSpot theme is optimized to impress search engines. Utilizing the latest SEO techniques, this theme is an all-in-one package that focuses on helping your business bring more organic traffic in. From image optimization and site structure to meta descriptions and page speed, this theme has all the ingredients necessary for you to rank higher in online searches.
Morace – real estate theme for HubSpot CMS
The Morace HubSpot Theme has a total of 10 Template pages, which are the following:
About
Contact
Home
Landing page
Blog listing
Blog post
Properties
Property Details
Service Details
Services
Morace is designed to meet your needs

Consulting
Free HubSpot consultation, schedule via email, Google Meet, Zoom, or Microsoft Teams.

Solution
Creating a personalized website, from migration to launch, as per the requirements discussed.

Delivery
Efficient HubSpot website delivery in two weeks, incl. 2 revisions & satisfaction guaranteed.

Launch & Growth
After website approval, we will launch it online and witness your growth and success together.
Frequently Asked Questions
How can I optimize my site for better search rankings with the Morace Real Estate Theme?
The theme offers comprehensive SEO tools which make it easy to improve your site's rankings and reach more potential customers.
What kind of support do I receive?
When you purchase a Real Estate HubSpot theme, technical support is always available to ensure success. Their dedicated team of experts is on call to answer any inquiries and provide guidance from the initial website setup to launching a redesigned website
Does this theme for HubSpot CMS provide SEO features?
Yes, this theme includes built-in SEO features that allow users to optimize their content for search engines. It is designed with HubSpot's best practices in mind, ensuring that it is optimized for speed and SEO.
Does the theme provide customization options?
Yes, the theme provides a variety of customization options so you can create a website that matches your brand identity.