Cofean Pro – Food & Beverage Theme For HubSpot
Cofean Pro – Food & Beverage Theme For HubSpot is a great way to give your business and website a professional look. Cofean Pro offers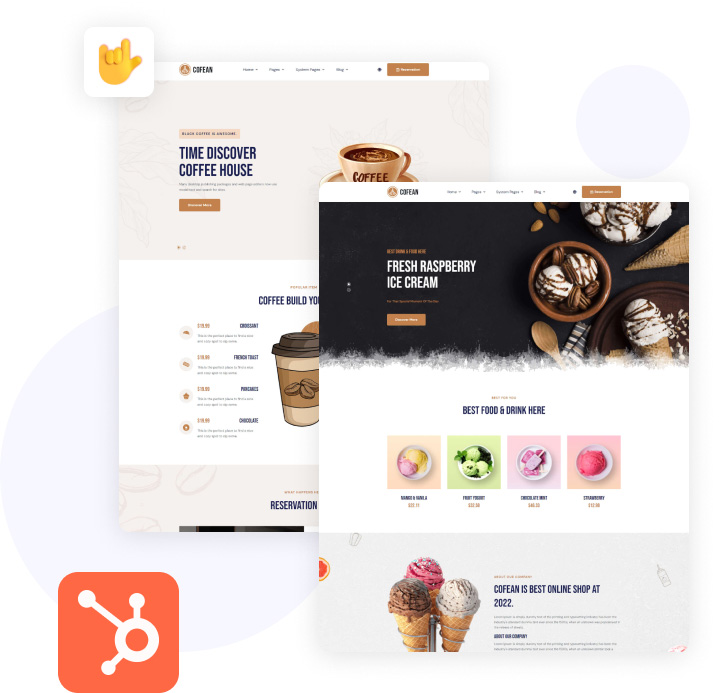 Presenting Cofean Pro, the #1 Food & Beverage Theme For HubSpot CMS
Cofean Pro is a powerful and intuitive Food & Beverage theme for HubSpot CMS. This theme has been specifically crafted to meet the needs of coffee shops, providing a modern look and feel to any website. Its user-friendly design makes it easy to sell coffee online, with responsive features making your site accessible to all users regardless of device.
This Pro theme offers solutions for a smart online presence, including sleek product displays and integrated payment options. With this theme, your coffee shop can benefit from an effective tool that enables you to reach customers across all channels while maintaining a stylish presence.
With 3 beautiful homepages, 18 pre-built templates, 27 modules, and 17 sections to choose from, this HubSpot theme is a great way to customize your website and make it look professional. It is the perfect theme for your food & beverage business.
It's designed with powerful features that make it easy to build a modern, professional website in no time. It is built on Font Awesome icons, W3C validated code, and clean HTML/CSS coding to provide a smooth and efficient user experience.
Moreover, this hubspot is fully responsive and includes smooth animations to give your website an eye-catching look. The design is creative and modern, yet easy to customize, so you never get stuck building it. So, get Cofean Pro today for your HubSpot website and enjoy its full set of quality features.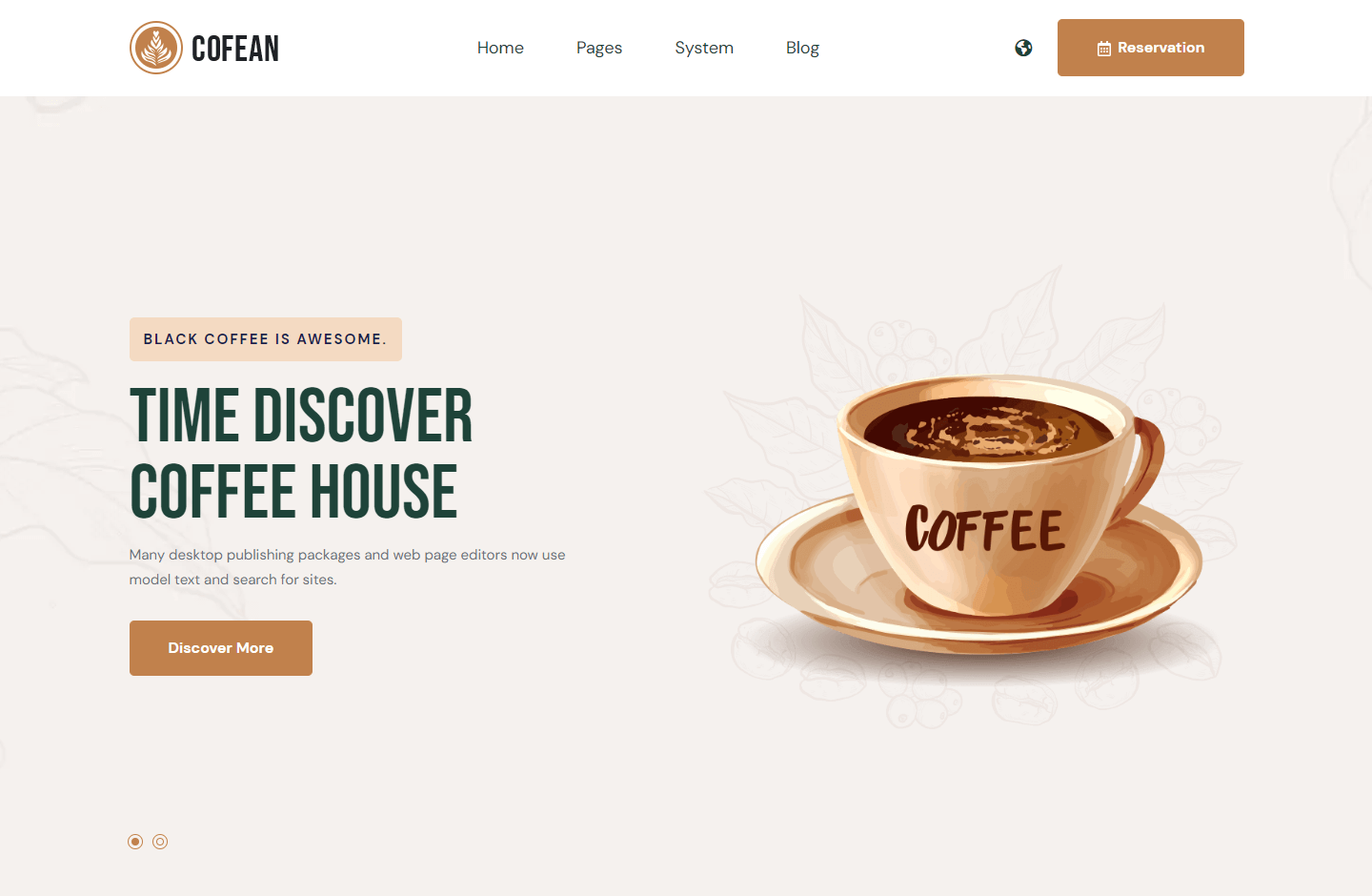 Why is this Food & Beverage Theme For HubSpot Best for You?
Cofean Pro, a Food & Beverage Theme For HubSpot, will give your website the update it needs to stand out from the crowd. This HubSpot theme is packed with features that will make managing and creating content for your website effortless.
You'll have access to advanced design elements such as preset layouts, customizable headers and footers, color palettes, and much more. It also offers an array of choices in terms of tracking SEO performance, optimizing for speed and security, as well as improve user experience by making content more engaging.
It provides all essential features in one customized theme giving you flexibility and control over the functionality of your website. Whether you're just starting in the industry or looking to upgrade your site's branding, this theme is designed to be your answer to great food & beverage websites with minimum effort and maximum value.
The benefits of using a Food & Beverage Theme For HubSpot
Cofean Pro – Food & Beverage Theme For HubSpot is the ideal way to improve your website instantly. This is beneficial for a food and beverage website. Some of the benefits are as follows:
It is built in the HubSpot CMS and features a clean, modern design that is simple to customize.
With its modern layout, the Custom design improves the overall look of your site, allowing you to present your company's unique content more prominently.
The HubSpot coffee theme also includes SEO optimization and built-in tools to help you launch a marketing campaign quickly.
There are 27 modules and 17 sections in this HubSpot Shopify theme.
It also includes easily customizable header and footer options to ensure that customers can quickly and easily find all of your important information.
With all of these features, Cofean Pro provides a slew of advantages for professional businesses looking for a competitive advantage in today's market, so take a look.
Key Features of the Codean Pro-Food & Beverage Theme For HubSpot
The Cofean Pro theme for HubSpot is one of the most popular and feature-rich themes available today..Here are a few key features describe below:
Predesigned Templates and Modules
It is a revolutionary new Food & Beverage Theme for HubSpot, packed with 18 stunning pre designed 18+ templates and 27 helpful modules that provide 17 sections of customizable content. This theme makes creating a professional website effortless, ensuring that your web content looks impressive without taking up hours of your time.
Drag and Drop
This professional and modern theme features a drag and drop interface which makes reorganizing content a breeze. In addition, Cofean Pro allows you to quickly build stunning pages with its series of customization options, making it the perfect choice when trying to create something unique and attractive.
Hero Section
The Hero section of this HubSpot CMS theme is intended to capture the reader's attention and draw them deeper into the content. This theme
have you covered whether you're looking for a striking homepage layout or useful CTAs throughout your site.
Section on Reservations
The HubSpot CMS theme includes a reservation section that includes a contact form. This enables your visitors to contact you easily and make a reservation.
Cofean – Coffee Theme For HubSpot
The Cofean Pro – HubSpot Theme has a total of 18 Template pages, which are the following:
About
About Two
Blog listing
Blog post
Coming Soon
Contact
Contact Two
Home
Home Food Cafe
Home Ice Cream
Landing page
Landing Page Two
Product
Product Details
Reservation
Team
Team Details
Thank You
Cofean Pro is designed to meet your needs
| | | |
| --- | --- | --- |
| | Cofean Pro | Cofean Free |
| A free 30/15 minutes consultation Before Purchasing via email, google Meet, Zoom, or Microsoft Team | | Limited Email Consulation |
| FREE migration service and launching a new website learn more | | |
| Free 7-day migration service | Yes(Day one query support From the day after we will start the Migration work) | |
| Powerful and Flexible HubSpot Theme | Regular/Pro: 18 page templates, 14 system template, 27 modules | Free: 07 page templates, 14 system template, 22 modules |
| FREE Unlimited Email and Chat Support | | Limited free support |
| FREE Theme Updates | | |
| Free child theme library and child theme instation service. | | |
| Revisions (Unlimited) | | |
| Price | Pro: $299 | Free themes |
Note: The theme Can be customized further to include new designs and features. we can help you further to customize as per your requirement. Don't worry! We offer a range of hourly packs based on the project size.
Cofean Pro is designed to meet your needs

Consulting
Free HubSpot consultation, schedule via email, Google Meet, Zoom, or Microsoft Teams.

Solution
Creating a personalized website, from migration to launch, as per the requirements discussed.

Delivery
Efficient HubSpot website delivery in two weeks, incl. 2 revisions & satisfaction guaranteed.

Launch & Growth
After website approval, we will launch it online and witness your growth and success together.
Frequently Asked Questions
What Coffee HubSpot themes?
Coffee HubSpot themes are a collection of modules, templates, style options, and global content that can be combined to build Coffee business or websites.
Is there a free coffee theme option in Hubspot CMS?
Yes, HubSpot provides free Coffee themes. You can get some additional features and services on Pro themes.